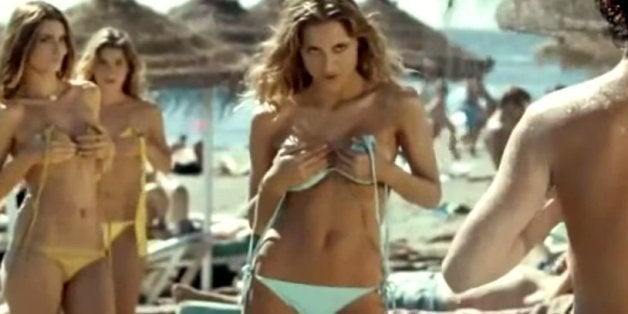 Pinterest, a social network dominated by women, just hired the man behind a series of infamously sexist advertisements to head its marketing.
David Rubin, who spent the last 15 years building the Axe fragrance line into a multimillion dollar empire within Unilever, is set to become the head of brand at Pinterest, the company said on Tuesday.
"David had a lot of experience working on a variety of different products in addition to Axe, including many that were targeted to women," Mike Mayzel, a Pinterest spokesman, told The Huffington Post. "At Pinterest, two of David's priorities will be to extend the Pinterest brand to more men and also globally."
The social network, on which users catalog images in virtual scrapbooks called Pinboards, is dominated by women. Pinterest has 60 million monthly active users, according to comScore. About 80 percent of them are female, and 92 percent of posts on the site are by women, according to analytics firm RJMetrics.
In that way, the company may be suffering the opposite of what the Wall Street Journal dubbed the "instinct gap" -- in which male entrepreneurs fail to build products intended to appeal to women. Pinterest's founding team and most of its top executives are men.
Yet the number of posts from male users peaked in the site's second year, and has been steadily declining since. To make up for that growing gap, the company has hired the executive who appealed to men with advertising that featured scantily clad women that often flocked to any man wearing Axe.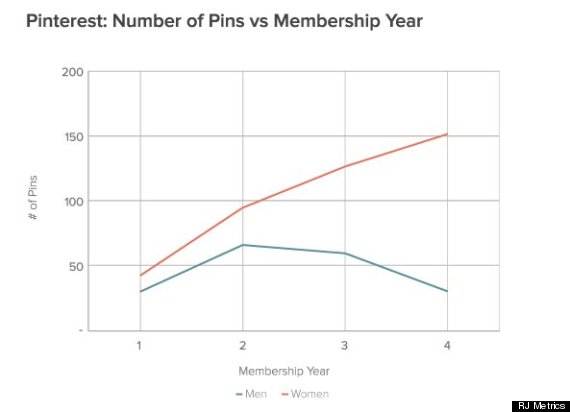 As you can see, the Pinterest gender gap is large and growing.
In a 2012 profile in Fast Company, Axe's team was described as a "testosterone whisperer," constantly analyzing sociological research to figure out how to fulfill young men's desires.
"I've been sort of a student of the game for 12 years," Rubin said at the time, referring to the ability to seduce women. "I hope my wife doesn't hear that."
That same year, writer Amy Odell published an essay on BuzzFeed accusing Pinterest of "killing feminism." Inundated with "kitchen porn, cupcake porn, bracelet porn," photos of lingerie-clad Victoria's Secret models and recipes for low-carb pizza, she felt Pinterest undid the progress that feminist sites like Jezebel and the Hairpin had made on the Internet.
Rubin did work with a handful of other cosmetic brands at Unilever, including Dove, Suave and Tresemmé. But, if Axe's advertising is any indicator of how he plans to appeal to male users on Pinterest, Odell's thesis -- which spawned academic papers and blog posts galore -- may prove true.
To brush up, here's a recent history of Axe advertising:
2006: "Billions" of women stampede to a man spraying Axe body spray.
2007: Axe co-creates "The Gamekillers," a one-hour television special aired on MTV with male characters stereotyped by their likelihood to seduce women.
2008: Ad implies that former Sen. Hillary Clinton endorsed Barack Obama in the Democratic presidential primary because he wore Axe.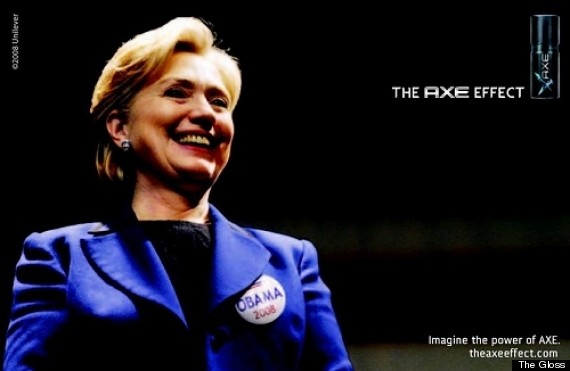 2009: Three "players" compete to woo a woman, on whom they each see target crosshairs -- underscored with the sound effects of a war video game.
2010: A blonde tennis instructor reminds men to "clean your balls" with Axe bodywash.
And in India, Axe invited customers to "get back what music stars have taken away from you," referring to women.
2011: Bikini tops untied, women cup their breasts, imitating a shirtless man who urges them to remove their hands.
2012: In "Party Girl," the voice of "Parks and Recreation" actor Nick Offerman tells viewers that men can expect to be rewarded for staying up late with hard-partying girls: "She's saving her energy for an extra special thank you for the man who kept her entertained all night long."
2013: The company's 2013 Super Bowl ad for the scent Apollo drew criticism in Forbes for implying that only men could become astronauts.
2014: The latest Axe commercial for its "Gold & Dark Temptation" line, pits a man bearing gold jewelry against a chocolate cupcake competing for a woman's affection.