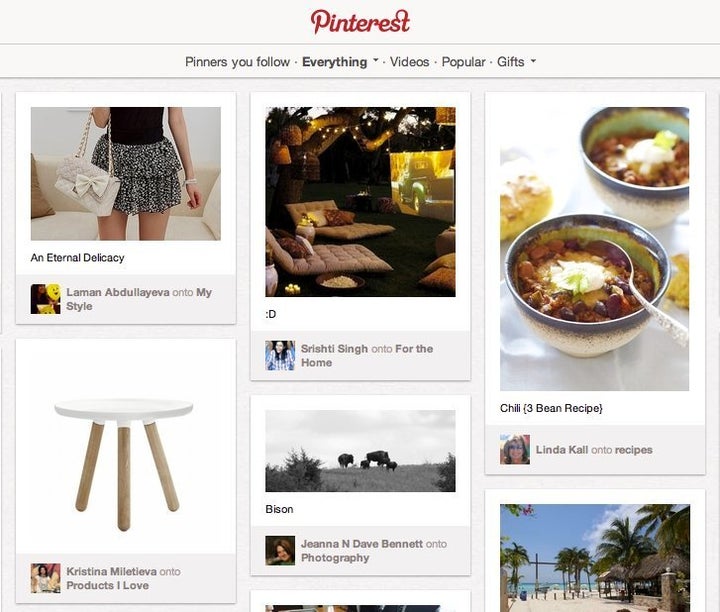 If you were living in a cave during the last quarter of 2011, you may have missed out on hearing about Pinterest -- the hottest new social platform to hit the tech scene in some time. Judged by leading tech blog TechCrunch as the best startup of 2011, Pinterest is smoking hot and gaining momentum. This is all the more amazing since it is still an invite-only "beta" platform, which by definition restricts its growth.
What is Pinterest? Basically, it's a social networking platform with a highly visual "virtual pinboard" interface. Users post photos (and sometimes rarely, videos) and link to related websites on their pinboards. Users can also follow the pinboards of other people.
But Pinterest is far from universally loved. It has some quirks. One is that because by its visually-pleasing nature, it has appealed heavily to people and businesses in visual industries like fashion and industrial design. Another is that the platform is highly biased towards female users; by one estimate, up to 97% of Pinterest users are women.
Nevertheless, many people in the tech, business, marketing, and social media industries are falling head over heels to figure out how to leverage Pinterest for fun and profit. A lot of these ideas are pretty standard -- integrating Pinterest content with your Facebook wall, using links to drive retail sales. But I strongly suspect that as more and more vertical industries get interested in Pinterest, we'll see more specific tactics being used in each to some degree.
Very recently, some parts of the U.S. military have taken a liking to Pinterest. Fedscoop reported that U.S. Army, Navy and National Guard have all established official profiles at the online sharing platform.
I suspect that over time Pinterest will become increasingly popular in the public sector as people find unique (i.e., different than Twitter, Facebook, etc.) ways to apply it to public communications. Heck, the President himself (as his 2012 re-election campaign) is already using the popular iPhone app Instagram; if a new social platform has real value, adoption even by the most conservative groups is only a matter of time (whether they use it well is another topic entirely).
Speaking of the President, we're obviously in the middle of a fiercely contested Republican primary season at the national level, to be followed by a fiercely contested battle between that eventual winner and President Obama. The U.S. will also see hundreds of Members of Congress and their challengers running for office, not to mention many governors and thousands of state and local government officials.
If you're a campaign consultant or in a related profession (fundraising bundler, television commercial director, soulless pundit), you're probably asking yourself: Is Pinterest relevant for my candidate?
It may very well be. Here are six ways that Pinterest might be helpful in political campaigns during the 2012 election cycle.
1. Behaving more real-time and mobile. The bar is set fairly low for the average political candidate to be perceived as hip and real-time and transparent with constituents or voters. The mere use of some cutting edge technology to make a campaign more transparent and open about communicating in semi-controlled ways could be great for the image of a candidate looking to be seen as younger/hipper/more tech savvy, etc. Plus, who knows, maybe some of that new openness and conversation will lead to some valuable feedback about what the voters think and want and need.
2. Creating issue-specific boards. When candidates speak in stump speeches, debates, or interviews, you often hear a laundry list of issues, as in, "We need to tackle the real problems, like jobs, the economy, education, the environment..." -- but then it can be hard for the casual listener to find the follow up. And if there is some follow up, who wants to read a long, unemotional policy statement on the candidate's website? Pinterest could be a more visual, emotional way to communicate about issues. Why not have a board all about, say, what the environment looks and feels like in the state you're campaigning in?
3. Exclusive behind-the-scenes content. Whether it's the media or the average voter, lots of people enjoy peeking at exclusive content (just witness the success of TMZ). If you're running the campaign, you have access to all of it. Why not systematically 'leak' some out? If you're a national candidate you could have a board for each state. If you're more local, one for each city or region or neighborhood. You can publicize whatever you think is missing -- behind the scenes at policy meetings, humor with staff, candidate with the family. Just like with Twitter pics, the press will eventually start running photos from Pinterest on the news when they're worthy.
4. Reaching female voters. Some candidates might be naturally attractive (in the broad sense) to female voters; some may not. Maybe it's looks, maybe it's their stand on certain issues. Regardless, data from Google suggests that Pinterest is largely popular with females aged 18-34, with an income of $25-75k. Even a modest effort to use an emerging social platform with a large female user base could help; a great Pinterest board that women really engage with could potentially go a long way.
5. Fundraising. One trait that people have noticed about Pinterest is that it is referring more traffic to other websites than nearly anything else out there (except Facebook, Google, StumbleUpon, and Twitter) -- really, quite a phenomenal feat. And because the links associated with Pinterest photos can be pointed anywhere, they can certainly be pointed to not only more information about an issue or about the candidate, but also to specific sites where people are asked for donations. Ideally in most cases, the Pinterest photo would be related to the pitch for the donation (i.e., a photo of an eroding California coast would point to a donation site which says, "Do you care about saving the Santa Barbara coast? Donate here to make Mark Drapeau your next Governor."). Technically, however, the link doesn't have to have anything to do with the original photo, if that's useful (i.e., a pinned photo of Mitt Romney leads to a donation site for Newt Gingrich.)
6. Identity control. Even if the previous five ideas didn't whet your whistle, there is the issue of identity control. Early on with Twitter, famous people would be impersonated and lead to a lot of confusion. In other cases, there may be, say, two Steve Hendersons who each have claim to a particular name, and one ended up being @SteveHenderson and the other @RealSteveHenderson or something. Now that Pinterest has 10 million users and quickly growing, the same is true. There is already a phony Mitt Romney account, and Newsweek is running a Rick Santorum "sweater vest" Pinterest board. If nothing else, lock down your candidate's name and likeness so no one else gets it, and in case it becomes useful in the future.
Related
Popular in the Community