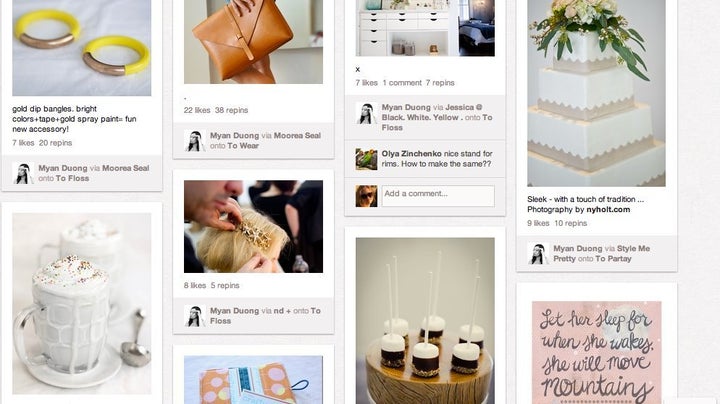 I admit it. I got sucked into the Pinterest bubble. I find this site fascinating. I'm fascinated by how quickly it's grown, what a monumental force it is in driving web traffic, and how it's such a colossal waste of time.
Fascinating. Utterly fascinating.
I must admit, though, that there is definitely a feeling of anxiety and insecurity when it comes to Pinterest. It's easy to feel that if you aren't already engaging in the site you've missed the boat (not true), or if you are on the site that you aren't doing it "right." Again, not true.
Last week I spoke on a panel about social media and how it effects women's commerce, and to go along with it I wrote a little fluff piece on how Pinterest is a big traffic driver and shouldn't be ignored. I still feel that way-this site should not be ignored:
I stayed away for quite a while (I joined last month at the encouragement from an IRL friend) because I was scared to get sucked into yet another THING. I'm kind of tired of having to "check just one more thing" before logging off the computer.

And then I started tracking my google analytics and realized that this THING was driving a crapload (technical term) of traffic my way. Pinterest is now my #2 traffic driver to my slowcooker site (after google) -- I easily get thousands of hits a day from it. This isn't someTHING to ignore.
(embarrassing disclosure: I'm a very late adopter to technical things. My slowcooker url is still on blogspot, I don't have a Facebook account, I was late to join Twitter, and I don't own a smart phone).

That said: If you aren't on Pinterest yet, I'm going to boldly suggest that you poke around a bit, and create an account -- even if you're just doing so to claim your name. To see what from your site has been "pinned," type the following into your browser bar:

http://pinterest.com/source/yoursiteurl.com/

It's important to see what has already been pinned so you can then maybe re-link or refresh these particular articles, and to see what type of writing is currently the most appealing and most likely to be shared.
I wrote those words last Wednesday. Today is Friday. I still stand by them, but I have one caveat: be careful. If you are the type of person who gets intimidated easily by women sharing all the (perceived) wonderfulness of their lives, tread carefully.
Don't follow as many people as you can; follow your friends (maybe even your in-real-life friends, not your blogging friends). Don't believe that just because so-and-so repinned a photo of a "fabulous mudroom" her mudroom actually looks like that. Don't assume that EVERYONE is doing art projects with their kids every hour of every day. Don't get sucked into wanting to throw away all of your clothes to buy all new ones. Don't make the mistake of judging a person's bank account because they repinned a pair of $450 boots. They probably didn't click through to see what the boots cost.
At least I hope that's the case. otherwise my own boots feel terribly unworthy.
Pinterest is women-driven. And although most people (men) would think that men are the competitive sex, I'm going to suggest it's actually women. Women want to do everything well all the time. Or at least we want to make it look that way. The fact that Pinterest is actually a vision board is quite telling. This isn't real. This is a fantasy. Take a deep breath and remember that you are already good enough. You don't need to have rockhard abs while whipping up 37 different varieties of cheesecake in order to feel good about yourself.
What are your thoughts on Pinterest? Important? A Waste of Time? Just another social media THING? (My pinterest page is here, pinterest/stephanieodea.)