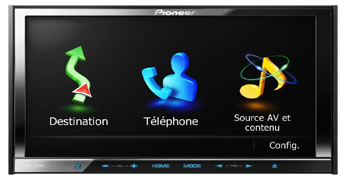 Pioneer AVIC-Z130BT Audio and Navigation System
In October I purchased a 2010 Prius with a basic radio instead of the factory navigation and audio system that would have cost about $2,000 extra.
At first I just used my Android phone, which has Google Maps Navigation and the ability to play audio through the car speakers. It worked OK but is a bit awkward to use in the car, so I decided to upgrade to an after-market system that would be built-into the dash yet be cheaper and have more features than Toyota's premium entertainment and navigation system.
I held off until I could see the 2011 systems at the Consumer Electronics Show in January, where Pioneer Electronics announced one that had all the features I was looking for, plus the ability to access and control an iPhone and stream Internet audio from Pandora and Aha Radio.
A few weeks ago, Pioneer sent me an AVIC-Z130BT in-dash receiver and navigation system to test out for a review and arranged for installation from AMS Car Stereo in San Jose. I've decided to keep and pay for the unit because, despite some initial challenges with the user interface, I like its features and versatility. This model, which has a 7-inch touch screen, sells for $1,200, but installation and a custom car kit, steering wheel controller and cables will add to the cost.
If you don't care about the Internet streaming feature, you can get less expensive models from Pioneer and other companies.
Nice System but Steep Learning Curve
My overall impression is positive, but there was a steep learning curve. Perhaps because it has so many features, I found it harder than it should be to do basic things -- like change radio stations. Unlike factory car radios, but typical of after-market units, there are no easy-to-use knobs or pre-set buttons on the front to adjust volume or jump to a radio station. There are small buttons to adjust the volume and skip to the next station, but I had to read the manual (a PDF file on a CD) to figure out how to use them. Like all touch-screen devices, there's a fair amount of hand-eye coordination needed to tune the radio or switch between audio sources.
You can use your voice to change audio modes, control an iPod or iPhone and program the navigation system. But the speech recognition sometimes failed to understand me. Voice works great with the navigation system -- tell it the city, street and house number and it almost always gets you to the right place. But when I used voice controls to play "Bob Dylan," I wound up listening to Beyoncé. You can select music from an iPod by using the device's touch screen. You never have to handle the iPod itself.
At first I worried about the installation affecting the Prius' incredibly complex electronic systems. But Kurtis Harville, the manager at AMS, assured me that they could install the unit without having to cut any wires and that, if necessary, they could remove the new unit and put back the factory system. It fits perfectly in the dash and looks like it's factory installed, thanks to a mounting kit designed especially for my car model. They even connected the factory radio controller on the steering wheel so that I can adjust the volume, change radio stations and switch between audio sources without having to take my hands off the wheel.
I also had an optional backup camera installed, which also works while driving forward. The wide-angle camera is great on the freeway and helps make up for some of the Prius' blind spots.
The Pioneer system has an impressive number of audio sources. It comes standard with AM, FM and HD Radio with an option for satellite radio. There are also inputs for an iPhone or an iPod, an SD card for up to 16 gigabytes of additional stored music and you can connect a USB flash drive. You can also listen to CDs and DVDs, including discs with compressed music files such as MP3s. You can also watch a DVD movie while the car is in park or via optional rear-seat monitors. And the same Bluetooth connection that lets you dial and accept phone calls can be used to listen to any music stored on your Bluetooth phone.
New to this model is the ability to control audio from Pandora or Aha Radio on an iPhone. Aha Radio offers about 100 stations, including news updates from CNN and NPR and other stations. You can also have the system read you customized traffic reports or -- if you really are addicted to social media -- your friends' Facebook and Twitter updates. Pandora provides streaming music from just about any genre or artist. I'm also able to stream live Internet audio from an iPod touch, which picks up a Wi-Fi signal from my Android phone.
Despite advances in user interface and voice recognition, I still worry about distracted driving. I had the same concerns with other systems I've used, including factory installed units from Ford, GM and Toyota. You still have to take your hands off the wheel and eyes off the road to use some of the features.
Unlike my new dashboard screen, my old car radio couldn't supplement my rear view mirror, stream live Internet audio, control an iPhone or find the nearest Starbucks. But it sure was easier to change radio stations.
Related
Popular in the Community