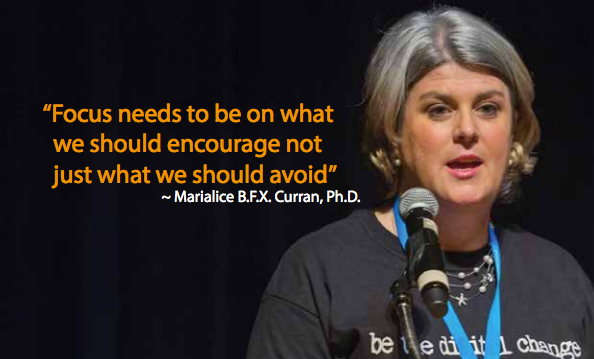 Dr. Marialice B.F.X. Curran, founder of the Digital Citizenship Institute, will lead a featured session at this year's GlobalMindED conference on Personal, Connected and High Impact Global Citizenship. As a pioneer in digital citizenship, she developed and created the first 3-credit digital citizenship course for teachers in the country. She is a researcher, keynote and TEDxYouth speaker who is passionate about student voice and student leaders. Most recently, she has partnered with her ten-year-old son to model best practices while working with parents, educators and students. I recently connected with her to learn more about what digital citizenship is, why it's important, and how she's making a difference.
Tell me a little about your background and how your past experiences led you to create the Digital Citizenship Institute.
My teaching career began in 1993 in a middle school classroom long before there were computers or mobile devices in the classroom. I taught social studies and language arts, and, although I love those content areas, I was always drawn to, and intrigued by, adolescent development. As Nancy Atwell stated in 1998, "Surviving adolescence is no small matter; neither is surviving adolescents. It's a hard age to be and to teach. The worst things that ever happened to anyone happen everyday."
Young teens have always gone to school to see and be seen, and all day long they recycle the same three questions: Who am I? How do others view me? Where do fit in?
My initial hook into digital citizenship began when students started asking those same three questions online, and I immediately saw the dangers. When I was a middle school principal there was a heavy focus on technology. A few years later, as an associate professor at the University of Saint Joseph in Connecticut, I created the first three-credit graduate course specifically around the nine elements of digital citizenship as part of the educational technology program in the School of Education.
This was just the beginning of my digital citizenship journey. When the college freshman, Tyler Clementi, took his life, I launched into action and created more digital citizenship courses and also began the digital citizenship chat on Twitter. I blogged about my transformation, "I did not know Tyler, but his suicide made me determined to focus on a solution. Tyler Clementi could be my son, your son. He was a brother, grandson, nephew, cousin, friend, neighbor, and most importantly, a human being." This perspective launched me into uncharted territory. I am a mother. What if this was my son? What can I do to make sure this doesn't happen again? How can I make a difference?"
My experience as an educator, coupled with an understanding of adolescent development, is at the foundation of why I wanted to create the Digital Citizenship Institute.
So many campaigns and news stories focus on the negative, dangerous aspects of technology that we try to protect our kids from. What inspired the Digital Citizenship Institute's emphasis on embracing the positive side of technology and how we can use it for good?
By the fall of 2011, I created and developed a First Year Seminar course, Pleased to Tweet You: Are You a Socially Responsible Citizen? I connected my college freshmen in Connecticut with high school juniors in Alabama through a variety of social media tools to collaborate on what I thought would have been a student solution towards cyberbullying. Both classes went beyond that expectation as they defined citizenship in the 21st century through the iCitizen Project. Together, the students learned the difference between being an active citizen and an enabler of change, not just a resident or bystander. They focused on empathy and learned the importance of humanizing the person next to them, as well as the person on the other side of the screen.
This is when I changed. It comes as no surprise that student voice is the impetus for changing my focus from fear to empowerment. Learning alongside my students, my reactive approach became proactive, and I began to go beyond what to avoid and began to highlight what to encourage. Since the iCitizen Project, my digital citizenship journey has continued as I've engaged more students to be part of the solution by making digital citizenship a verb through live streamed events like The iCitizenship Town Hall Meeting, which was the first chapter and beginning of the Digital Citizenship Summit and the Digital Citizenship Institute. In collaboration with Drs. Mike Ribble and Jason Ohler, we are creating a community-driven approach to educating and empowering digital citizens to lead others in the positive use and understanding of technology.
What does the power of the GlobalMindED community mean to you?
Being part of the GlobalMindED community supports our mission that digital citizenship is the solution to turn negatives into positives, problems into solutions, and ultimately transforms participants into designers, creative thinkers, global collaborators, problem solvers, and justice-oriented digital citizens.
During the past two years, I've been traveling and presenting with my ten-year-old son about how we learn together, side by side. As a third grader, he became the CKO (Chief Kid Officer) of DigCitKids, a digital citizenship movement created for students by students, and he is advocating for connected learning for all students everywhere. As he shares during his talks, "If you want us to learn about the world, we need to learn with the world." As a mother-and-son digital citizenship team, we are excited to be a part of the GlobalMindED community, because of the focus on global collaboration.
It is such an important time in history. How does this help or power possibilities?
The possibilities are endless when the focus is on the positive. DigCitKids created a pledge inspired by President Barack Obama, "I want us to ask ourselves everyday, 'How are we using technology to make a real difference in people's lives?'" DigCitKids asks, "How are YOU using technology every day to make a real difference for your community, other kids and the world?" We need to ask ourselves every single day: How can we work together to use technology to help others through positive digital and in-person experiences?
In a time dominated by "Fake News" and "Alternative Facts," it is easy to get caught up in the negativity. But we are focused on the possibilities and just like Apple's "Think Different" ad campaign, we want to inspire you to not only think differently, but to act differently. When we focus on what makes us human, we realize that there are more things that make us the same than make us different. Recognizing the humanity in our actions and words is the beginning of creating positive culture. We hope that all ages of people will join this conversation to be the digital change.
As featured speakers, what do you want the GlobalMindED community to know?
As a mother-and-son team and featured speakers, we want the GlobalMindED community to know that we believe that youth and adults need to work together to use tech and social media for good. We are committed to having students at the center of our work where we are focused on leading by hand, heart and mind. Empathy is at the heart of our choices and actions. As a direct result, we are inspired to create ripples of good in our own spheres with the hope that it will cause more positive ripples in local, global and digital communities.
The Digital Citizenship Summit has had a global impact in and of itself. The inaugural Summit was held in Connecticut in October 2015 and by January 2016, the first international Summit was held at Bournemouth University in the UK. A year later in October 2016, we were in San Francisco at Twitter Headquarters. Currently, Summits are scheduled in Nigeria for this July and Australia in September. Ireland, Kenya and Mexico are hoping to announce locations and dates soon and our annual Summit is being held in Utah on November 2-3.
Ultimately, this story is really about our community and what we have done collectively together. Hundreds of volunteers sharing their time and talent to emphasize the positive is extraordinary. The fact that people we only knew online (like EdTech Stories community manager William Jenkins in Scotland) volunteered to organize the first international Digital Citizenship Summit in the UK speaks volumes about the power of global collaboration. None of this would be possible without the extraordinary effort of countless people who have made this positive digital citizenship movement a reality.
Dr. Marialice B.F.X. Curran and her son, as global thought leaders on digital citizenship, are impacting and changing the way we view our lives in relation to technology. Her work in encouraging healthy adolescent development in the digital age is essential. If you are interested in the DigCit movement, you can visit her website here.
Related
Popular in the Community