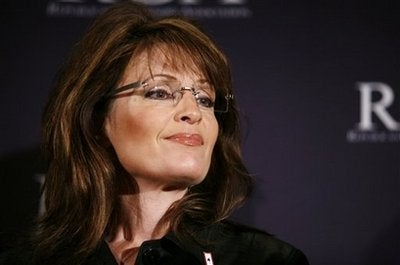 This past Friday, Governor Sarah Palin made her way to Fairbanks, in the subarctic interior of Alaska, where she participated in a glorified photo-op at which the Alaska Gasline Inducement Act (AGIA) license was signed by Alaska state officials. "This is a significant step as we march forward toward Alaska's next economic lifeline," Palin declared, stringing together as many political catch phrases as she could. "It's our next economic engine."
That license allows the gas line builder, TransCanada Corp, and its subsidiary, Foothills Pipe Lines Ltd., to "move forward" on the controversial 1,715-mile pipeline linking Alaska's resource rich North Slope with energy distribution hubs in Alberta, Canada.
That's right--move forward. In her debate with Joe Biden during the 2008 presidential campaign, Palin boldly claimed, "We're building a nearly $40-billion natural gas pipeline --which is North America's largest and most expensive infrastructure project ever." And in her address before the Republican National Convention, Palin also claimed "we began" to build that very same pipeline "to help lead America to energy independence."
Note the use of both the present and past tense with the verb "to build." One would have assumed from Palin's declarations that construction of the pipeline was already well underway.
Palin has always been fast and loose with the truth (and her capacity for self-promotion would seem to know no bounds), but her duplicity about the pipeline extends far beyond whether it is currently being built or not --it is not--but whether or not it ever will be built. "That pipeline," she declared at the GOP convention, "when the last section is laid and its valves are opened, will lead America one step farther away from dependence on dangerous foreign powers that do not have our interests at heart."
Well the first section is at least six years away, and many contend that it will never be built at all. As one Alaskan state legislator grumbled at the license signing, "This AGIA license is not a commitment to do anything other than process a whole lot of paper."
Palin has repeatedly trumpeted the pipeline as an example of her energy know-how and pragmatic politics. She also has claimed, as she did at the convention, that she has single-handedly imposed "competition and basic fairness" to oil and gas production in the Last Frontier.
In fact, as is often the case with Palin, it's all hat and no saddle.
Zane Henning, a longtime critic of Palin and an oilfield worker on the North Slope, says "I can guarantee that the AGIA pipeline will not be built unless the State of Alaska passes a long-term tax policy that the oil companies agree with."
Still others have argued that without the gas-rich Point Thomson region included in the pipeline agreement, there won't be enough economic inducement to generate production of the gas line.
In an interview with the Fairbanks News Miner, Palin acknowledged as much. "That is what it will take," Palin declared in her peculiar syntax, "of course, to get the project actually built, is for all parties to be in this as one."
But Alaska's so-called Big Three--ExxonMobil, ConocoPhillips and British Petroleum--are not in; far from it.
Palin says she is developing incentives to bring the Big Three into the pipeline equation, but there's certainly no evidence of that on the table. So far, Palin has put the cart before the horse every step of the way.
In fact, Palin rigged the bidding process for the pipeline so that it favored TransCanada and so that the Big Three were effectively shut out of the bidding process. In the end, of the five bids that were submitted, four were disqualified, leaving only one bidder in line to get the contract, you guessed it, TransCanada.
Moreover, TransCanada has strong political and economic links to Palin's administration. Palin's AGIA negotiation team was headed up by Marty Rutherford, an oil industry lobbyist who had previously done lobbying work for TransCanada, through its subsidiary Foothills Pipe Line. Rutherford was paid $40,200 as recently as 2003 for legislative work in Juneau on behalf of TransCanada.
Palin's own phone logs indicate that she had direct contact with TransCanada during the bidding process, contrary to the guidelines established by her own administration. To make the whole arrangement even slimier, Palin offered TransCanada a $500 million subsidy.
So much for Palin's assertion of promoting economic "competition and basic fairness."
Palin was able to get away with many of her claims during the campaign because of the isolation of Alaska from the Lower 48. It took almost a month for her Bridge-to-Nowhere lie to catch up with her, and the pipeline fabrications got lost amidst the daily grind of 24-hour news cycles and following less substantive tales about her clothes and makeovers.
But for most Alaskans, the gasline has been a huge issue for more than a decade and just about everyone in the Last Frontier knows that it will never be built unless the Big Three has a strong economic incentive to develop their gas leases and that there must be a negotiated tax-structure in effect before they make any agreement with TransCanada.
And therein lies the rub. Palin has said that TransCanada has made "commitments to build this pipeline"--but in fact, TransCanada has made no formal commitment to build anything. They have simply moved the process along to the next photo-op.
Palin can take her bows for the pipeline, as she did throughout the campaign and among the suits up in Fairbanks last week, but Alaskans across the political spectrum are growing tied of her dog and pony shows when it comes to resource management and energy production.
One of Palin's most vocal critics, Tony Hopfinger of The Alaska Dispatch, argued that the license signing this past week in Fairbanks raises more questions than it answers. "Why didn't the administration sit down with the oil companies and try to negotiate tax terms for the pipeline before embarking on the AGIA?" Hopfinger wondered. "And tell us again why we're giving a half-billion dollars to TransCanada--especially now that oil prices have crashed?"
Palin and her minions have consistently skirted the tough questions on AGIA. Right now, the Alaska Gasline project is yet another one of Sarah Palin's political pipe dreams to nowhere.

REAL LIFE. REAL NEWS. REAL VOICES.
Help us tell more of the stories that matter from voices that too often remain unheard.