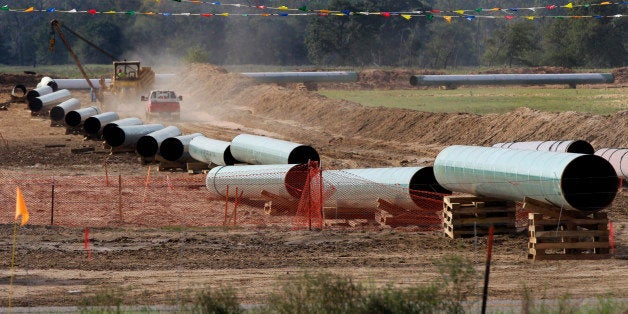 It'd be easy to discount the Senate vote over the Keystone XL pipeline as mere political theater but that'd be a mistake.
Build Keystone XL and you build on a long and disastrous history of pipelines in America.
A new analysis of federal records reveals that in just the past year and four months, there have been 372 oil and gas pipeline leaks, spills and other incidents, leading to 20 deaths, 117 injuries and more than $256 million in damages.
The new data adds to a June 1, 2013 independent analysis of federal records revealing that since 1986, oil and gas pipeline incidents have resulted in 532 deaths, more than 2,400 injuries and more than $7.5 billion in damages.
Check out this new time-lapse video that includes every "significant pipeline" incident in the continental United States -- along with their human and financial costs -- from 1986 to Oct. 1, 2014. On average one significant pipeline incident occurs in the country every 30 hours, according to the data.
So what would happen if Keystone XL is built? The U.S. State Department estimates Keystone XL could spill up to 100 times during its lifetime.
One difference between Keystone XL and the vast majority of other pipelines that have spilled is that it will be carrying tar sands oil, which has proven very difficult, if not impossible, to clean up. A 2010 spill of tar sands oil in the Kalamazoo River in Michigan, for example, has yet to be cleaned up despite four years of effort. Another tar sands spill in 2013 fouled an entire neighborhood in Arkansas. Federal regulators have acknowledged that Keystone XL, too, will spill.
TransCanada's existing Keystone I tar sands pipeline has reportedly leaked at least 14 times since it went into operation in June 2010, including one spill of 24,000 gallons. The State Department's environmental reviews have pointed out that spills from Keystone XL are likely. The pipeline will cross a number of important rivers, including the Yellowstone and Platte, as well as thousands of smaller rivers and streams.
Yes, politicians are looking to score political points in their vote on Keystone XL. But in the rest of the world, this is no game and if Keystone XL moves forward, the losers will be streams, rivers, wildlife, water, our climate, and, ultimately, all of us who depend on them.
Support HuffPost
The Stakes Have Never Been Higher
Related
Popular in the Community