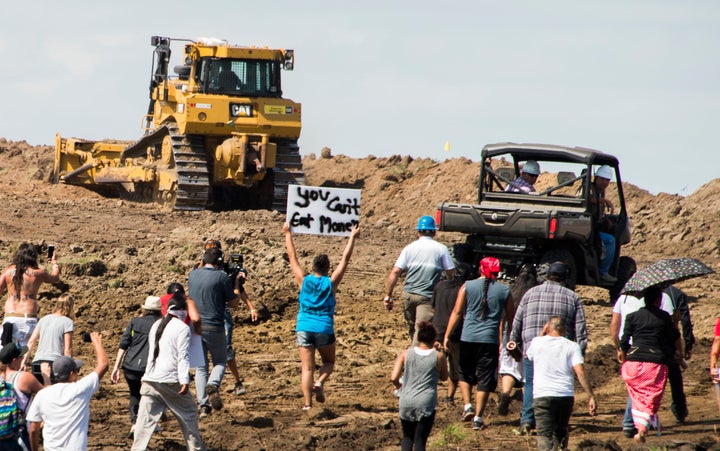 To say I stand in solidarity with Standing Rock is an understatement.
The Dakota Access Pipeline starts 17 miles from my hometown, in Stanley, North Dakota. Man camps, also known as crew camps, are hydraulic fracturing (fracking) industry worker housing that are being formed along the route for the continuing Dakota Access pipeline construction. If the permits for this pipeline are approved and construction is completed, the amount of oil extracted from my reservation is projected to increase by fifty percent.
For our women, this means an increase in assaults, abuse, murder, and sex trafficking.
For 18 months in 2012 and 2013, I served as a tribal domestic violence victim advocate for one of my tribes—the Mandan, Hidatsa, and Arikara Nation. The Fort Berthold Indian Reservation, is home to six communities spanning almost 1 million acres. It is also home to the Bakken shale oil boom, one of the largest sources for oil extraction today in the United States.
"The reality is that these sorts of extractive industries bring profits to a limited few, and the true cost rests on the shoulders of those who live next to the extraction."
I worked 60 hours a week in my first six months as a tribal victim advocate, with only three other advocates, transporting clients 70 miles off the reservation to get MRI scans, rape kits, and relocate for safety because my reservation did not have a hospital or a battered women's shelter. In my first month, I was called to the tribal police station to meet a victim but when I got there I was told the police were still trying to locate her because although she had a cell phone and called 911 over twenty times, the dispatcher could not triangulate her location. The man camp where she was assaulted was unknown to the police, as many man camps have no addresses and cannot be found on a map or traced by GPS. Tribal police found her alive two hours later, walking on a highway, having survived a horrendous attack from her boyfriend. This day still sends chills down my spine because this was when I realized how vulnerable women are to the invisibility of these man camps.
Proponents of fracking say that it brings economic benefits and jobs to locals and local governments. The reality is that these sorts of extractive industries bring profits to a limited few, and the true cost rests on the shoulders of those who live next to the extraction. On the Fort Berthold reservation, this burden is placed on me, my relatives, and the tribal communities. And in particular, on tribal women.
The levels of violence against women at Ft. Berthold has reached unprecedented levels. The rates of violence against women tripled from 2011 to 2012, and this caught the attention of the Department of Justice Violence Against Women Principal Deputy Director, Bea Hanson and Tribal Affairs Deputy Director, Lorraine Edmo. In 2013, both Directors visited Ft. Berthold and surrounding fracking-impacted communities to document man camps and speak to advocates, law enforcement, and local governments about the violence. I gave them a tour of the heaviest fracking impacted Ft. Berthold community, Mandaree. On muddy Bureau of Indian Affairs Road 12, a heavily traveled truck route, a semi truck was tipped over in the ditch, cows grazed next to natural gas flares, and I started pointing out man camps and took out my cell phone showing them that there was no reception and the nearest police department was 60 miles away in any direction so for a woman who needed help, we would have no idea she was even there.
The pipelines touching communities that do not have energy extraction are not immune from being vulnerable to water contamination or violence. North Dakota and the world are waking up because of Standing Rock's efforts to stop the Dakota Access Pipeline. My hope and prayer is that we wake up before it's too late.
Support HuffPost
The Stakes Have Never Been Higher
Before You Go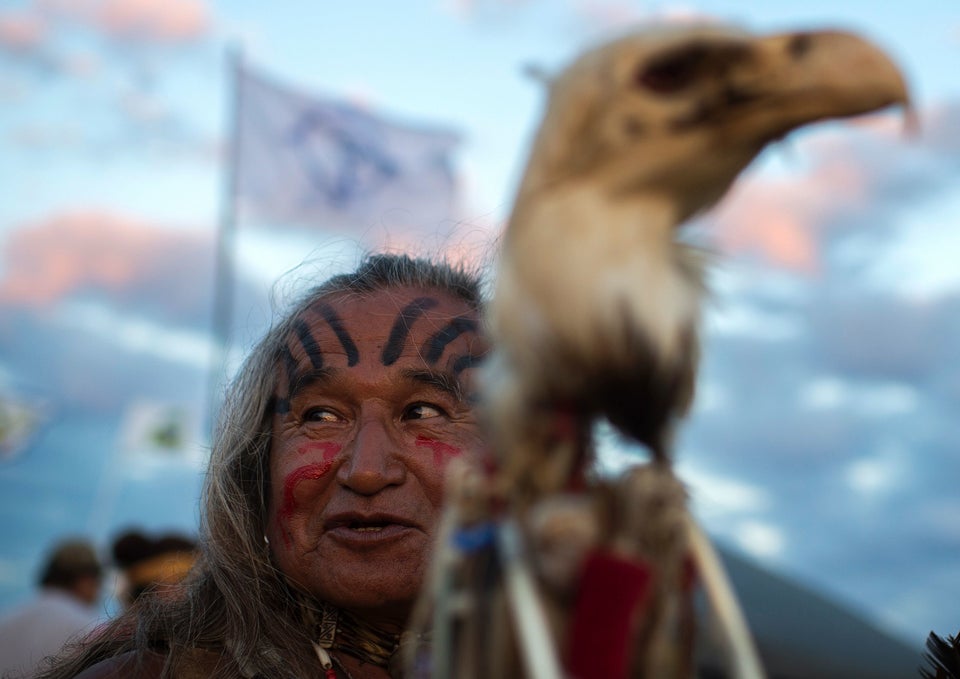 North Dakota Pipeline Protests
Popular in the Community