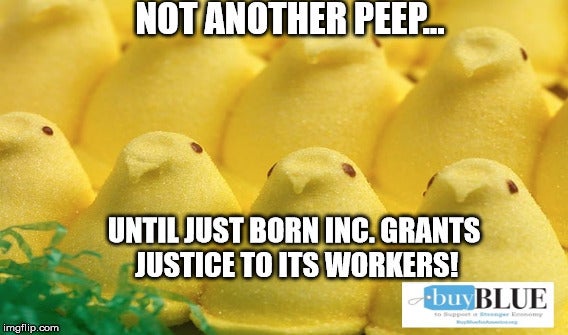 PEEPS: it's an American icon. And nothing shouts "God Bless America" more than PEEPS Patriotic Vanilla Crème Marshmallow chick, one of dozens of products produced by Just Born Inc. to placate your sweet tooth. Its white body festooned with red and blue sprinkles, the Patriotic Peep appears on its box sporting an American flag.
You can even buy red, white and blue chicks and bunny t-shirts on the company's website. You don't have to be Sherlock Holmes to decode this marketing strategy: an All-American product from a proudly American Bethlehem Pennsylvania-based manufacturer.
"They've been a pretty good company," Kenneth Ayers, a 38-year-old employee of Just Born told the local newspaper, the Morning Call. "I ain't got no problems, other than at contract time."
The trouble is that it is contract time in PEEPS-ville and Ayers spoke these words from the picket lines where 400 of his fellow employees were on strike over disagreements on wages, health benefits and pensions. The strike, authorized earlier this week, is the first since workers walked off the job in 1972. Employees from the Bakery, Confectionery, Tobacco Workers and Grain Millers International Union Local 6 - who have been working without a contract since June - say that the new contract proposes cutting pensions for new employees and increases healthcare contributions from employees.
Representatives from Just Born maintain they're stocked for Halloween and Christmas, but the company has already started hiring non-union replacement workers. No future contract talks are scheduled.
And with that, another iconic American product just got a little less star-spangled.
The story of its Just Born's founder, Sam Born, is an American classic. Russian immigrant comes to America, quietly establishes a candy brand, builds a small empire, keeps the business in his family for two more generations and turns a signature product into an icon. The ninth largest candymaker, Just Born also makes Mike and Ike and Hot Tamales.
The company cites the boondoggle over pastry giant Hostess's bankruptcy a few years back as a justification for switching from pensions to a 401Ks for new employees.
More recently, another all-American sweet treat got a black eye. The patriotic uproar was deafening over Mondelez's decision to close a Chicago factory and manufacture Oreos in Mexico. Savvy consumers can still check the labels and buy only those cookies that are made in the U.S.A., but there will be those who will see the Mondelez Mexico move as a deal-breaker, and will stop buying the tainted cookie altogether.
Consumers have that power. We can do our research, check labels, follow the news and spend our dollars accordingly. We can be proactive rather than apathetic. We can issue a "No contract, no Peeps" buying boycott.
How can the curator of a popular American brand regain its luster? Just Born should work out a new contract and get their employees back to work. They must realize that permanently hiring replacement workers could cost the company substantially in unemployment fees, bad press and subject them to unfair labor practice complaints by unions. Just Born can reaffirm their commitment to their workers and to their community before a brand becomes irreparably damaged.
Now is the time for Just Born to shift its focus from PEEPS to people.
Related
Popular in the Community