We had no idea, however, that that doll would be an scary, muscly body builder.
The new Pippa Middleton action figures come to us courtesy of Hero Builders, a company devoted to taking famous, semi-attractive people and turning into yucky, bulging plastic figurines.
Billing themselves as "The Last American Toy Company" (sure, we'll go with it), Hero Builders decided to latch onto the royal craze by crafting Kate and Pippa action figures. Or, as the company writes on its site:
Why we love the British, they have a Queen they gave us the Beatles and now its all KATE AND PIPPA.
But in shaping the Middleton women's outfits, they've shown the British no love. The Duchess' waistline looks like she swallowed Prince William (who did not receive his own figurine -- we're almost offended on his behalf) and the Alexander McQueen "replica" dress looks like it was stitched in the dark. Pippa's waist is fine but her bust is uncharacteristically enormous (there must be a man behind these designs).
And then there are their bodies, all tanned and bulging with hands and chins ripped straight from Arnold Schwarzenegger's body.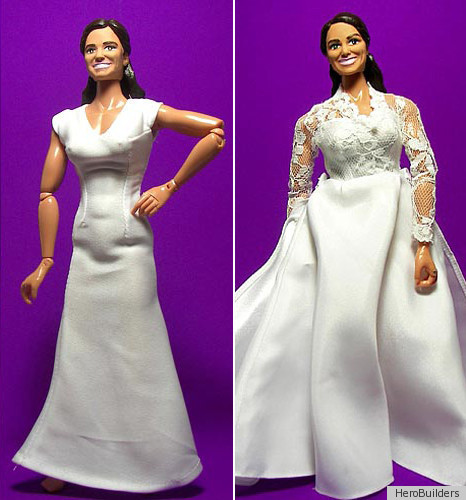 Related