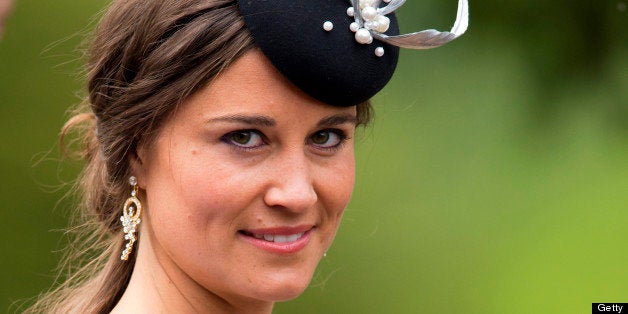 I'm thrilled for the Prince and Princess over the birth of their royal baby boy, and I am especially happy for Pippa Middleton, Princess Kate's sister, who has become an Auntie by Relation (ABR) today -- just in time for the 5th Annual Auntie's Day. As a 'DebutAunt,' a first-time aunt, Pippa is entering what may be the most magical, most joyous, most meaningful time in her life so far!
Like Pippa, who is 29, Western women are getting married and having children later than ever before. And while we await the right partnership for marriage and motherhood, we are spending a good many years as ABRs to our siblings' children and Aunties by Choice (ABCs) to our friends' children. We modern, cosmopolitan aunts have the discretionary income and time to spend on the children we love -- and often, these children's parents, too.
While the U.S. Census reports that nearly half (47%) of American women are childless, one in five American women are in a special niche I've dubbed PANK® -- or Professional Aunts No Kids. A joint study I released in December with Weber Shandwick and KRC Research revealed that these 23 million women not only give generous gifts to their nieces, nephews and godchildren -- 52% admit to spoiling the children in their life -- almost as many (45%) have given gifts to parents to help them provide for their kids. And more than a third of PANKs (34%) help pay for a child's education.
Of course, we don't expect Auntie Pippa to help the royal couple financially; simply being a positive influence in her nephew's life is an invaluable gift. With the crush of world attention, this little guy will need as many maternal figures in his life as possible to make him feel safe and secure. Auntie Pippa's being there for her nephew as a quiet 'ConfidAunt' will be invaluable to him as he grows up in the media spotlight.
And since the new parents will undoubtedly continue to have full schedules, Auntie Pippa will be there to spend 'QualAuntie Time' with her nephew. By simply playing, reading and even talking to her nephew without interruption on her visits, Auntie Pippa will be able to help develop his cognitive, social and emotional skills. Studies show that every child ages 0-to-3 needs an hour of playtime each day to do just that.
Auntie Pippa is also able to do things with her nephew that his parents cannot do. For instance, getting caught on camera playing in muddy puddles or sneaking a hot fudge sundae in between meals may get the new mum in royal trouble. But Auntie Pippa? She'll be able to be less formal in public and get away with some fun adventures with her nephew.
But don't get me wrong; aunts are not babysitters. Aunthood is a choice. Every boo boo we kiss, every little hand we hold, every harmless secret we keep is a gift. Aunthood is a gift for children, parents, and for those of us who are childless by circumstance, biology or choice. As I say: Babies are born from the womb. Maternity is born from the soul. There are many ways to mother.
While there is no doubt that the third heir to the throne will not lack for anything material in his life, no child suffers from too much maternal love. And I am sure the moment Auntie Pippa lays eyes on her nephew, she won't suffer from the immediate love she feels for him, either.
Welcome to the 'Auntourage,' Pippa. And happy early Auntie's Day® on Sunday, July 28th! Aunthood is a gift. This day is ours.
Related
Popular in the Community