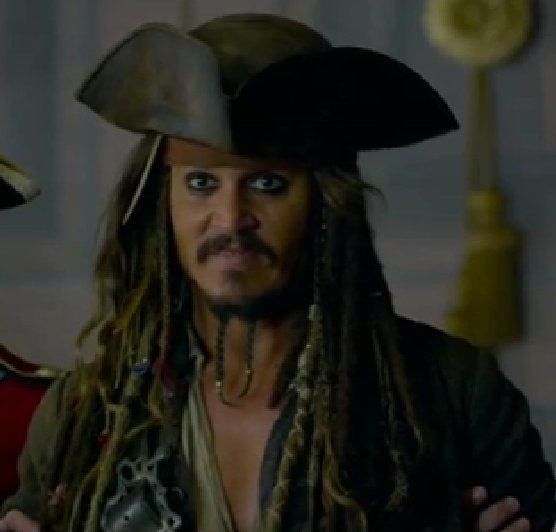 It seems like second nature to Johnny Depp, all Jack Sparrow's mix of charm and swashbuckling shenanigans, but in the newest "Pirates of the Caribbean" movie, the star had to up his acting game. Otherwise, he may have started crying on camera.
In a new interview with The Hollywood Reporter, Depp, working overtime to promote "Pirates of the Caribbean: On Stranger Tides," spoke about the film's production, and the "monstrous" injury that first wore him down, and then, became a part of him.
"I must have done something to my back during a stunt and ended up with this bad sciatic situation. It was this horrible, grinding electricity going through me," Depp explained. "I kept shooting; there was no choice. I'd just limp on set. It was monstrous, man -- so horrible that I actually started to like it! It was bad, and I had it a good three weeks to a month. But I got used to it and kind of missed it when it was gone."
Undeterred, Depp says he'd be up for more "Pirates" films, though he thinks there should be space between the fourth and fifth -- something not afforded during the back-to-back-to-back production of the first three films.
The tightness of writing and filming the first three films is an issue Depp has spoken of a lot lately; he's promised a less complicated fourth chapter in the series, without all the arduous machinations of its predecessors.
"They had to invent a trilogy out of nowhere," he told Entertainment Weekly of the first three films. "It was plot driven and complicated. I remember talking to [Gore Verbinski, director of the first three films] at certain points during production of 2 or 3, and saying: 'I don't really know what this means.' He said, 'Neither do I, but let's just shoot it.' This guy is this guy's dad, and this guy was in love with this broad. It was like, 'What?'"
WATCH
:
Popular in the Community