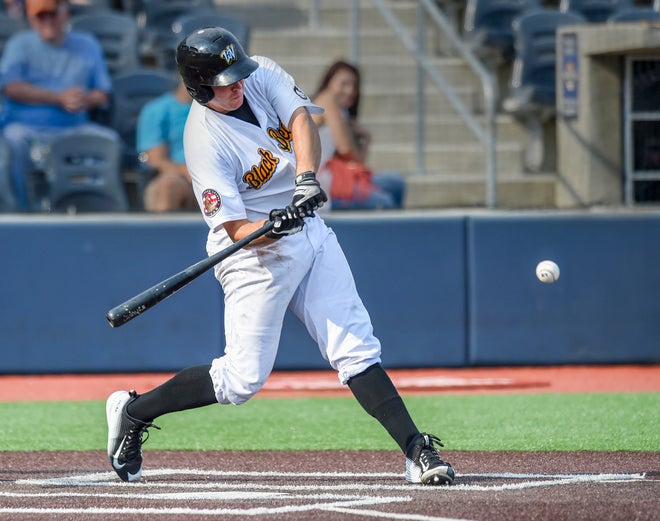 In his native Johnson City, Tennessee, third baseman Will Craig found himself among several future players, whom he competed against since his youth. The interactions with players, such as Daniel Norris and Nick Senzel, enabled Craig to great heights and a first round selection by the Pittsburgh Pirates in 2016 MLB Draft.
From the time they were eight years old, Craig and Senzel formed a tight bond from facing one another through their college days. A similar connection developed between Craig and current Detroit Tigers pitcher Daniel Norris at Science Hill High School. Both pitchers at the time, Craig looked up to Norris for guidance and continues maintaining close relationships with both he and Senzel.
"Norris had a big influence on my baseball career, especially in high school," Craig said. "I first met him my freshman year and he was a guy I always looked up to and obviously because of the person he was off the field. Having him for two years in high school really helped push me."
"Nick (Senzel) and I grew up playing against each other. He played for a team and hour and a half away from me and we played against each other several times. Having him go to the Reds in the draft is exciting for him. Seeing the way he's played at Tennessee and in summer ball really makes me happy for him. It's really good for Tennessee baseball."
A 37th round selection in the 2013 draft by the Kansas City Royals out of high school, Craig decided to attend college at Wake Forest. He was a two-way player filling spots both at third base and a co-closer by his junior season. Craig's versatility enabled him to stay on the field and contribute in a myriad of roles for the school.
"There was some interest in me as a pitcher during the draft process, but myself included believed that hitting was what I was best at doing. In Pittsburgh, the night I was drafted by the Pirates, they had me listed as a pitcher and had to call me and apologize for the mix-up. There was some interest in me as a pitcher but more teams saw me as a hitter," Craig said.
During his final two seasons at Wake Forest, Craig became a potent hitter, producing some of the best offensive seasons in school history. In 2015, Craig batted .382/.496/.702 with 13 home runs and 58 RBI, and produced a staggering .1198 OPS as the ACC Player of the Year. Craig improved on his torrid numbers as a junior and led the Demon Deacons in seven offensive categories and was a finalist for both the Golden Spikes Award and the Dick Howser Trophy.
"It was a great honor for me," Craig said. "We had a great coaching staff. Even though I did not win the ACC Player of the Year award my junior year, I had better memories that year, because we won the ACC Tournament and went to a regional. Some of the players I played with last spring are in pro ball now and you want to go out there and play as hard as you can and they were great memories."
The lasting memories continued for Craig when the Pirates selected him with their 22nd overall pick after speculation that teams ahead of Pittsburgh also had considerable interest. When the Pirates were in New York to face the Mets in mid-June, Craig visited Pittsburgh at a time when the city was feeling the euphoria of the Penguins' first Stanley Cup championship since 2009.
"It was a great experience for me to visit Pittsburgh. It was actually my second time visiting Pittsburgh. I played against the University of Pittsburgh against Wake Forest the year before. It is a great city. They obviously love their sports and actually when I was there, the NHL team had their parade for winning the Stanley Cup, so it was pretty cool. I was also able to talk to Neal Huntington and the Pirates' front office during my visit," Craig said.
Craig signed quickly and joined the West Virginia Black Bears, but he struggled mightily in his first month in professional baseball. In his first 21 games, Craig hit just .159 and took 73 at-bats until he clubbed his first home run in the New York-Penn League. His fortunes would turn when he went on a 17-game hit streak from July 22 through August 9th and raised his average to .244 with a .383 on-base percentage in his first 46 games.
"The first 21 games were not where I wanted to be," Craig admits. I was trying to have some good at-bats and get on base. I was making good contact, but the hits were simply not falling for me where I wanted them to fall. I guess in the last couple of games I have been able to find some holes and that's the way baseball is. It's a lucky game in a way and you have to hit the ball in the right spots."
Listed as the No. 9 prospect in the Pirates' system according to MLB.com, Craig features strong plate approach and the ability to make consistent contact with solid pitch recognition. During his time at Wake Forest, Craig displayed respectable power to his pull side with a swing comparable to Kris Bryant, though he is not that type of hitter at this stage of his career.
In an organization where Dan Fox and Mike Fitzgerald heavily emphasize defensive shifts and analytics down to lowest levels the minor leagues, a third baseman must move around the diamond and play in unconventional spots. At 6-foot-3 and 235 pounds, some scouts believe that Craig's future is at first base since the position requires less range and his bat profiles well at a corner infield spot.
In his first pro season, Craig faces the typical adjustment period for any top caliber prospect, but will continue improving and learn in an organization, which prides itself on educating its players and getting the most out of their abilities.
Calling all HuffPost superfans!
Sign up for membership to become a founding member and help shape HuffPost's next chapter
BEFORE YOU GO
PHOTO GALLERY
Best Baseball Quotes