Look out below--Boston is preparing itself for abductions, poisoned roses, and stormy seas.
Opening October 27, Ivan Liška's Le Corsaire will transport Boston Ballet audiences to an olden world of pirates, palaces, and provocation. With glitzy choreography and a cinematic score by Adolphe Adam that could fill a stadium, this pirate saga is a visual spectacle. Giant, ornate sets and bold costumes create otherworldly surroundings. The classical choreography is full of movements that showcase the dancers' inspiring technical prowess.
"Ivan Liška, the choreographer, has precise understanding of the story and perceptive insights into the musicality of his ballet," said dancer Florimond Lorieux. He plays Ali, a slave who attains freedom from his master, the greedy merchant Lankedem, by joining a band of pirates.
"I really love this narrative ballet," continued Lorieux. "I love working on the interpretation until I embody the role. In a short while, I won't just be dancing the role of Ali, I will be Ali, a man who is dancing for his freedom and fighting for love!"
The story is taken from Lord Byron's 1814 epic poem "The Corsair." First staged as a ballet in Paris in 1856, the modern productions follow from Marius Petipa's late 19th century revivals in Russia. Petipa's is a world where evil and greed meet heroism and love. It's a tour de force of abduction and rescue, poisoned roses and pirate grottoes and shipwrecks. The women are daring and spirited, the men dashing.
"Medora has a gracious mind just like her appearance," said Seo Hye Han, the dancer playing the Greek beauty Medora, who is sold by Lankedem into the sultan Pasha's harem.
Dancer Lia Cirio plays Gulnara, a harem girl who revels in the luxuries provided by Pasha. Cirio discussed dancing the role of a "fun and flirty" character within a classical ballet.
"Although Gulnara is dressed exotically and is somewhat of a strong character--she is fairly determined to get what she wants--the style of movement in the ballet is extremely classical. This version of the ballet was a partial reconstruction of Petipa's 1899 revival with dances added by Ivan. So, it is a marrying of original and very classical choreography with an exotic character like Gulnara. This can be a challenge, but a challenge I am excited to tackle."
Eris Nezha, the dancer playing the pirate Birbanto, spoke of his character's courageous attributes.
"Birbanto is an intrepid man," Nezha said. "Adventurous, fearless, feared, and well-respected among fellow pirates. He maintains the very spirit of a pirate until the end. He will not betray what he is; what the audience will perceive as a character transformation--from good to bad--I perceive as honoring my pirate essence till my last breath, and this is what makes my role exciting and challenging!"
Le Corsaire is a narrative ballet, so the dancers must tell a story through their movements, making technical precision essential.
"While technique is always important in ballet, in a story ballet, it is important to make sure the audience is aware of what is happening," said Cirio.
Added Han, "It is very important to have high technique for this full length ballet. But what is even more important in narrative ballets is the ability to play the character and make it believable for the audience."
Lorieux reflected on the challenge of dancing Ali, whom he characterized as "a really strong guy, with mind-blowing energy and a heroic attitude."
"I'm more of a romantic dancer," Lorieux acknowledged, "so I am working hard on the dance movement but also on the way Ali should walk, or fight, because all the scenes between the dance parts are even more important to build a character."
"I love to act and to become a character," said Cirio. "Becoming Gulnara, flirty and a bit manipulative, is a blast."
"She knows exactly how to play the game," Cirio continued. "She wants to have a better life and believes that being sold to Pasha's harem will fill her life with many riches and comfort."
Roddy Doble, who plays the wealthy merchant Lankedem, said he's grateful to be unlike the character he's portraying.
"Lankedem is a savvy businessman, whose lack of scruples, paired with his greed, means he'd sell you his soul for the right price. I'm proud to say I don't find him to be a particularly relatable individual for me, but it's terribly fun to play such a wicked character!"
Set in three sweeping acts, Le Corsaire is both regal and explosive. The dancers all expressed appreciation for Liška's choreography and guidance.
"Ivan encouraged me to respond very naturally to what happens to Medora throughout the ballet," said Han. "He gave me the tools during his coaching not only technically, but also to make my character realistic and help the audience to feel what I am dancing."
Bring on the abductions, poisoned roses, and stormy seas!
Maria Baranova and Michal Krcmar in Ivan Liška/Marius Petipa's Le Corsaire; photo by Sakari Viika, courtesy of The Finnish National Opera and Ballet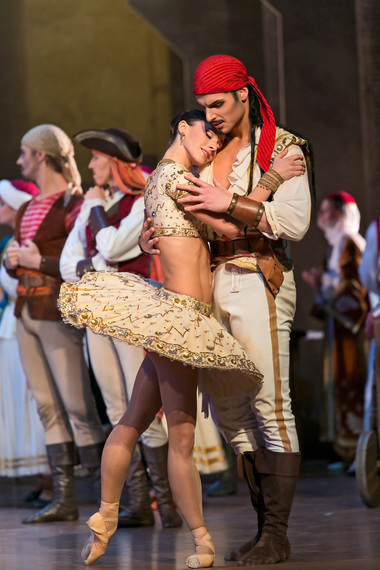 Related
Popular in the Community