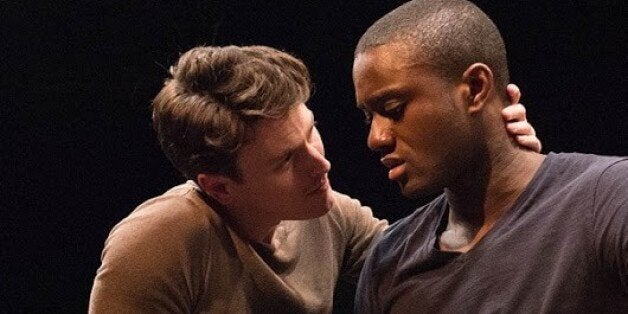 "Pirira," by actor-playwrightJ. Stephen Brantley, opens with two men -- a sassy, gay New Yorker and a staid Malawian student -- silently assessing one another in a deserted Manhattan florist's shop.
However, it's hardly the most intentionally awkward moment in Brantley's Off-Broadway play, which just opened at Manhattan's West End Theatre after a successful run at the Chain Theater in Queens' Long Island City neighborhood. Directed by Ari Laura Kreith, "Pirira" achieves the rare task of weaving two intercontinental plot lines between two sets of strangers, the aforementioned men in New York (played by Todd Flaherty and Adrian Baidoo respectively) and a pair of NGO workers (Brantley and Flor De Liz Perez) held captive in Lilongwe, into a singular narrative that touches on race, religion and homophobia, while posing a number of questions about self-discovery and philanthropy.
Some of the play's finer points are occasionally mind-boggling, particularly for audiences whose primary knowledge of Malawi is based on tabloid coverage of Madonna's adoption of two orphans from the tiny African nation in 2006 and 2009. Fortunately, Brantley, who drew on his experiences as both an American aid worker in Malawi and an openly gay man, is anything but heavy-handed, and infuses "Pirira" with enough wit and subtle humor to keep things moving even during the play's more obtuse moments. (There's even a tongue-in-cheek reference to the Material Girl at one point)
Check out photos from "Pirira," then scroll down to keep reading: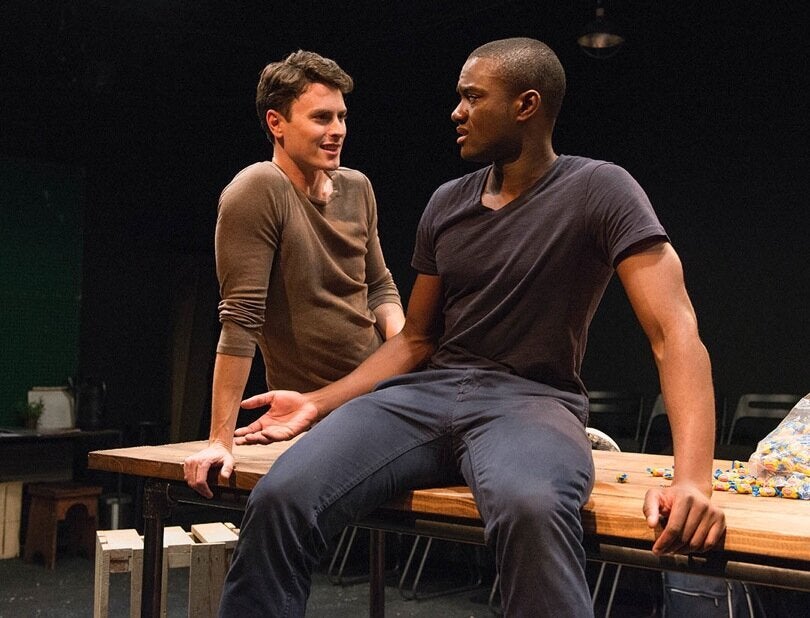 Theatre 167's "Pirira"
Brantley, who stars in the show as American NGO worker Jack and whose theatrical résumé includes the award-winning "Eightythree Down" and "Distortion Taco," spoke to The Huffington Post about his plans for the future of "Pirira," as well as his overriding mission for the piece itself.
The Huffington Post: What inspired you to write "Pirira" and, in particular, opt for a dual narrative?J. Stephen Brantley: I spent some time writing for NGOs working in Malawi and became inspired -- and often confounded -- by the ways in which people navigate cultural differences in the arena of international aid. It seems like helping people should be simple. It's really not. I thought we were going to save the world. We didn't.
But I came away from that work with an absolute certainty in the concept of ubuntu -- or umunthu in Chichewa -- that speaks to the ways in which we are all deeply connected despite our perceived differences. It was this notion, a kind of cross-cultural butterfly effect, which inspired the dual narrative in Pirira. I wanted to depict umunthu onstage, and it couldn't be done with a traditional "split-screen" back-and-forth dramatic structure. It meant seeing two separate, seemingly unrelated stories simultaneously, and watching them come together in real time.
The character of Chad, played by Todd Flaherty, is used throughout the show to illustrate some of the blatant misconceptions many Americans have about Malawi. How did you go about doing your own research on that nation's politics and social conditions? Much of what I did for NGOs involved receiving information directly from people on the ground in Malawi and re-writing it for Western readers. I was getting firsthand reports from hospitals, prisons and orphan care centers, and interviewing both Malawians and Americans on the cyclical issues of endemic poverty, chronic disease and perpetual despair. I learned a lot from simply listening to people who really wanted their stories told.
The writing I was doing then was mainly concerned with OVCs -- orphan and vulnerable children -- and women's health. But as a gay American, I also wanted to know more about the LGBT population of Malawi. That led me to volunteering for other organizations just as the case of Tiwonge Chimbalanga and Steven Monjeza drew worldwide attention. When I found myself unable to go there, I read Malawian newspapers online. I chatted with my friends in Lilongwe on Facebook.
Truthfully, a great many of Chad's misconceptions were once my own. Rural Malawians do face tremendous economic challenges, and there are an astonishing number of orphans. Chad gets that bit right. But ultimately, in every way that matters, the people in Malawi are no different from people in New York. We all want and need the same things. There are some cultural differences that may be hard for someone like Chad (or me) to understand, but is that because of their lack of education? Maybe it's because of ours.
Malawi's stance on the lesbian, gay, bisexual and transgender (LGBT) community is a vital subtext in the show, particularly in relation to the character of Gilbert. Why did you feel this was an important issue to address? I'm a firm believer that if any one of us is not free, none of us is. While I celebrate each victory for marriage equality here in the states, I think it's vitally important for LGBT people in the west to remember that in much of the developing world, we still live with the constant threat of violence, harsh prison terms and death.
To even begin to understand homophobia in Africa, you have to navigate all the complexities of a post-colonial era in which gays and lesbians are often scapegoated by corrupt politicians and misguided spiritual leaders for their nation's socio-economic hardships. It's a great onion of politics and spirituality that cannot be quickly and neatly unpeeled by Western-styled democracy and a shipment of bed nets. I want nothing more than freedom and equality for my gay brothers in Africa, but I have also seen that our demanding it outright, American-style, is often less than helpful. Still, we must keep trying. I would like to see more gay urban "Chad" types get involved.
As was the case in your earlier show, "The Jackson Heights Trilogy," you're doing double-duty in this show as both playwright and actor. Was this always your intent? Was there ever a conflict with director Ari Laura Kreith as to how the character should be portrayed?I hadn't really intended to play Jack in production, and was fortunate to see several terrific actors read the role in development before Ari asked me to do it myself. She and I don't really have differences, we have discoveries, and there were many of them with this character. Jack turned out to be more complex and more conflicted than I'd first realized. In that, my process as an actor was no different that it might have been on any other play.
But unlike other projects, including "The Jackson Heights Trilogy," it's been nearly impossible on this one to do the work of acting and the work of playwriting at the same time. In the past, I've worn both hats at once with great ease. This time it seems like one can spoil the other if I'm not very careful.
What surprised you most about Malawi throughout your own research?I've had tremendous support from people in and connected to Malawi throughout this whole process. I questioned whether I, as a white New Yorker, had any business writing a black Malawian character. I have been delightfully surprised, again and again, at the encouragement I've been given to do so.
In your own words, what would you say is the ultimate message of "Pirira"? The character I play in "Pirira" is an NGO worker dedicated to building latrines and drilling borewells in rural Malawi. Time and again, as soon as he's laid in the pipe, villagers dig it up and sell it for scrap. His response? "Drill another hole. Sink more pipe." Though his motives for doing so are, to some degree, self-serving, he never gives up on trying to do some good. We must stay engaged in the fight to better this world for one another, in whatever way we can, even when it seems pointless or feels hopeless. It's what we're here to do.
Why? Because while we are not all the same -- and it's naïve and maybe even dangerous to think so -- we are all connected. We do all share a common fate. We have not yet conquered hate or eradicated poverty, but I still believe that if more of us reached further afield, out of what's comfortable, in an effort to help someone whose life and whose belief system may be very different than our own, we could make a real difference for all of humanity.
What's next for the show after the Off-Broadway run?We'd like to see this production travel to other cities. We'd like to work with other theater companies in the U.S. and abroad to bring the show to new audiences. And Theatre 167 will continue to create and support multi-cultural, multi-lingual performance that examines and celebrates the ways in which we are all deeply connected despite our cultural differences. I feel incredibly blessed to be a part such a mission. I know it has changed me. And isn't that the first step in changing the world?
Popular in the Community