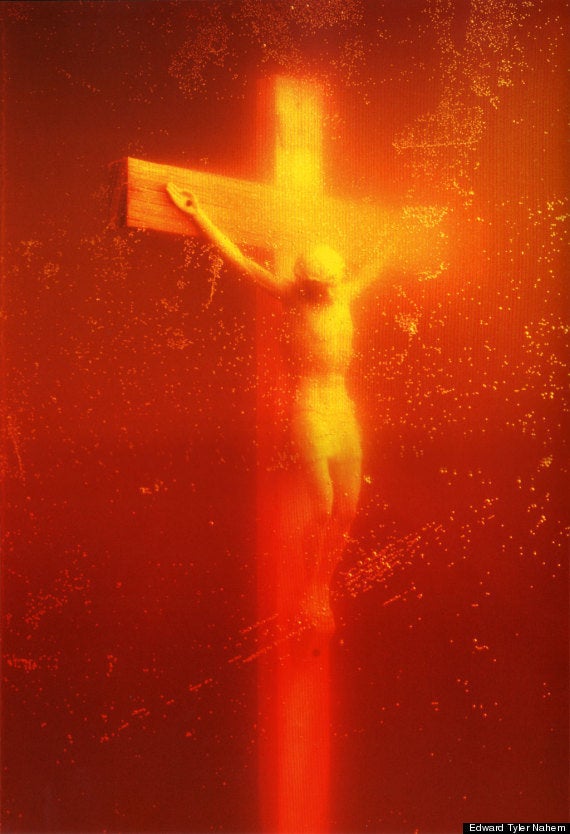 It looks like the standoff between "Piss Christ" artist Andres Serrano and the Catholic League may have come to a temporary and anticlimactic pause last night. Serrano's latest show "Body and Spirit" opened last night at Edward Tyler Nahem gallery in New York, and instead of the usual hammer-wielding protesters, the streets in front of the exhibit's location were filled with glitzy gallery patrons and anxious art bloggers - no members of the religious right in sight.
In fact, the only visitors bearing signs were three Piss Christ-loving fans, donning nun attire and gushing about freedom of expression. However, the trio of ironic admirers, lead by Hyperallergic writer Gerry Visco, were not allowed to enter the gallery premises. Visco told the Huffington Post that she had previously posed nude for Serrano and arrived at the opening to show her support. "But they won't let us in. I know that it said on the website that the exhibit is open to the public, but now some bouncer-type is telling us it's a private event. They're scared, I guess. I'd take off the nun costume if they'd let me in!"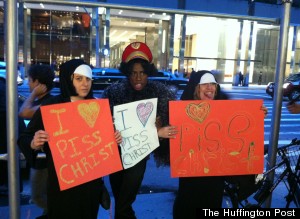 Prior to the event, namesake and owner of the gallery, Edward Tyler Nahem, told the Huffington Post in an e-mail that he could not comment on the expected security measures "except to say that the security will be appropriate." But, in the end, it doesn't seem like there was much for the gallery to fear. According to the faux-sisters, the Catholic League did show up for about 20 minutes but disbanded before the party kicked into gear. "Maybe they don't have a lot of members in New York," speculated Visco. The League, which is headquartered on 7th Avenue in Manhattan, a mere blocks from Edward Tyler Nahem, told the Huffington Post that their total, country-wide membership numbers at about 300,000.
Aside from its overall absence at the exhibit's opening, the League's website shows that the group remains fervent in its position against Serrano's urine-soaked iconography. Bill Donohue, President of the League, is seen in a video on the site explaining his organization's disdain, and also showing off his very own artwork -- a bobble head of President Obama stationed in a jar full of brown play-do meant to signify feces. "The cultural and the political elite are basically securalist," Donahue states. "They don't believe in God, this is their God. Liberalism is their God."
UPDATE: Jeff Field, Catholic League Director of Communications, told The Huffington Post via e-mail that Bill Donohue was barred by the gallery from attending.
Let us know what you think of the Serrano saga in the comments section. And compare "Piss Christ" to other shocking works of art in the slideshow below.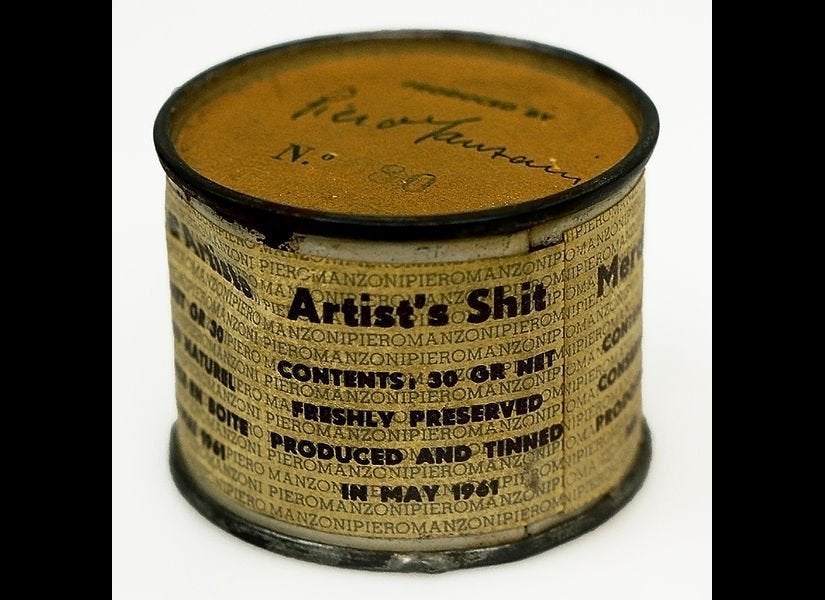 11 Shocking Acts by Artists