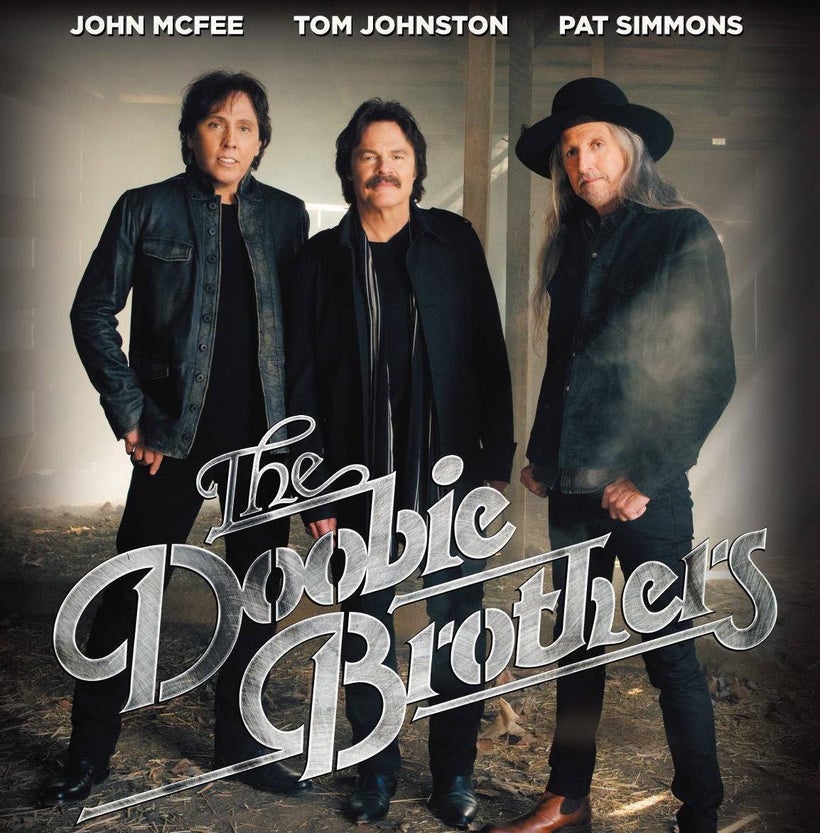 When the Doobie Brothers (now in the midst of a summer-long co-headline tour with Chicago) hit the stage at the Forum in Los Angeles on Saturday June 10, it was hard not to reflect and start to take stock of their legacy. As they swaggered into "Jesus is Just Alright" (just how they kicked off the first time they played this vaunted venue back in 1975), it became clear (as it often does when musical chords touch our emotional chords) that certain artists are simply woven into our collective consciousness. We can't escape them, nor do we want to. After all, they bring back our hopes, dreams and the restless, wild energy that's the glue holding together the pages of our scrapbook youth.
They are our tribal soundtrack.
This band was born almost 50 years ago, emerging from roughly the same musically fertile Bay Area landscape that produced many other legendary outfits, from the Dead to the Airplane to Creedence and beyond. In a seedy little house on Twelfth Street in San Jose, the jamming began. In 1970 they were the house band at Chateau Regis (later called the Chateau Liberte), a rustic, rowdy roadhouse (and former 19th-century-stagecoach stop) tucked up in the Santa Cruz mountains. Soon after that came a contract from Warner Bros Records and a year later, in 1971, their eponymously titled debut LP.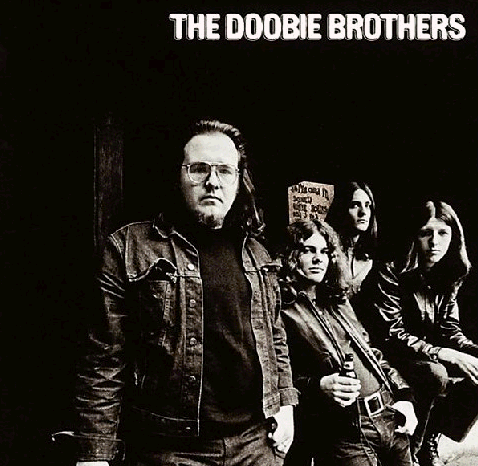 The Doobie Brothers, sparked in part by the musical bond of a soulful, soft-spoken country-blues picker/singer named Pat Simmons and a rootsy, authentic R&B belter/guitarist named Tom Johnston, delivered the goods from the beginning. Watching those two men on stage now, one marvels at the youthful, passionate, even playful energy with which they ply their craft. They still balance and compliment each other, and their mission still seems shared. Before the show, they both offer that they feel lucky to still be doing this. That they care deeply about it. And that every show matters.
They've never phoned it in before; so why start now? Their blue-collar work ethic is as much a part of the band's ethos as the timeless anthems they've created. The rock and roll math adds up quickly: Thousands of shows, millions of miles, tens of millions of records. That's what hard work does.
It was never about critics or industry executives. This was a band for the people, and as thousands of Forum faithful swayed in time, joyously, to "China Grove," it's clear that this is still the bond that matters most.
Onstage, there's also guitarist John McFee. He's the "new" guy, who has been with them now almost 40 years. Like everyone anyone ever associated with this band in its various lineups over the years (including Michael McDonald and Jeff "Skunk" Baxter) McFee's pedigree is impressive. That lovely lead guitar on Elvis Costello's "Alison"? That's him, back when he was in the seminal Bay Area band, Clover. He played on Van Morrison's Tupelo Honey, not to mention dozens of other important musical contributions both before and after becoming a Doobie.
The rhythm section of drummer Ed Toth and bassist John Cowan (whose also a terrific vocalist) powerfully frame the classic songs, and sax player Marc Russo is given plenty of room to breathe.
But then my eyes drift over to keyboard player Bill Payne. Musical DNA? Forget about it. Payne's supple and knowing hands have blessed hundreds of notable recordings over the years. He co-founded Little Feat with Lowell George. His influence is immeasurable, and after years of playing and recording with the band, he is now an official touring member. He's a legend but he doesn't act like it. His unassuming persona belies a great storytelling ability, which I'm fortunate enough to experience before the show. Onstage, Payne adds a sublime texture to each song, and his solo slot is exquisite. You can hear his history. You can feel his history.
And then there are Simmons and Johnston.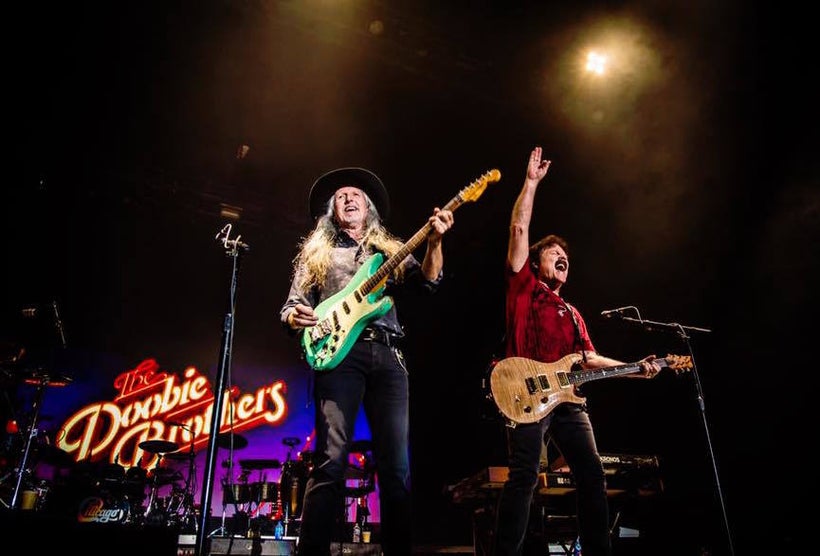 The gravity between the two men is palpable; and the chemistry still clear yet complex.
For my money, Simmons remains one of the great underrated guitar players of his generation, tapping into the heart and soul of American music and channeling it with the care and patience of a true craftsman. Never showy or forced, his tasteful style may not garner the attention of more histrionic axe men, but again, it all gets back to the music, not the notoriety, and he is simply one of the best.
Johnston, whose muscular and workmanlike vocals still soar, has taken care of his arena-ready chops. His presence is robust and commanding, and together with Simmons, they celebrate the band's history with the sort of well-oiled looseness, simplicity and honesty that has always made the band so effective in live settings. You get the hits, but they also have no problem digging deeper into the catalogue, to remind us of their depth. And the vocal harmonies have never been sweeter or more evocative.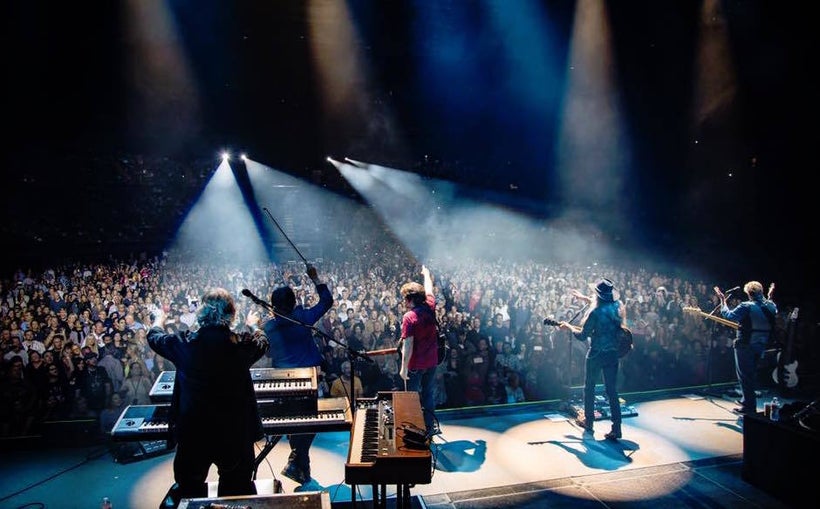 Spending some time with the band both before and after the show, something else emerges that I think helps define the Doobies' staying power and relevance: A sense of family, from actual relatives, right down to the crew. Many of them have been working with the band for years. The images for this piece were shot by a roadie, Jeremy Denton, Toth's drum tech, who also happens to have a great photographic eye. You want to chase a dream? Do it. That's the Doobie spirit and you can feel it in virtually every relationship backstage. It's a kinship caravan that trucks around the world. But nobody ever forgets where they come from.
Back onstage, the music rolled on, familiar and comforting. "Takin' It to the Streets." "Long Train Runnin'." There was no pretense or awkward posing. It was all natural. If they played a small club it would probably be just the same. A lot of smiles, sweat and hard work. As "Black Water" wafted to the back of the arena through gauzy purple light, you could see it in the fan's eyes, all the gratitude and appreciation along with the deep love of a band that loves them right back. The Doobie Brothers deliver rugged exuberance every night and the smiles are real. After the show, as the notes of the final encore still hung in the air out front, the guys, back in their dressing room, patted each other on the back and congratulated one another on a good show. Humble, modest men doing what they love, for people that love what they do.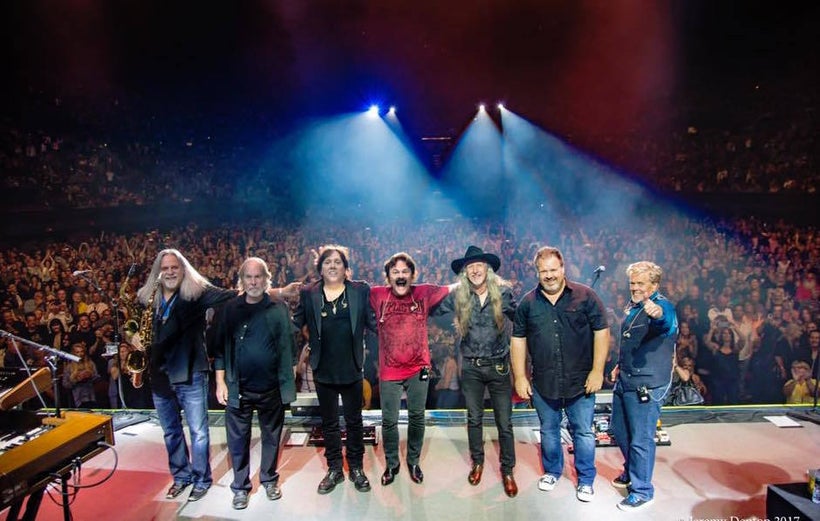 As evidenced by the powerful Forum show, The Doobie Brothers represent one of rock 'n' roll's great musical adventures. They are an authentic American band and an equally authentic musical brand - rugged, sturdy, reliable and time tested. Long may they keep rocking down the highway. Long may they serenade us under a Mississippi moon. And of course, long may they implore us to listen to the music.
(The Doobie Brothers will playing The Classic festival in Los Angeles and New York next month with the Eagles and Steely Dan. For ticket information visit here. For additional tour dates visit here.)
REAL LIFE. REAL NEWS. REAL VOICES.
Help us tell more of the stories that matter from voices that too often remain unheard.
This post was published on the now-closed HuffPost Contributor platform. Contributors control their own work and posted freely to our site. If you need to flag this entry as abusive,
send us an email
.