Spartacus is a lovable dog. He's happy and docile. He did nothing wrong.
He's so innocent, in fact, that he didn't even resist when an unknown assailant cut him up from head to toe and hit him with a shovel.
"Spartacus just sat there, I guess, letting him slice him up. Such a sweet dog," Alex Kyrkland, who works at the Pet Care Center in Los Angeles, told CBS News. "Whoever this person is, and I can't even use that word, this animal, I think, he tried to cut his throat off."
It took surgeons at the Pet Care Center two hours and 1,000 stitches to save 2-year-old Spartacus on Sunday. He had slashes on his neck, face and torso, and the gash on his neck led surgeons to believe someone was trying to decapitate him, according to the New York Daily News.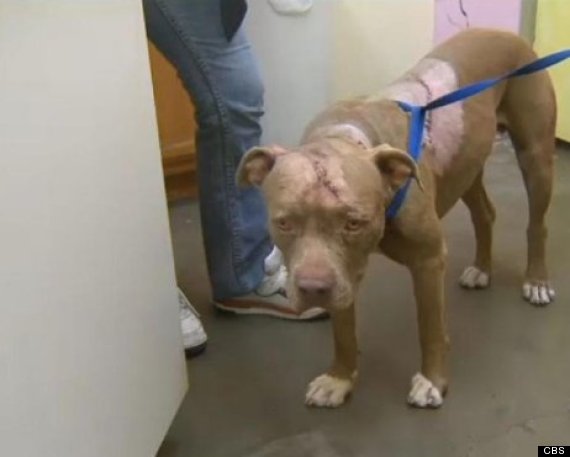 His attacker -- who has not yet been identified -- was gone when a good Samaritan found Spartacus and took him to the Ghetto Rescue Foundation. The poor pup was placed with a foster family while he recovers, and he's not up for adoption. But you can donate to the Ghetto Rescue Foundation, which helps stray animals and paid for Spartacus' surgery.
Even after the attack, Spartacus is wagging his tail and trusts his handlers.
The Los Angeles Police Department is investigating.
Calling all HuffPost superfans!
Sign up for membership to become a founding member and help shape HuffPost's next chapter