Every night, Zeus sleeps by the girl's side, comforting her with kisses. Owens, who has severe neck problems and uses both a halo brace and wheelchair, told Louisiana outlet KALB that if she is experiencing pain, Zeus "notices it before I even make any noise." According to CNN, the pit bull acts "as a sort of therapy dog" and rushes to alert Owens' mother if the girl has seizures during her sleep.
(Story continues below.)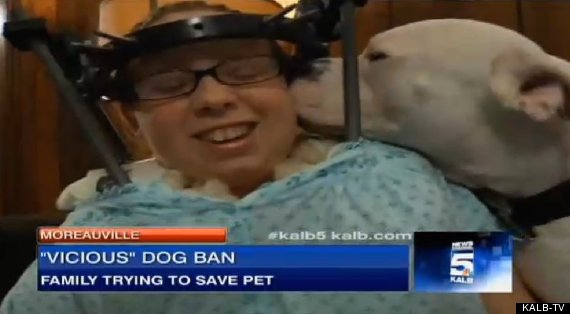 Zeus and O'Hara Owens.
Though Zeus is adored by his human family and has reportedly never caused harm to any person or animal, he may be taken away from his home because of the town's "vicious dogs" ordinance. Moreauville voted to ban pit bulls and Rottweilers on Oct. 13, and people who own these types of dogs may need to get rid of their pets by Dec. 1 or risk being fined and having their dogs taken away from them.
Village Alderman Penn Lemoine told KALB that the ban was put in place because "several residents ... were complaining about not being able to walk along the neighborhoods because these dogs were basically running along town."
Owens and her family aren't giving up Zeus without a fight. They've launched a petition to save their dog, calling for Moreauville residents to repeal the ban. More than 200,000 people had signed the petition, as of Tuesday morning.
A number of jurisdictions across the United States have passed breed-specific laws restricting the ownership of pit bulls and other so-called "dangerous dogs." But animal experts have long decried the practice.
Fred Kray, an attorney who specializes in animal law and who hosts a weekly podcast about pit bulls and legislation, told The Huffington Post on Monday that there is "no evidence" to suggest that any of these so-called "vicious" dog breeds is "more dangerous than any other," or that such breed-specific legislation is useful in reducing dog attacks.
"I think it unfortunate that small towns across the country can pass breed-discriminatory laws which result in companion animals who have done nothing to be banned or restricted," he said. "There is no peer-reviewed study, nor does my own review of the data indicate that breed-discriminatory laws increase overall public safety. The total number of dog bites do not usually go down."

He added that the term "pit bull" doesn't actually refer to a specific breed of dog, but is rather a catch-all term that applies to terriers such as the Staffordshire bull terrier, American Staffordshire terrier and American pit bull terrier, or dogs that bear a resemblance to these animals. It can thus be very difficult, he says, to reliably identify a "pit bull."
Commenting on Zeus' case Monday, actress Rebecca Corry, a vocal pit bull advocate, told HuffPost that Moreauville's new ban is "unacceptable."
"Until our society educates themselves and admits that it is humans, not 'pit bull-type dogs' who are the problem, lawmakers will continue to keep making uneducated decisions that cost innocent victims their lives," she said.

Zeus' family said this week that a special town meeting is being planned to address the ban. It is not clear when this meeting will take place.
"It was a mistake," said Alderman Penn Lemoine. "And it's got to be redone and reworded. And this Dec. 1 date is not going to happen."
Lemoine explained that the board would probably work out some kind of ordinance "to keep the dogs off the street." He went on to say of Zeus' owners: "If (they had) come forward and told us basically (Zeus was) sort of a therapy for their daughter, it think it would have made (the situation) a lot of different. ... I know in my eyes I wouldn't want to see (Zeus taken away)."
For more information on Zeus' story and the Moreauville ban, visit O'Hara Owens' family's Facebook page "Saving Zeus."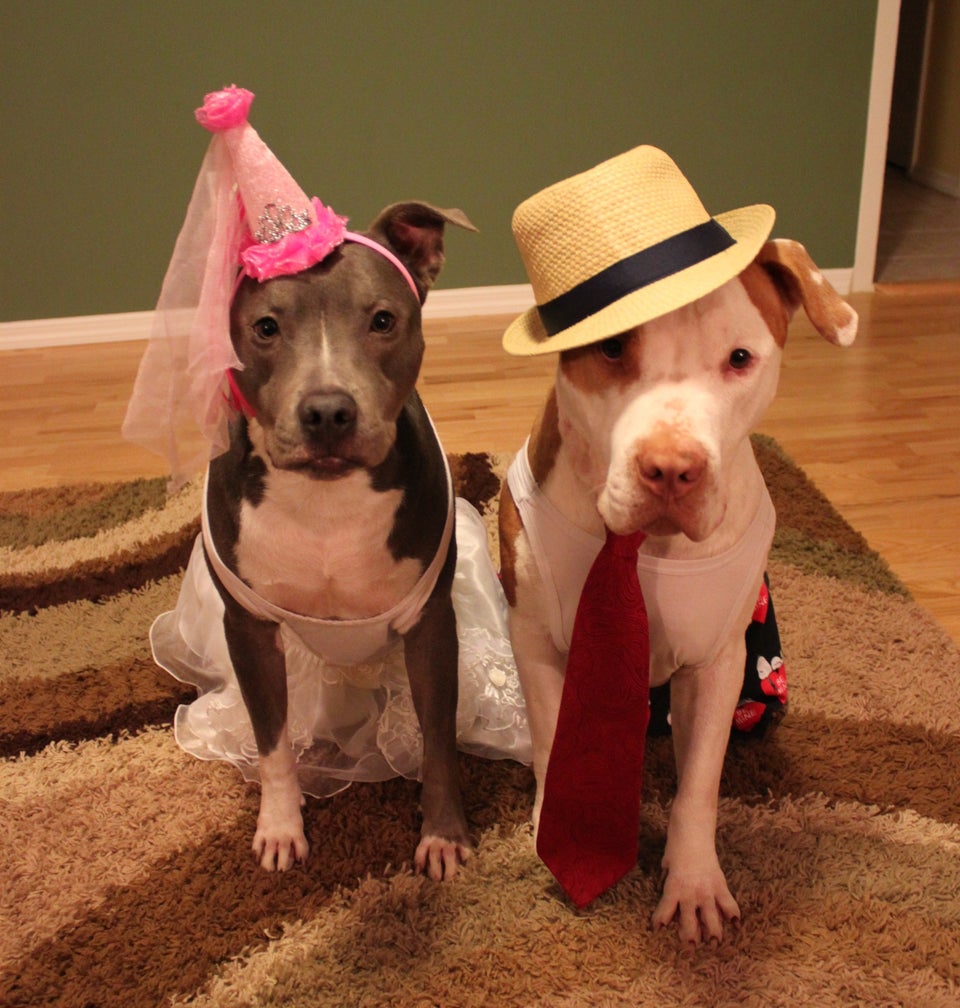 10 Stereotypes About Pit Bulls That Are Just. Dead. Wrong.