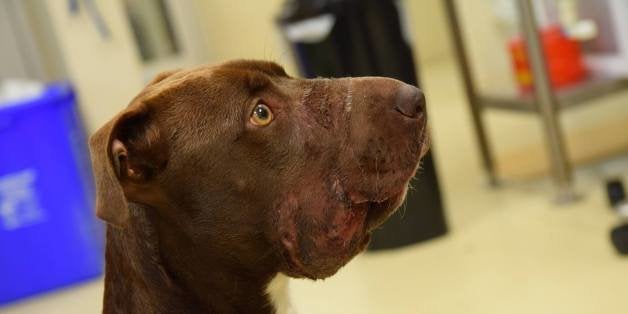 Caitlyn is a 15-month-old pit bull found in North Charleston, South Carolina on Wednesday morning with her mouth taped shut.
The tape, which may have been there for as long as two days before Caitlyn was discovered, was so tight that it cut off circulation to the dog's tongue. It wasn't clear at first whether she would live.
Dr. Lucy Fuller, veterinarian for the Charleston Animal Society, which assumed Caitlyn's care, said in a statement on Thursday that the dog's condition was "critical, and her prognosis is guarded."
On Friday, Caitlyn's prospects seemed better, Charleston Animal Society spokeswoman Kay Hyman told The Huffington Post.
"She is still really swollen, but she's walking. ... She was eating small portions of food," Hyman said. "Today, I feel much more at ease."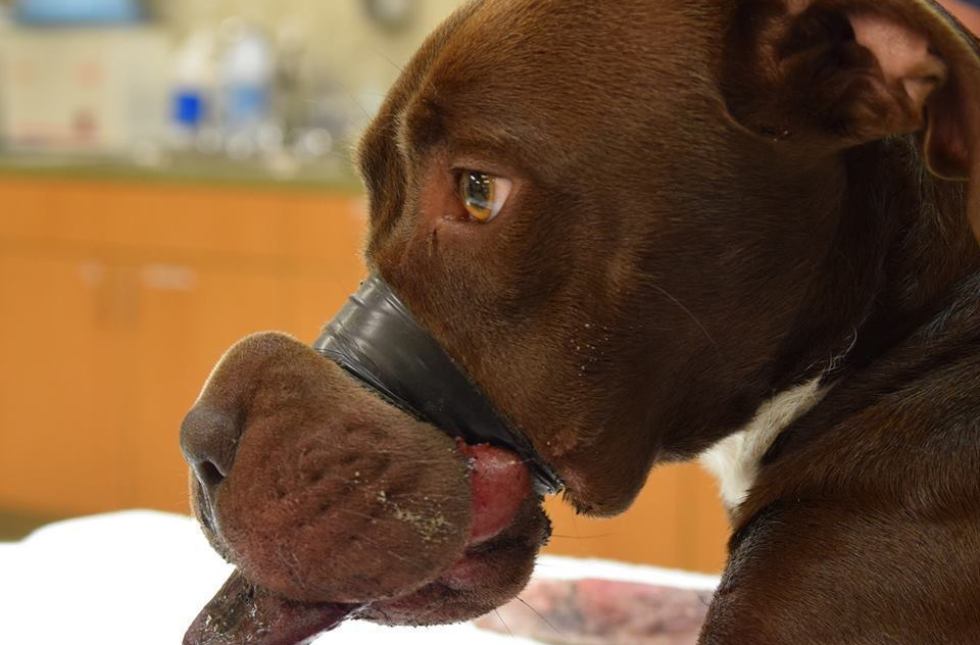 Photo: Charleston Animal Society
A $1,000 reward has been offered for information leading to the arrest and conviction of those responsible for taping Caitlyn's mouth shut. The North Charleston police department did not immediately respond to a request for comment on the investigation.
Hyman said the shelter has been overwhelmed by messages of support from those who have been moved by Caitlyn's story -- along with hundreds of donations that have been made to the shelter's medical fund, which is used to care for sick and injured homeless animals.
So many donations have been made in Caitlyn's name, Hyman said, that staff hasn't yet been able to process them all.
In addition to financial and emotional support, and helping law enforcement find those responsible for the cruelty, Hyman said people can adopt a pet, or take in a foster animal -- from the Charleston Animal Society, or from their local shelter.
"Right now we have 100 adult dogs," Hyman said. "What we really need for them to do is make room for another dog."

Caitlyn, meantime, has been transferred to a nearby veterinary hospital. She is on antibiotics to stave off infection, and is undergoing regular hyperbaric oxygen therapy sessions, to promote healing.
Hyman said it's likely Caitlyn will need to have portions of her mouth and tongue amputated. Veterinarians are waiting to see how successful her current treatment is before surgery.
And through all of this, this dog -- who was microchipped, and had been spayed by the shelter about a year ago, though the phone numbers associated with her then-owners are disconnected -- has been loving and affectionate with shelter and veterinary staff.
"When you see how sweet she is, that makes it more horrific," Hyman said.
The couple told ABC that they had to give the dog away because she was energetic and destructive, and they feared eviction, but they are aghast at the result.
"Don't let me find you," one of the former owners reportedly said of the person who taped Caitlyn's mouth shut. "That's all I can say, don't let me find you because that's part of my family you just did some foul things to."
The former owners told the station that they found Caitlyn outside their home on Wednesday morning, and asked a neighbor to call the police. They reportedly also gave police a description of the person who bought their dog.
"Anyone capable of such a heartless act of cruelty should be held accountable, and we hope this reward will encourage anyone with information to come forward," said Kimberly Kelly, the Humane Society's South Carolina state director, in a news release.
North Charleston police did not respond to multiple requests for comment from The Huffington Post.
UPDATE: 6/2, 10:20 a.m. -- An arrest has been made in this case.
Under South Carolina law, this crime is a felony which may be punished by up to 90 days in jail, and up to a $1,000 fine, for a first offense.
The Huffington Post has reached out to North Charleston police and will update this piece with any new information.
Caitlyn is still in the hospital, as her health improves. The Charleston Animal Society writes on Facebook that "We have the greatest of hopes for this beautiful girl!"
Get in touch with animal stories at arin.greenwood@huffingtonpost.com.
Related
Before You Go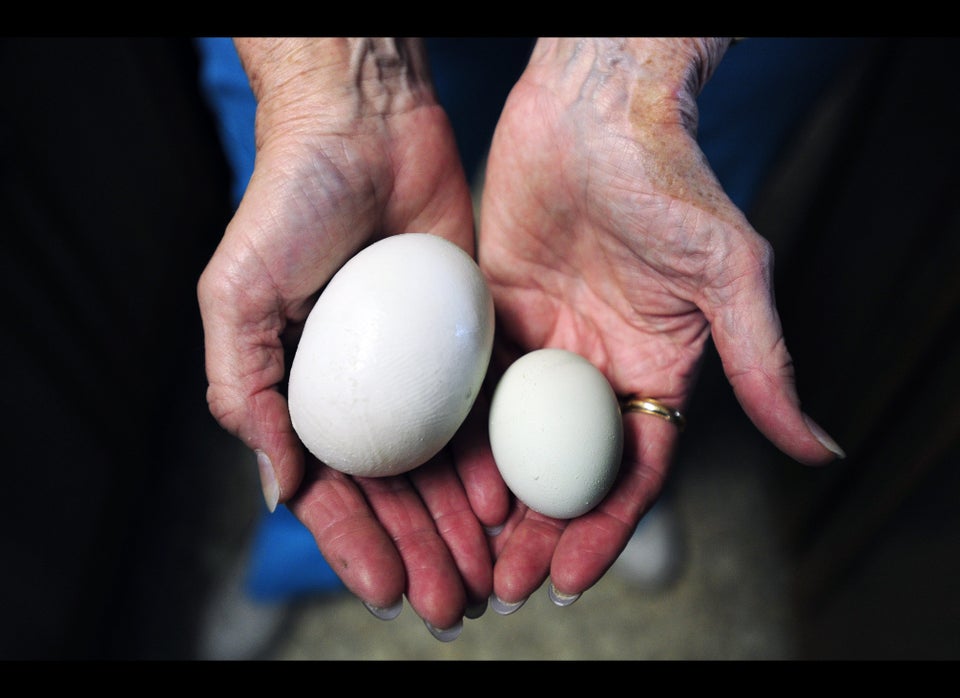 Animals In The News
Popular in the Community