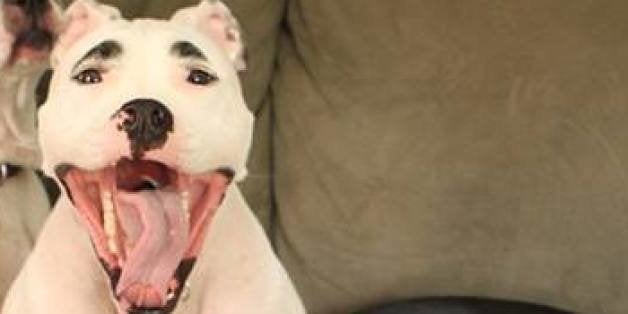 It isn't unusual for perfect strangers to ask if Simon the pit bull-boxer mix came by his amazing eyebrows by unnatural means.
"During a visit to the vet with him, I was waiting to be brought back to the exam room with him. A lady walked in from outside, looked at him, stopped in her tracks, looked at me, back at him and said, 'Did you put those on him?,'" says Simon's owner, Stephanie Williams. "I felt like saying, 'That's why we're here; they won't come off.'"
Though Williams occasionally wearies of having to explain that Simon's Groucho-like brows are 100 percent real, she's also grateful his facial hair has the kind of draw that's helping her change minds about blocky-headed dogs.
"The fact that Simon looks like a real-life cartoon character seems to break boundaries for people who may fear this type of dog. People love him," she says.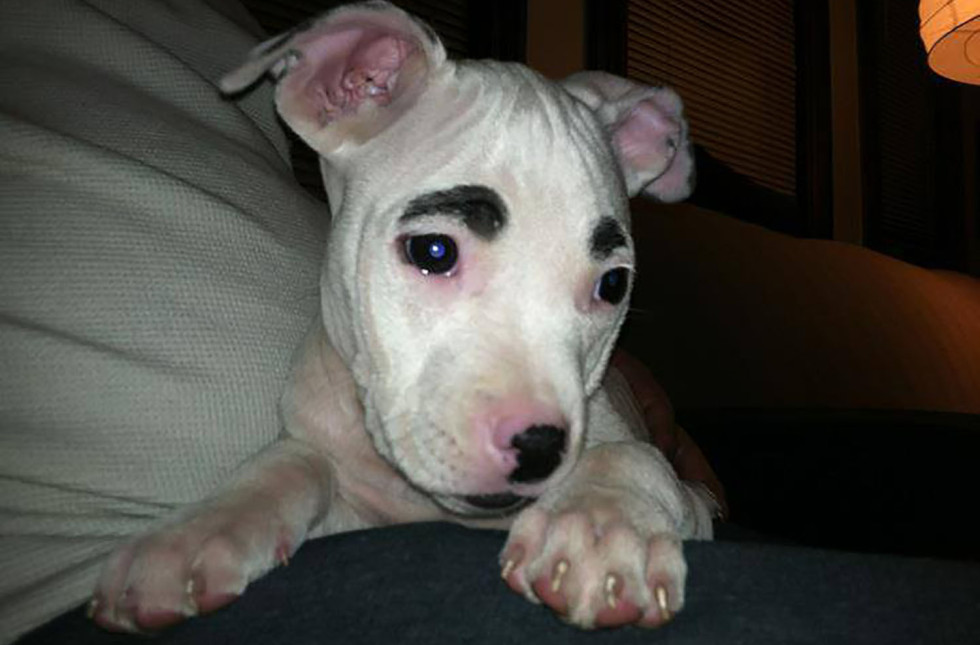 Even as a puppy, Simon's eyebrows showed great promise. Photo credit: Jacob West
Simon came into Williams' life about two years ago. He was born at a Minnesota animal shelter, then adopted on the brink of being put down. But not long after that, he lost his home and was given over to the rescue group Secondhand Hounds.
At the time, Williams had recently adopted her third rescue pit from Secondhand Hounds. She then took Simon in, intending to provide him with a temporary home until another family adopted him for good. But she just couldn't give him up.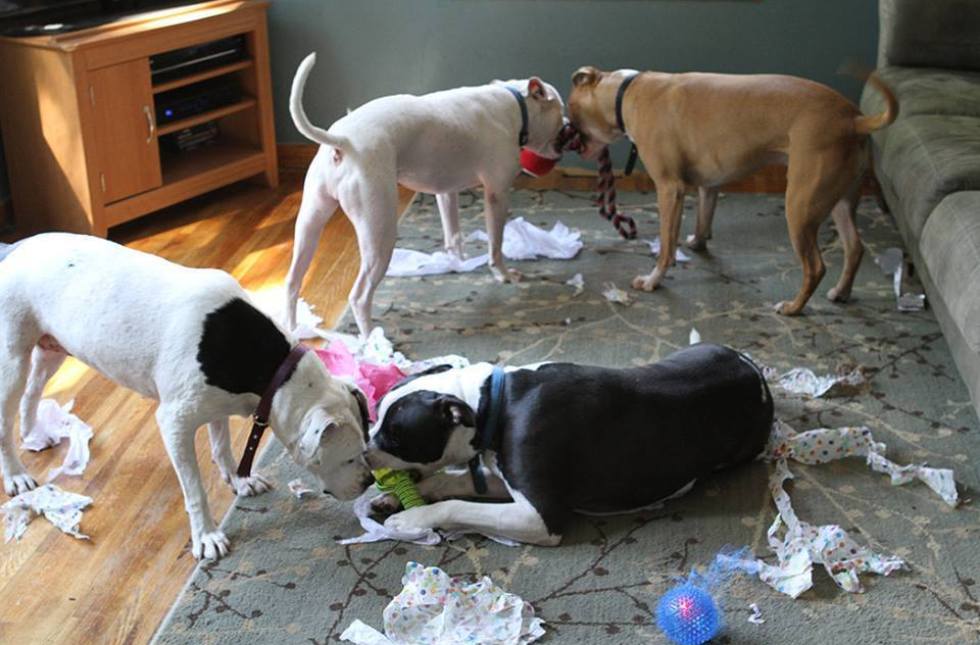 Simon and his canine siblings -- Lili, Rufus and Kane -- now have the run of Williams' house in Mankato, Minnesota. Photo credit: Stephanie Williams
Today, the four Williams dogs all love playing together. And while Lili and Simon sometimes jockey for the position of alpha dog, they more often collapse into a little nap pile.
Simon loves swimming and playing and cuddling, and he continues to be a unique character, though Williams admits he could use a little more obedience training. He jumps up on the table to steal food; he howls at tornado sirens; he loves when his human mom gives him piggyback rides. "He thinks strangers want to give him piggyback rides too," says Williams. "If they sit on the couch, he just might hop up behind them and put his paws on their shoulders."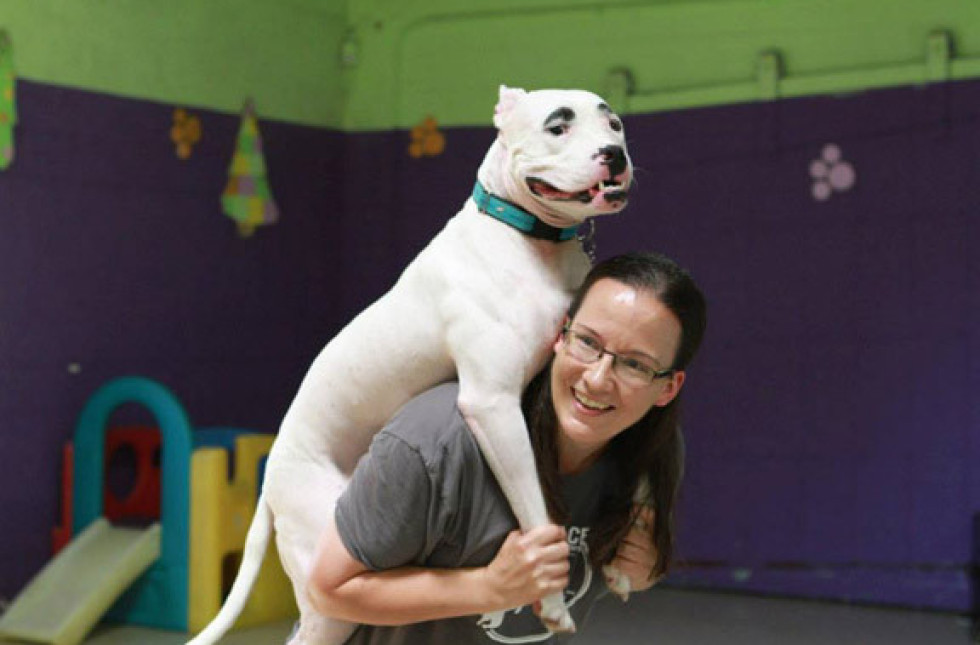 Some might say Simon is too big for piggybacks, but Stephanie Williams isn't one of them. Photo credit: Stephanie Williams
And Simon's eyebrows have reach, these days. The details of this spunky dog's lively household and notable facial hair have been featured in national publications like American Dog Magazine, in addition to local papers such as the Mankato Free Press.
Simon now has a couple thousand fans on his Facebook page, where Williams posts near-daily photos of Simon and his canine siblings, as well as links to other adoptable animals, especially those who have compelling mustaches and eyebrows of their own.
"Simon was almost euthanized because he's a pit bull. In my mind, that's discrimination," she says. "I'm often asked, 'You have four pit bulls? Why?' My answer is 'Why not?' I love these dogs more than I can express with words."
As for Simon, Williams says he loves the attention and seems, in his own doggie way, to appreciate why he's getting it.
"He's seen himself in the mirror a few times," she says. "He seems to like looking at himself!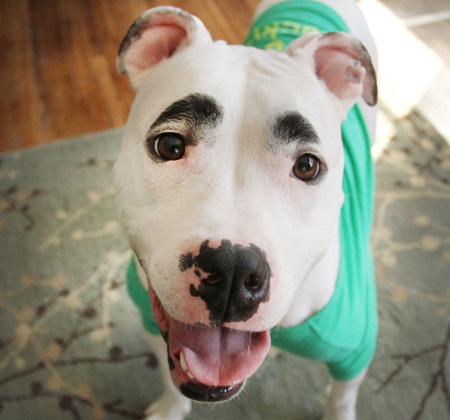 He's handsome and he probably knows it. Photo credit: Stephanie Williams
Find out more about Simon and his eyebrows on his Facebook page. And get in touch at arin.greenwood@huffingtonpost.com if you know a dog with excellent facial hair, or have another animal story to share!
Calling all HuffPost superfans!
Sign up for membership to become a founding member and help shape HuffPost's next chapter