Kelly Garrison swears this picture isn't photoshopped: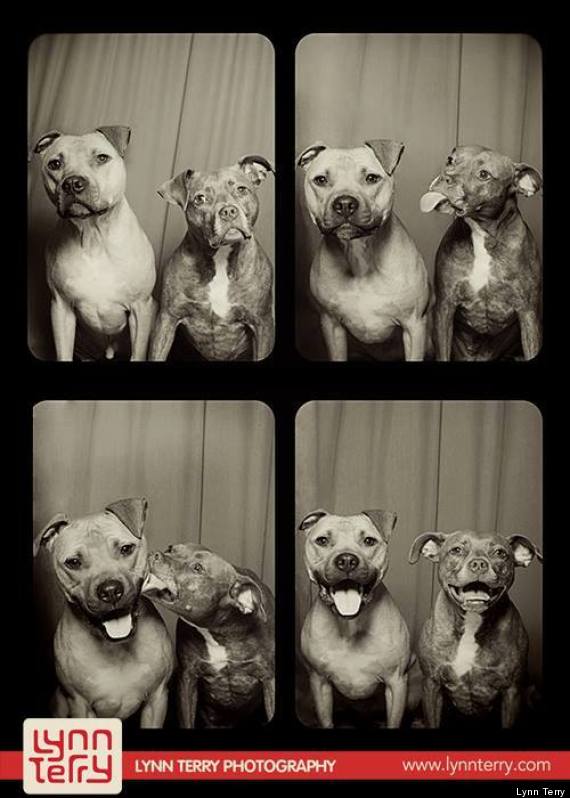 Bumper, the licker, "went to kiss" Willis, the lickee, Garrison says. And photographer Lynn Terry "got the shot. She got just the perfect trigger time."
The administrator of that page -- we're guessing the Chihuahua? -- said it "may be the greatest photo booth session of all time," which seems entirely right. And the photo gets even better when you find out more about the dogs who are in it.
Bumper is a pit bull who "came from a not-so-great area of St. Louis," says Garrison. A "gentleman tried to fight her. She wouldn't engage." A little boy "lured her away" and got the dog to Mutts n Stuff, a local pit bull rescue.
Garrison and her husband Jason had had Bumper about 1.5 years, she says, when they felt ready to take in a foster dog. They were matched with another pit bull, then six months old, who had been part of of a 500-dog fighting ring that was raided in the summer of 2009.
"The largest pit bull fighting bust in U.S. history," says Garrison. Willis' mother was pregnant at the time of the bust; Willis himself was, Garrison says, "born about two weeks after the rescue."
It didn't take long for the block-headed pup to become a permanent member of the family. All the Garrisons had fallen in love with him. That includes Bumper.
"She mothers him," says Garrison. "She's constantly giving him kisses."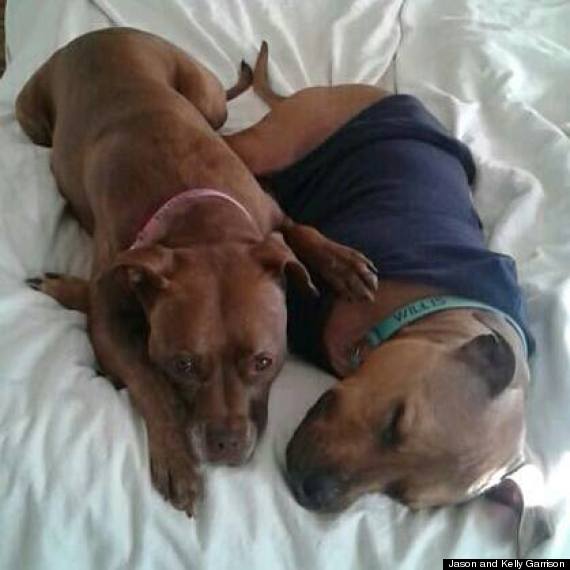 Lynn Terry, the photographer, tells HuffPost that for her part, she's been working with animals for about 10 years, and especially likes pit bulls because "I have a personal affinity for the breed. They are the underdog and I want to do what I can to change public opinion about the breed."
She says they also "make some of the best faces," which is professionally satisfying, as you can see in her first pit bull photo booth pic, from a few years ago, of two more Mutts n Stuff dogs named Tucker and Pitunia: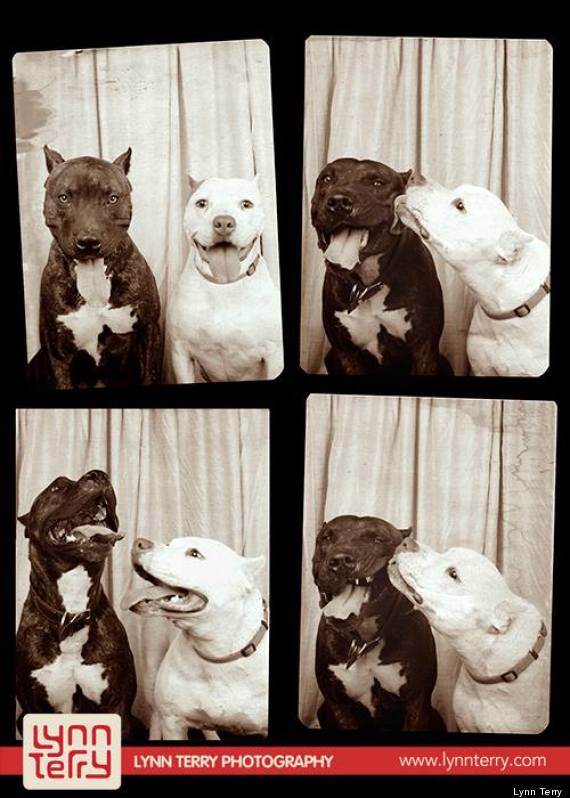 "They got right on set and started licking each other. I could instantly relate it to new lovers who stepped into the privacy of a photo booth and locked lips," says Terry. "I knew right away I, or rather they, had made magic. It's been the shot of shots to live up to but I think with the new series it has met its match."
"I love them, I love them, they're my whole world," says Garrison of Willis and Bumper, who she does not worry, with all this attention, will get big heads. Especially since Willis, in particular, already has one.
"You can see it in the picture," she says. "Friends texted, 'I don't think his head can get any bigger.'"
Related
Popular in the Community