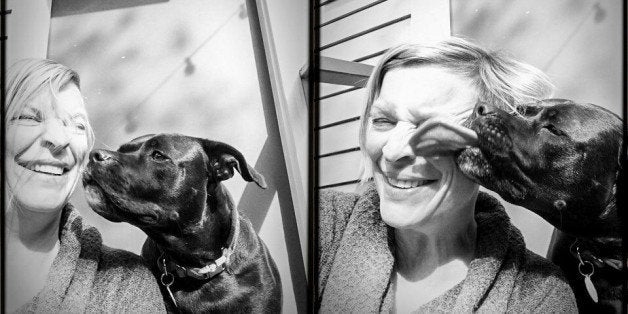 In 2000, when photographer Jenny Persing moved to Seattle from her native Cincinnati, she'd never even met a pit bull. And with people at every turn telling her to be careful, it was hard not to be wary of them. But in 2006 she adopted her own pit bull, Rain, and began to meet many other inspiring people and pets.
"By the time I met Rain, I knew that pit bulls didn't deserve their reputation," Persing told The Huffington Post. "I'd had some dog-walking clients that owned pit bulls, and had started my learning process through them."
"When you don't know the first thing" about pit bulls, she added, the perception that they're dangerous animals is "hard not to believe ... It takes personal experience to get past it."
Since starting the Just Dogs Project, a collection of photos and stories from owners of pit bull-type dogs in the Seattle area, Persing has had no shortage of personal experience with the canines. To Persing, Rain has been an inspiration for art, advocacy and community building. Since June 2013, Persing has been collecting and showcasing stories of the love shared between these supposedly "dangerous" dogs and their owners.
One of her first subjects is her most memorable: Aisha, an older pit bull in Persing's dog-walking group. "She was such a good influence on all the other dogs in our group and helped them kind of become calm, and so I was interested in her story," Persing told HuffPost.
Aisha spent the first 11 years of her life in an abusive home, neglected and beaten by her owner and forced to fight another dog for her food. She was rescued by a woman named Helen Anne, after which point she was introduced to Persing.
"She just really inspired me, that a dog can go through all that she went through and still be part of a family and love and happiness in the last couple years," said Persing. "It was just the best relationship I've ever seen, and they loved each other. She's a big reason why I want to do this."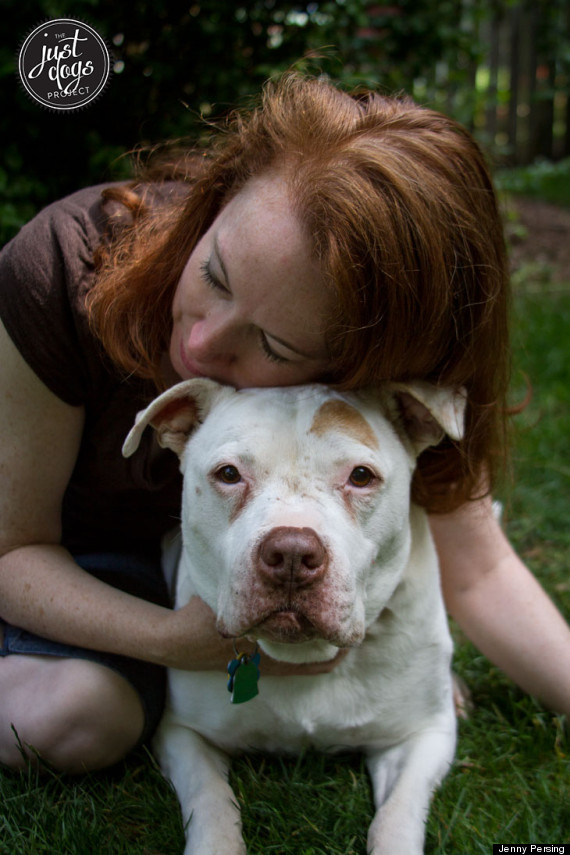 Helen Anne with Aisha, a pit bull who spent her first 11 years in abusive conditions before Helen Anne adopted her.
Since Persing left Cincinnati, the city has repealed its pit bull ban, and things are looking up for current and future owners elsewhere. Eighteen states have banned breed-specific legislation that discriminates against pit bulls, with six more considering similar policies. "People are starting to learn, but there's still a lot of work to be done," said Persing.
Akitas, chows, Rottweilers, Doberman pinschers, German shepherds and huskies are among the other breeds that Persing is looking to feature in her photography project. These dogs often appear on "dangerous dog" lists, and can cause trouble for people looking to rent an apartment or get insurance.
Persing and her dog-walking group have witnessed some discrimination since adopting Rain. "This one lady in specific, she's so angry at us for having pit bulls in a public place all together," she told HuffPost. "Never mind that she was yelling and causing a scene. It didn't seem to matter to her that we all had our dogs on leashes and under control, all sitting nicely and watching the world go by."
Discrimination happens in adoption centers as well. Every year in shelters, according to National Geographic, pit bulls account for 30 percent of dogs admitted, and 60 percent of dogs euthanized. Persing is doing what she can to lower these startling figures.
"Having good pictures [...] just helps adoption tenfold," she said. "If you see a sad picture of a dog [online], you're a lot less likely to be able to see it in your own family, imagine it being your dog. But when you get a good picture, when the dog is smiling and looking at the camera, looking good and happy and friendly, then it just makes all the difference in the world."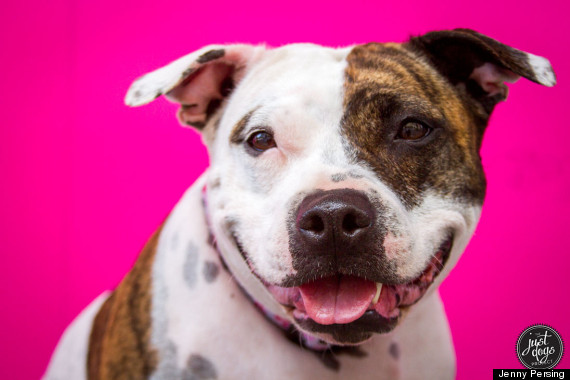 Despite all this, Persing believes the Just Dogs Project is inspiring people to rethink their feelings on dogs they might have previously felt apprehension about.
"It's important to capture the joy that people have with their pets, because that's why we have pets. It's why we love dogs -- they give us joy and love and acceptance," said Persing.
"To show that, that's what I'm really aiming for," she continued. "There's nothing like dog love."
Below are some of Persing's favorite resources relating to pit bulls:
And check out some photos from Persing's Just Dogs project below: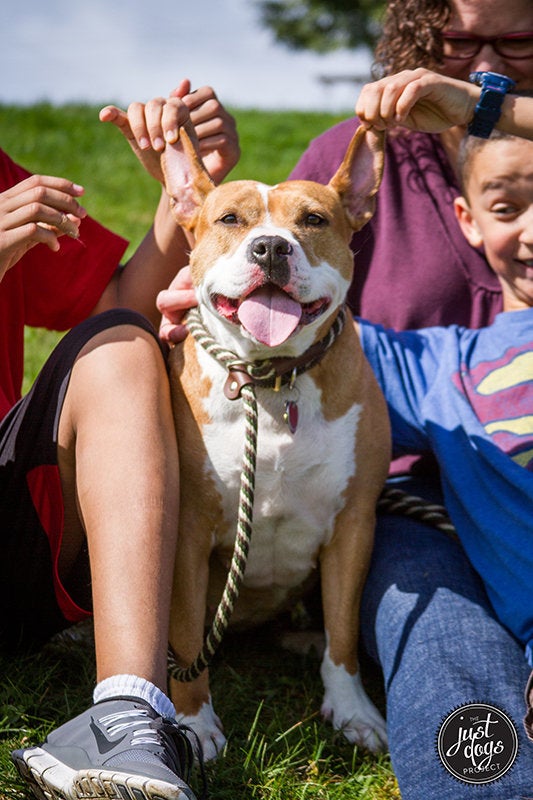 Just Dogs Project
HuffPost Green is launching a week-long, community-driven effort to bust the myths and raise awareness about pit bulls, a maligned "breed" that often bears the brunt of dated, discriminatory legislation that can make it near impossible for these dogs to find a forever home. You can follow along with HuffPost Pit Bull Week here, on Facebook or on Twitter, where we'll be using the hashtag #PitBullWeek.
CORRECTION: A previous version of this story stated that Cincinnati prohibited pit bull ownership. The ban was lifted in 2012 after nine years.
Popular in the Community