"Finally, when my head got hit against the wall, she just grabbed his pant leg and she was done. She was done with him abusing me -- and abusing her," Kraczkowski told Detroit Fox affiliate WJBK-TV.
But now Isis -- also known as Ice -- has been told to leave town.
Ordinance No. 08-08, which has been in effect since February 2012, defines "any pit bull dog" as a dangerous animal. This classification extends to several types of terriers -- and "dogs which have the appearance and characteristics of being predominantly of the breeds of dogs known as the Staffordshire Bull Terrier, the American Staffordshire Terrier, or the American Pit Bull Terrier."
Dogs meeting this description are prohibited from being owned or kept inside the city.
Animal advocates aren't too happy with the rule.
"It basically says pet owners are welcome to live in our community, except you and you because your dogs look a certain way," Courtney Protz-Sanders, director of Michigan's Political Action Committee for Animals, told WJBK.
"It says if there is reason to be believe there is a violation, the city has the right to notify the owner and tell them that they need to remove the animal from the city. All this without any hearing on the unilateral decision to classify the dog as a pit bull under the definition," he said. "If that is how it is enforced, that would violate a person's due process rights."
Hazel Park's city manager, Edward Klobucher, told HuffPost that he, and other city authorities, still support the Hazel Park pit bull ban -- and that he doesn't have the authority to give Ice an exemption, in any case.
"No discretion," he said.
Klobucher said the city won't euthanize Kraczkowski's dog.
"We will work with her to try to give her some time to find alternative housing for herself and/or the dog," he said.
Protz-Sanders attended a Hazel Park city council meeting on Tuesday night. She told HuffPost it went "better than expected," with some indications that lawmakers might be amenable to reviewing their anti-pit prohibition in favor of a breed-neutral dog safety ordinance.
In the meantime, Kraczkowski told WJBK that she is scrambling for a solution to her current situation. "I don't know what's going to happen with my dog," she said. "I definitely don't feel safe without her."
UPDATE: March 11, 2015, 8:21 p.m. -- Another Hazel Park resident is in danger of losing his pets.
This notice, giving five days for all pit bulls to be removed from Hazel Park, was left by city officials at Mike Toma's rental home on Wednesday afternoon: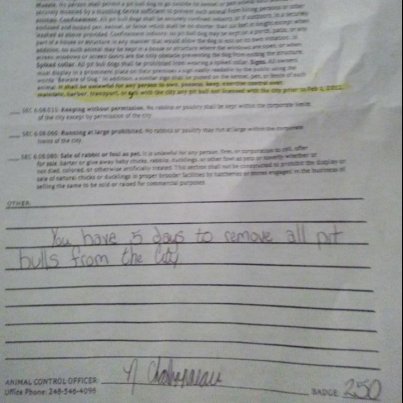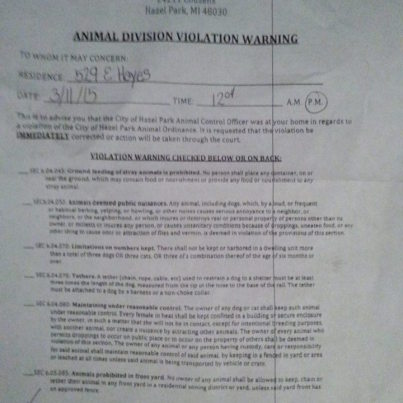 Toma's dogs -- Puppy, who is 15 years old, and Diesel, who is 2 -- both have lived with him since they were young. Neither, he said, has shown any sign of being dangerous.
"Nothing at all," he said.
Toma, who is friends with Kraczkowski and has helped organized support for her and her dog, said that he will be asking the city for more time to seek a solution. But if forced to choose between his home and his dogs, he will find a new place to live.
"I'm not in a financial position to pick up and move, either," he said. "I just feel this is very wrong."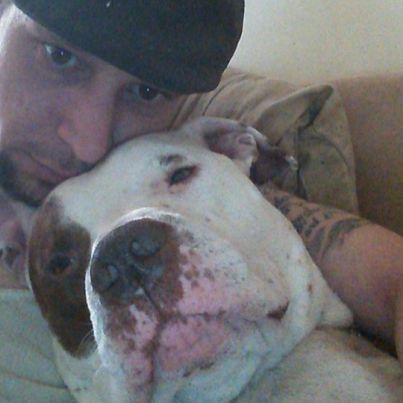 Toma -- who, as of Thursday, has an online fundraising campaign to help with moving expenses, too -- with his dog Diesel. Photo credit: Mike Toma
Calling all HuffPost superfans!
Sign up for membership to become a founding member and help shape HuffPost's next chapter