A heroic pit bull terrier named Onyx was left with burns on as much as 30 percent of his body after he saved his family from a fire in their home in Tallahassee, Fla. Now, through Facebook, strangers are rallying to save him.
On Thursday morning, 9-month-old Onyx's loud barks woke up his family -- Trevor Myres, Sierra Plair and their two sons, according to a press release from the City of Tallahassee Fire Department. Myres rushed to the back patio where the fire had started and found Onyx ablaze. He put the fire on him out with a hose while the rest of the family evacuated safely.
"I honestly do feel like if Onyx wasn't out there, even though it's unfortunate, anything could have happened," Plair told Tallahassee.com. "Once [the fire] got up to my son's room, we wouldn't have been able to go up there and get the kids out."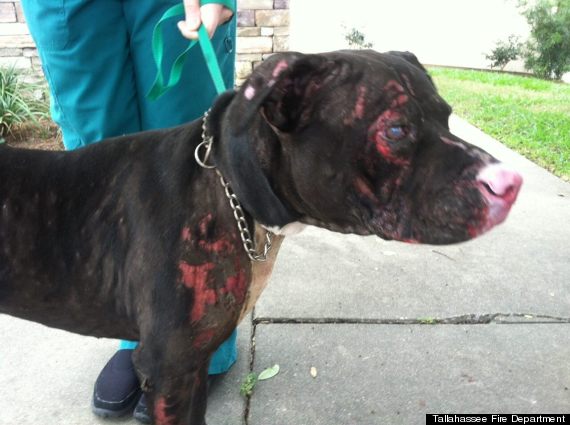 Firefighters extinguished the fire along the rear of the home and inside the back porch, according to the TFD. Damages were estimated at $5,000.
But that wasn't the family's true concern -- Onyx was left in serious condition, with injuries that would require weeks of expensive treatment.
"We were at our wits' end," Plair told Tallahassee.com. "We were going to give him up because we didn't have money for treatment."
On Sunday, an update said that Onyx is still hanging on and being transported to the University of Florida College of Veterinary Medicine for further treatment. The post added that without the generous donations, Onyx's family would not have been able to afford any of this.
"The support that we have received for Onyx has brought me so many wonderful chills!" wrote Dr. Morgan Guoan. "Thank you to all for the wonderful smile in my heart and for the most beautiful love, light and energy all of you are sending. Onyx is wagging his tail for you! Thank you for that!"
Before You Go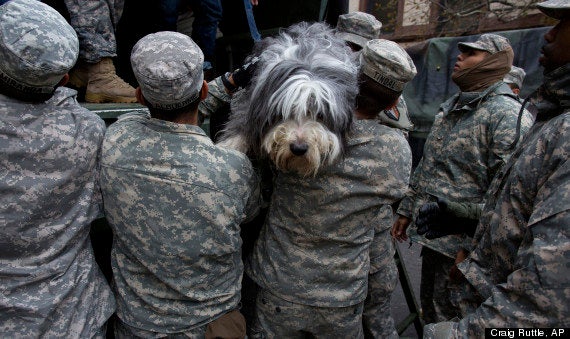 Hurricane Sandy Animals Rescues