Doc the pit bull recently spent what's thought to be the first night of her life snuggled up to a person in bed.
She seemed thrilled with the experience.
"She slept soundly all night and really enjoyed having a home, even if it was just for the night," says Jason Cooke, a volunteer with Animal Charity of Ohio.
Cooke had the pleasure of Doc's company -- but briefly -- because he was bringing this doggie to a TV station in the morning for a spot, with the hopes of helping her find a home where she'll sleep in bed every night. Or, at least, be off a kennel floor.
In the meantime, for that one night: bliss.
"She jumped on my bed and honestly never left my side the whole night," Cooke says.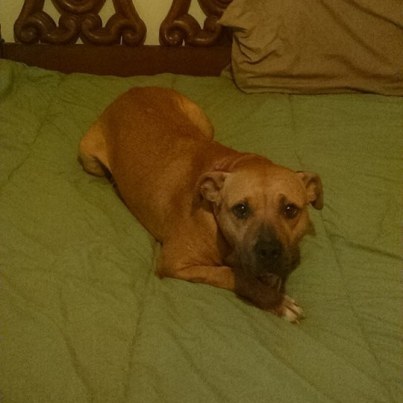 Photo: Jason Cooke

Doc's one of five dogs found chained up and severely underweight, outside a Youngstown, Ohio, house a little over a year ago.
The dogs' conditions were so bad that animal control officers took them away on the spot. (They were all given Snow White-related names, even though there are seven dwarfs and only five dogs.)
Some went into foster homes. Doc, about 2 at the time she was seized, was put up at a kennel, which took her in for free, and where she gets walked and fed and played with and loved during the day, but then goes to sleep alone.
Doc's fellow survivors quickly found homes, encountering their own enhanced sleeping arrangements.
But Doc's still in the kennel (where she's even gotten a little chunky due to being fed so many treats by the staff, who've grown to love her).
Doc's healthy. She's great with kids. "Doc wants to snuggle. She loves stuffed animals. She loves to walk. She kisses everyone. She's just a sweetheart," says Mary Louk, Animal Charity's board president, listing off the dog's many positive attributes.
Louk is so enthusiastic about Doc, and so eager to see her get on to a wonderful future, that she's even thinking of taking out a billboard advertising this dog's availability.
Her only downsides, Louk says, are that she can be a little finicky about other dogs. And then there's the fact of her being a type of pup who can be all-too-easy to overlook.
"In the world of needy animals, she's just another pit," says Louk. "We believe she's really special."
Cooke says he feels certain that however long it takes, a family will pick Doc. They'll see what others have missed: a terrific dog with some hard luck, who deserves a fairy tale ending -- maybe not involving a castle, but definitely with a comfortable mattress and a lot of cuddle time.
"She was dealt a bad hand," Cooke says. "But despite all her pain and suffering, she is still full of love and is ready to lead a good life."
Animal Charity is based in Ohio, but will work with potential adopters -- and foster families -- outside the state as well. Find out more on the group's Facebook page.
Get in touch at arin.greenwood@huffingtonpost.com if you have an animal story to share!
UPDATE: Doc has been adopted! She started her new life on Sunday.
Related
Before You Go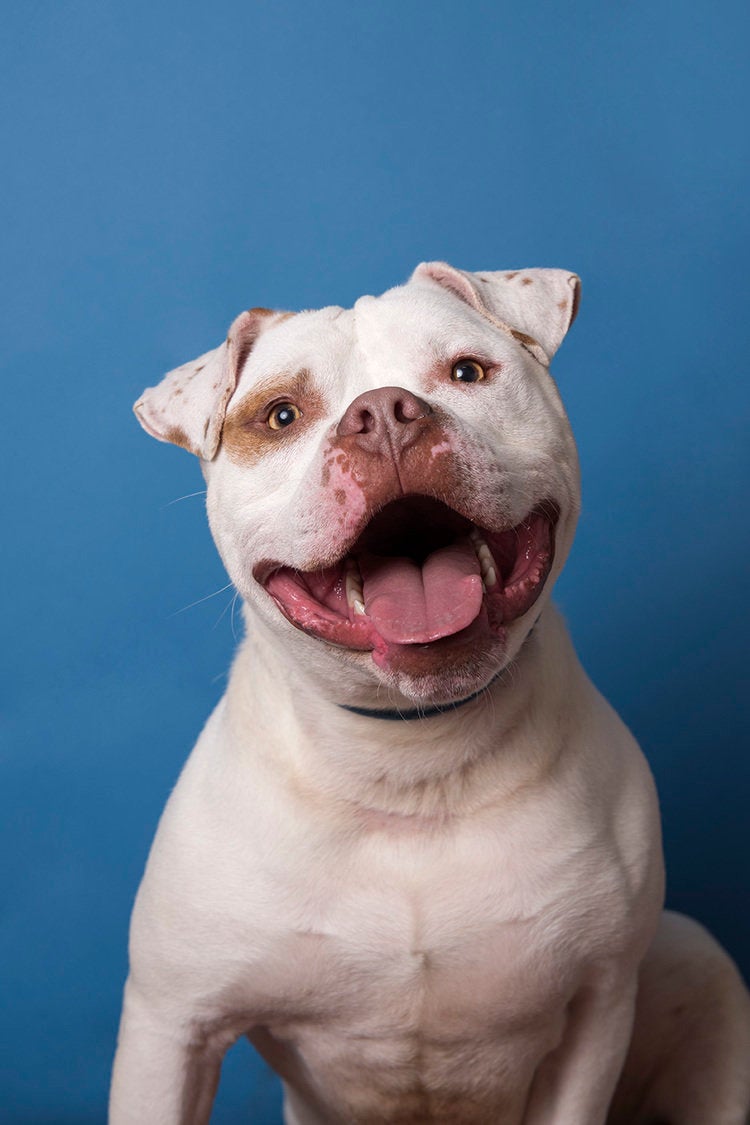 These Amazing Animals Need Homes