Truck driver Chis Price was worried about more than just his health when he collapsed in Kansas City, Missouri, while out on a haul last month.
Price, whose home is in Tennessee, was even more concerned about his driving buddy: a sweet white pit bull named Coco -- who'd been with him all over, nonstop, for seven years, and who was taken away by animal control as Price himself was carted off in an ambulance.
But Price was lucky. He'd gotten sick in a city that's home to one of the country's largest no-kill shelters, the Kansas City Pet Project -- where workers were moved by Price and Coco, and vowed to keep them together.
Usually, an animal coming into the Kansas City Pet Project under circumstances like Coco's would be made available for adoption after 10 days; the shelter is open-admissions and doesn't euthanized for space, which means that every kennel is needed.
Price's case was special.
"I just know that if it were me, and I was stranded in a state where I didn't live, where I had no friends or family to bail me out, and I was stuck in a hospital –- I can't even imagine the panic that this situation would have caused me. Like how would you feel if it was you?" says Stephanie Bell, the shelter's community coordinator. "I was pretty committed to helping him any way I could."
Bell found a local boarding facility that'd hold Coco for a discounted price. Then she reached out to the community for donations, which poured in from staff and volunteers.
Bell even managed to get Coco into the hospital for a couple of visits over the nearly three weeks he was there.
The visits might not have cured Price's medical problems, exactly -- a staph infection that "about killed me," Price says -- but they sure seemed to make him and his dog feel a lot better.
"One of the nurses goes 'Oh wow, is this Chris's dog? We have heard all about this dog,'" says Bell. "We got to the room and Coco was so excited to see her dad. She jumped all over him and whined and cried. It was precious."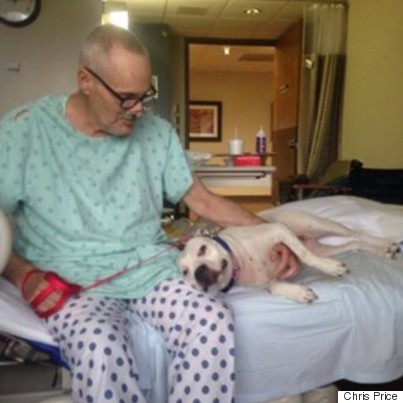 Photo courtesy of Chris Price
In mid-May, Price was deemed well enough to go home, though not well enough to drive. It was time for another ambulance ride.
This time arrangements had been made for an ambulance that could accommodate Price and Coco, so they made the trip together.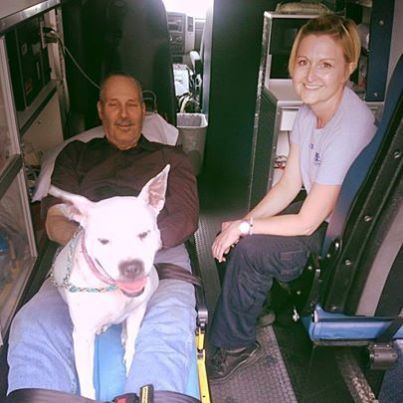 Photo: Kansas City Pet Project
Back in Memphis, Price is in bed, still convalescing. Coco, meantime, is "lying on a pillow," Price tells The Huffington Post, displaced from her usual spot right up next to him, due to the IV tubes that might get knocked loose.
Price is trying to get them both to their usual situations, himself well enough to head back out on the road again, Coco, whom Price calls his "to die for dog," riding shotgun.
"I've had her for years. We've been through all kinds of snowstorms, heat, letting her chase rabbits in the desert," he says. "That's the kind of life we lead."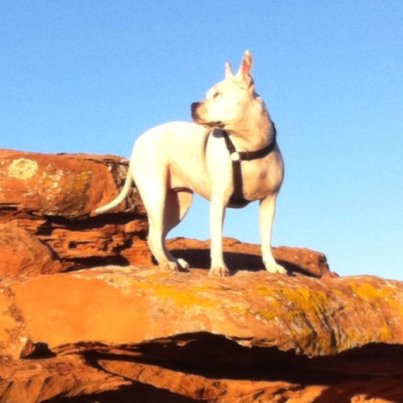 Coco in Arizona. Photo: Chris Price
Get in touch at arin.greenwood@huffingtonpost.com if you have an animal story to share!
Calling all HuffPost superfans!
Sign up for membership to become a founding member and help shape HuffPost's next chapter