It's not just for sartorial effect that Diamond the pit bull wears her fabulous getups.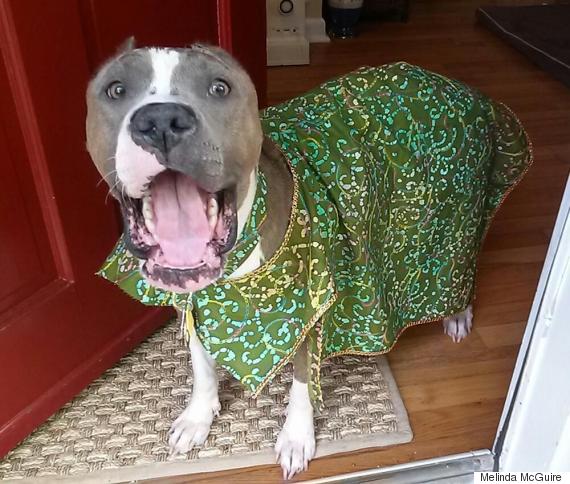 The dog was about 8 years old when she came into Atlanta's Fulton County Animal Services last summer, with wrecked skin, home-cropped ears, a sweet disposition but very bad odds, given how full the shelter tends to be.
Diamond immediately caught the attention of volunteer Neely Conway, who has a soft spot for "dogs that might not make it out of there on their own," as she puts it.
"When I saw Diamond, I was immediately brought to tears," says Conway. "When I took her outside I couldn't stop crying. This sweet animal had suffered so much, but was approaching dogs and humans with such a loving and gentle demeanor. I knew she needed to be saved."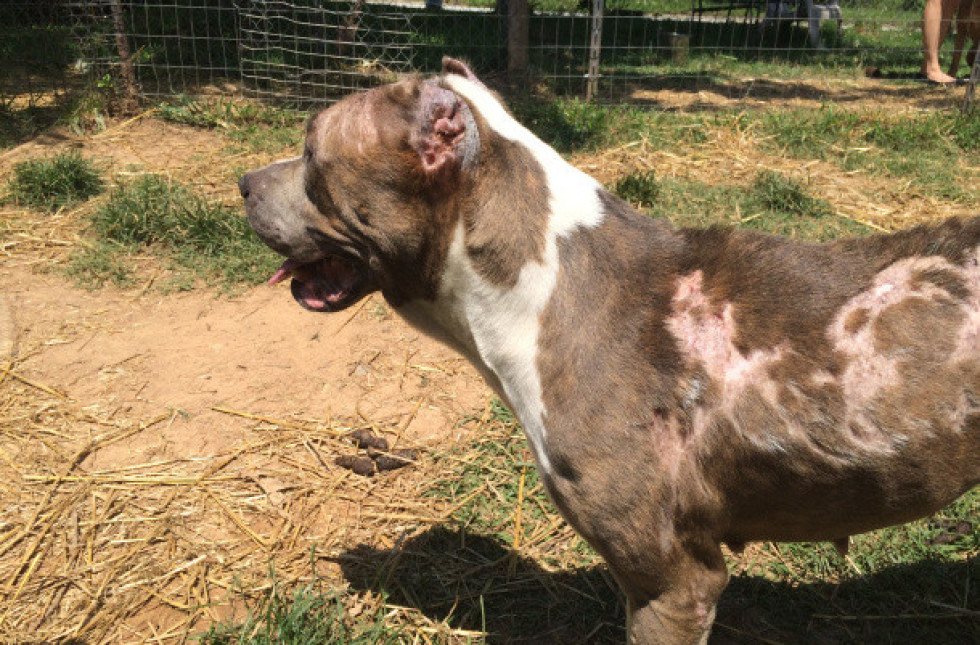 Diamond at the shelter. Photo credit: Neely Conway
Conway began looking for rescue groups to get Diamond out of the shelter and into a foster home, where she'd be safe until finding an adoptive family.
"But we were having trouble," says Conway. "And understandably ... This was an 8-year-old abused pit bull who looked very scary."
The post got forwarded to Melinda McGuire. She wasn't in the market for a new dog, especially one whose appearance and background might give pause, but something changed.
"I guess when I saw the plea for someone to save Diamond's life I just knew that I wanted to help this animal. This was something that fate had in mind for her that I could change." McGuire says. "All I can say was something grabbed my heart when I saw Diamond's picture, and even sitting here now looking over at her I still feel it."
It was soon time to meet the pup.
"She said she had always been afraid of pit bulls, but that Diamond was different," Conway says. "They sat on the ground together, and Diamond just laid her head on Melinda's shoulder. She finalized the adoption an hour later."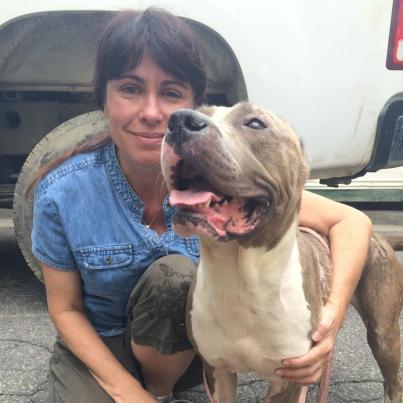 At the shelter, McGuide and Diamond both seemed to know it was meant to be. Photo courtesy of Melinda McGuire

Diamond had some recovering to do when she got home. Her ears and lungs were infected, and she was painfully thin. When she went outside in the yard, to take a break in the sun, she came back in "with her poor scalp beet red and blazing hot," says McGuire.
The medical problems were treated by local veterinarian Dr. Michael Good, who is also active in animal rescue, but dealing with Diamond's permanently exposed skin took a different expertise.
"I actually had some fabric that I had planned on making a princess costume with for my grand-baby. It was quite over the top. But I cut out a cape and head scarf, and Diamond the Diva was born," says McGuire. "If she had not enjoyed wearing her outfits so much than I think it may have ended that day. But I threw in a pair of the little kid's sunglasses, and Diamond loved every minute of it."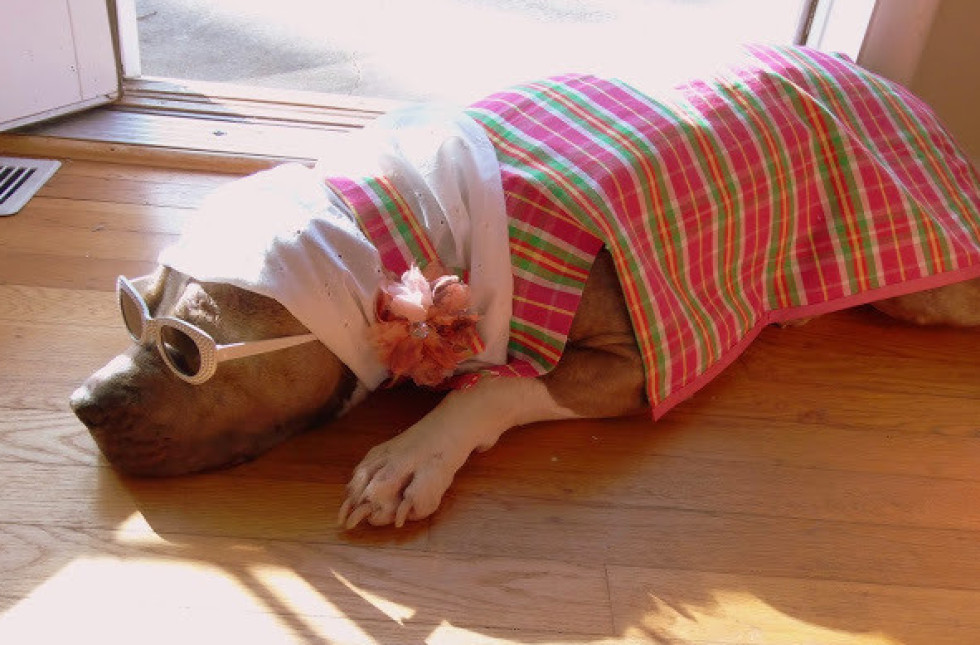 You look gorgeous, Diamond! Photo credit: Melinda McGuire
In the months since, Diamond's gotten healthier, and her wardrobe has grown ever-more spectacular. She has accessories like boas and turbans, a full panel of evening attire and sportswear, capes and faux fur coats to wear on top of the patchy natural fur coat McGuire believes was ruined with acid, for reasons she does not like to contemplate.
The result has been not just a fancy, well-loved, couch-hogging dog who can go safely outside. She's also helping cotton others to dogs of her kind.
"I had been so worried about people's perception of her, and I guess of me as well," says McGuire. "Instead people kept coming up to us to ask if they could pat her, or if their children could."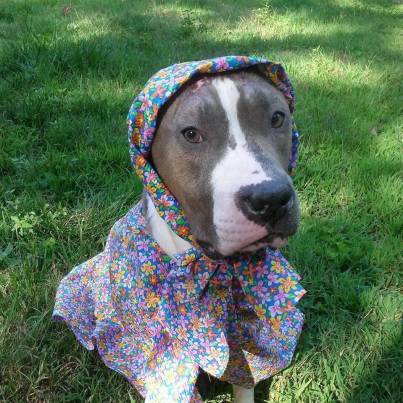 Sadly, McGuire doesn't make frocks for other people's dogs, just Diamond. Photo credit: Melinda McGuire
McGuire has gone to take in new foster dogs, getting more active with the Homeless Pets Foundation. She is no longer afraid of blocky-headed dogs.
"I don't know what to tell you about pit bulls. All I know is that every dog is different," McGuire says. "There are a lot of incredible pit bulls that are being needlessly put down without being given the slightest chance to prove themselves worthy of a home."
Maybe even, if they are lucky enough -- and have the right kinds of champions helping make sure they get that chance -- one as good as Diamond's.
"I can't believe an 8-year-old pit bull from Fulton County Animal Services found a home like this. But she did," says Conway. "I think the most important thing to understand about these dogs is how forgiving they are. Despite the abuse and neglect they suffer, they still approach the world with such grace.
"I wish we humans could learn to do the same."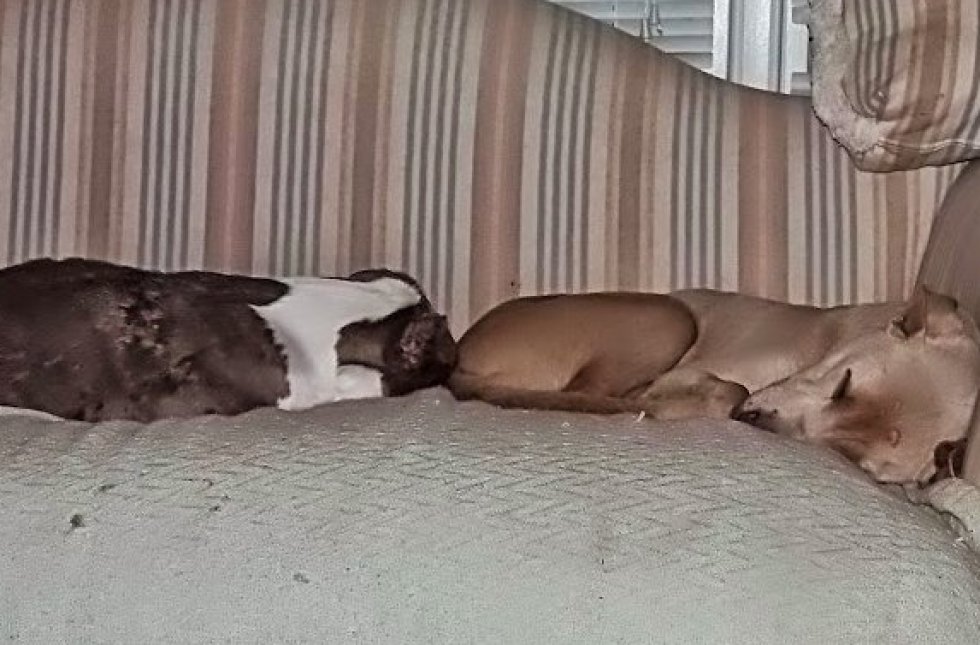 Diamond and a foster sibling take a well-earned nap on the couch. Photo credit: Melinda McGuire
Get in touch at arin.greenwood@huffingtonpost,com if you know a pit bull with great style, or have another animal story to share.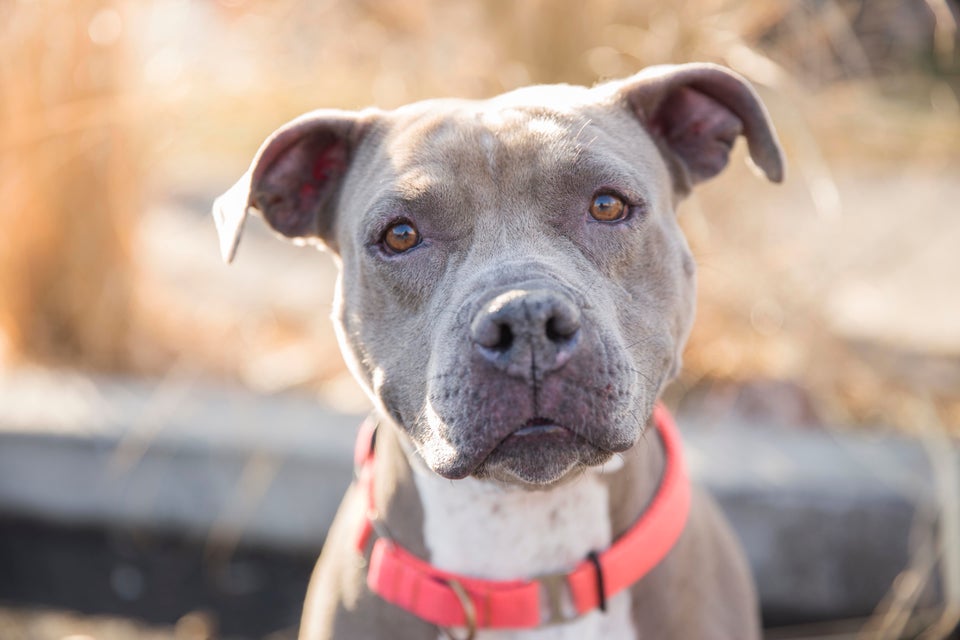 These Pets Are Looking For Homes!