"He was a dog who just naturally gravitated towards men," says the shelter's spokesperson Kristen Auerbach, "so we knew we would need to get creative to market him to a male owner."
A local middle-school football team agreed to let Bam Bam practice with them. And the ensuing photos -- which we think you'll agree are almost impossibly cute -- helped attract Bam Bam's forever home.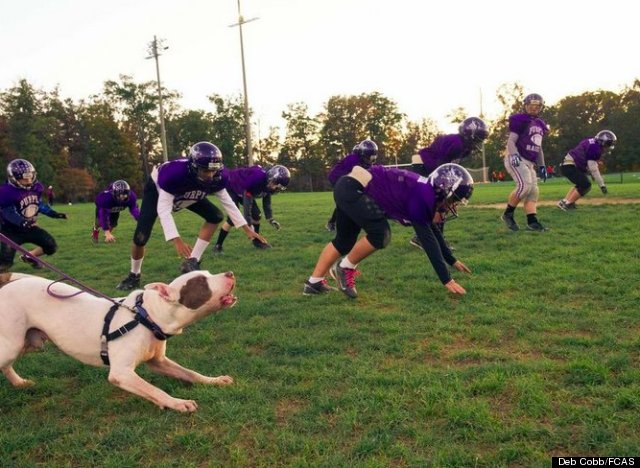 photo by Deb Cobb of Photography by Deb Cobb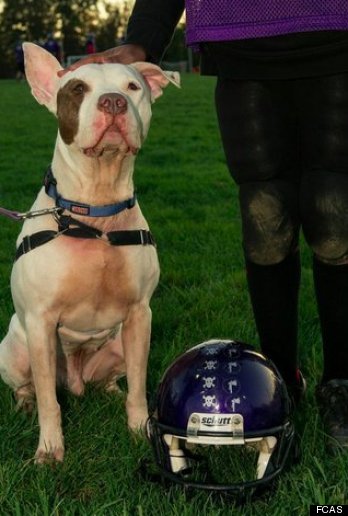 photo by Deb Cobb of Photography by Deb Cobb
Pit bull fans are even planning a mass demonstration in the nation's capital this spring called the Million Pibble March On Washington; "pibbles" being the affectionate term for pit bulls. Organizers hope to bring together people whose "lives have been changed by the love of a pibble," in the words of the event's organizer, comic and pit bull activist Rebecca Corry. More than 3,500 people have indicated on the march's Facebook event page that they intend to walk strong for these beleaguered dogs.
Auerbach says the Fairfax shelter takes in about 4-5,000 animals per year. "Only about 10 percent of our total intake are pit bull type dogs," Auerbach tells HuffPost. "But it seems like much more than that, because PBTDs" -- that's short for "pit bull type dogs" -- "often take much longer to get adopted. At any given time, we have eight to 10 or more PBTDs available for adoption."
In the last year, the shelter has instituted daily playgroups, given the dogs more enrichment toys and allowed for short-term foster families to bring pets home for a weekend -- all of which are important in getting pits (or any dogs), especially young ones, ready for placement.
FCAS has also implemented new programs and policies to get these animals into loving homes more quickly, by bringing them out with other breeds of dogs, to adoption events and to other places where they could meet potential new owners.
"People can't believe it when they see a pit bull type dog playing with a Maltese, or a collie, or another" pit bull, says Auerbach. "In their minds, what they imagine is true is often directly in conflict with what they see before their eyes. It's a great experience to watch the dogs change people's minds. "
The images of pit bulls have also changed. Instead of sad adoption pictures, FCAS shares "photos and stories of happy dogs, playing with balls, cuddling with volunteers and staff members, and playing with other dogs or even cats," says Auerbach.
"Even people who tend to love all dogs regardless of breed or perceived breed, tend to feel sad when they think of the plight of PBTDs. And it is sad. But this sadness is often connected to the idea that shelter pets are 'damaged goods,' and we firmly resist this notion," says Auerbach. "So we committed to emphasizing the joy, resilience, and triumph of all shelter dogs, who overcome sad and sometimes terrible situations to go on to live lives as happy pets."
Here's one photo from that post that is especially squee-y, of a dog named Mocha: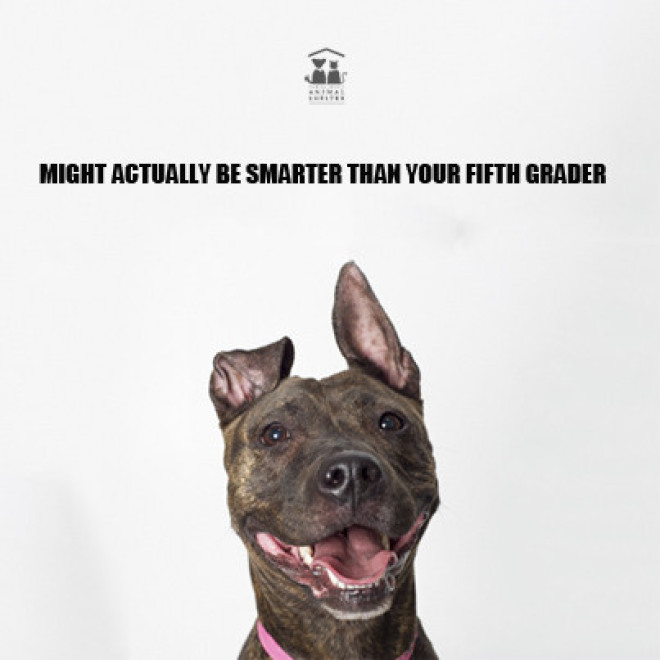 photo by Deb Cobb of Photography by Deb Cobb
Mocha was also photographed in a local police car -- this photo was shared around Facebook, which led to a military family falling in love, and taking her home: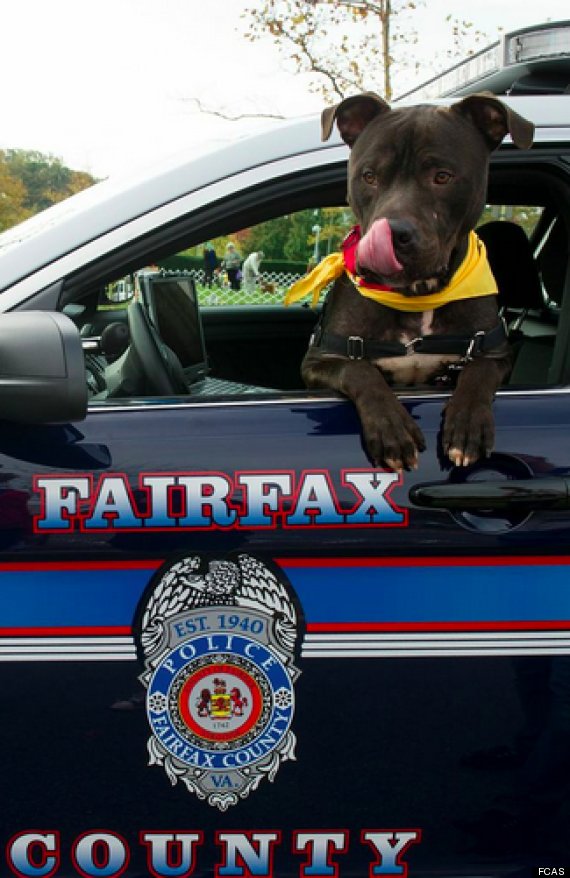 photo by Deb Cobb of Photography by Deb Cobb
And, since we are indeed among the world's pibble enthusiasts, here's some more photos that will, even this cold winter, melt all but the most frozen of hearts:
PHOTO GALLERY
Fairfax County Animal Shelter
Do you, too, want to take one of these sweet babies home? If so you're not alone. Since Fairfax began focusing on pit bull placement, working with staff and potential adopters to focus on finding a good match for individual animals rather than focusing on breed, their rate of pit bull adoption has skyrocketed from three pit bulls adopted in 2006 to 40 in 2013. The overall shelter placement rate now up to 92 percent.
"Fairfax County is to be congratulated on becoming the largest single jurisdiction thus far to attain the 90 percent benchmark live release rate and sustain it for a full year," says Susan Houser, who runs a website called Out The Front Door, that monitors animal shelters' "live release rates." (In a recent blog post, Houser details some factors that make Fairfax unique, like the area's wealth and its low rates of owners giving up their pets to shelters.)
Next up: Expanding the shelter's "transfer-in" programs, allowing Fairfax to take in pit bulls from other D.C.-area shelters that are over capacity, as well as increasing pit bull outreach coordination amongst rescue groups and shelters in the region. FCAS is also looking to increase and improve its play groups, off-site dog walking and other programs that help train, enrich and socialize pit bulls and other animals, so that more dogs like Bam Bam and Mocha can find the right homes.
"Over the long-term, our main goal is to serve as a model and resource center for other shelters who want to increase their life-saving rate," says Auerbach. "Already, we routinely get calls from other shelters throughout the region and even in other parts of the U.S. asking us 'How are you doing that?,' 'How do you make that work?' We can tell them what we did, how we did it, and we can help them achieve their goals."
Calling all HuffPost superfans!
Sign up for membership to become a founding member and help shape HuffPost's next chapter