If you have a pulse, you're going to have a hard time resisting the charms of Popeye the pit bull, who was abandoned by his family after a house fire.
Most of the homeless dogs saved by Los Angeles-based animal rescue Hope For Paws have to be carefully cajoled into approaching the organization's rescue team. But not Popeye. The pretty pup trotted right up to founder Eldad Hagar, his tail wagging with excitement.
According to an Oct. 26 video Hope For Paws posted about Popeye's rescue, the organization received a call about the handsome dog after his family left him behind when a fire forced them to move to a new home. Hagar came to his rescue, and after some much-needed petting and a quick game of tug of war, Popeye was ready to leave and begin his search for a new forever home.
Popeye is up for adoption through It's The Pits, a San Diego rescue group specializing in finding new families for so-called "bully breeds," a name given to a number of dog breeds (including pit bulls) that are often mischaracterize as aggressive animals but, in reality, tend not to be.
Bully breeds are normally gentle dogs when they're cared for properly, and they have many qualities that make them great pets for active people with lots of time to give. They are very social and extremely loyal to their owners. Thanks to their athletic bodies and exceptional intelligence, they are very energetic and generally excel in agility. Believe it or not, bully breeds are very good with children, too.
After seeing how adorably affectionate Popeye is in the video, some are seeing these bully breeds in a whole new light.
"If those videos taught me something, it's that pit bulls are sweethearts!" wrote a YouTube commenter.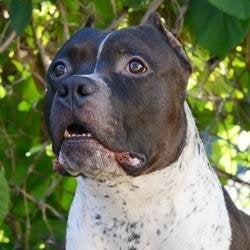 These Shelter Dogs Need Homes!