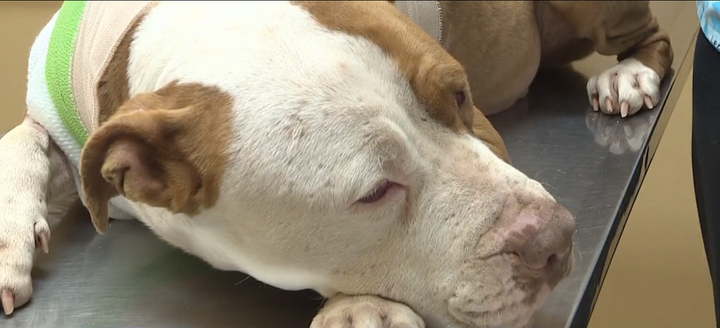 For this mother pitbull, the odds of survival seemed painfully slim. The Dallas home where she'd been living was set ablaze by an arsonist, and the criminal is believed to have slashed her neck open -- twice -- before fleeing the scene. 
But thanks to her extraordinary resilience, and the generous help of a group of local firefighters, the pooch -- and her puppy -- were given another shot at life.
Firefighters rushed to the scene, and managed to extinguish the blaze. Later, as they were searching the property, the crew said the pitbull came up to them, seeking help.
Nguyen said it was immediately clear that the dog was in great pain and badly injured. Two fresh, deep cuts were discovered on her neck -- an injury that was likely inflicted by the arsonist, the firefighters said.
"I was heartbroken, I've never seen something like that before," Nguyen told NBC DFW. "It was pretty upsetting that people would do something like that to a dog."
The firefighters, who also found the pitbull's uninjured puppy at the site, brought both animals back to the fire station. Then they called DFW Rescue Me, a local animal shelter, who whisked the mother pitbull to a veterinarian.
The dog -- who the firefighters named "Khaleesi" after the feisty "Game of Thrones" character -- ended up needing three hours of surgery to care for her injuries. Her veterinarian said the animal is expected to make a full recovery. 
"She's tough as a boot," he told WFAA.
Khaleesi and her puppy are still in the care of DFW Rescue Me, and will eventually be put up for adoption. The animals have parasites in their bodies, which they are currently being treated for, the group said.
Nguyen told WFAA that the firefighters are planning on raising money to help pay for Khaleesi's and her puppy's care.
In a Facebook post last week, DFW Rescue Me shared photos of the two dogs with a message: 
"Please don't comment with what you would like to do to the people who allegedly did this. We have already thought it and said it. Concentrate on the fact that the dogs are safe. Probably safer than they have ever been," the rescue group wrote.   
No arrests have been made for the arson or the animal abuse, according to NBC DFW. At this time, it's also unclear whether the home was occupied or if Khaleesi had an owner.
PHOTO GALLERY
10 Major Crimes That Shocked the Nation (SLIDESHOW)
Calling all HuffPost superfans!
Sign up for membership to become a founding member and help shape HuffPost's next chapter