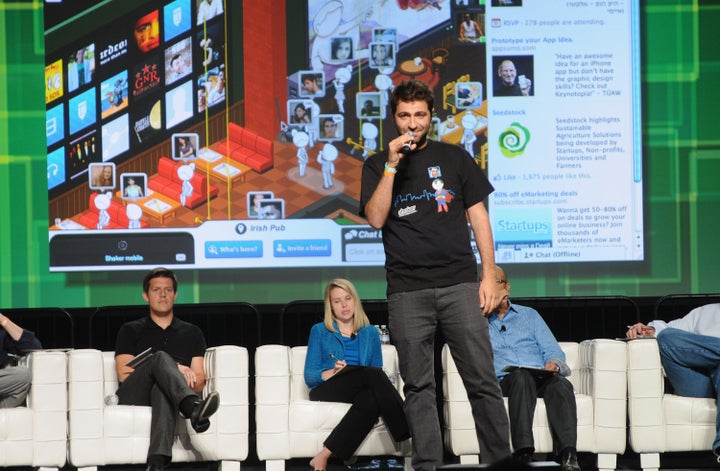 (By Deborah L. Cohen - Reuters) - The crowd was restless as startups, investors, MBA students and a host of entrepreneurial wannabes waited in anticipation, hoping they might catch a glimpse of the next big thing, perhaps even another tech darling like Groupon.
It was Technori Pitch, a monthly event held in Chicago's Chase Auditorium to showcase emerging local ventures making a debut in their own backyard. As they took the stage to deliver short elevator pitches on their business plans, the presenters aimed to locate potential investors and tap a captive entrepreneurial network eager to foster good ideas and weed out the bad ones.
"This is a way for them to say hello world, we are here," said Seth Kravitz, co-founder of the event, which in about a year has grown to sold-out audiences of more than 500 each month and a backlog of companies applying to be selected.
"Everyone has a different set of goals for being up there," said Kravitz, himself an entrepreneur.
"For a lot of them, the idea is to get a lot of feedback, get some customers."
Once the purview of tech hotspots such as Silicon Valley and Seattle, where venture capital is abundant and you can't shake a stick without bumping into a Google board member, pitch-a-thons have steadily become popular in nontraditional tech communities as well.
They are catching on in places where both money and the right mentors are harder to find. "I've really put a stake in the ground," said Jennifer Morehead, a recent Technori presenter and founder of Lockboxer, an Evanston, Illinois startup that helps consumers inventory household goods when planning a move. "It really does lend credibility in a very efficient way."
Seen by some as the business community's response to American Idol and other celebrity auditions, pitch-at-thons have now taken root in noncoastal cities, occurring with regularity in unlikely locales such as Bethlehem, Pennsylvania; St. Louis, Missouri; and Athens, Ohio.
Some, like Technori, spring up organically and are independent. Others are sponsored by universities, angel groups and regional business incubators. The formats vary, ranging from staged presentations to speed-dating forums in front of small groups of investors and seasoned entrepreneurs. Some are judged, coming with small monetary awards; others allow audiences to pick their own favorites.
Less than a minute or so into her Technori pitch, Lockboxer's Morehead experienced a technical glitch when the audio on her video presentation failed. True to the entrepreneurial spirit, she decided to wing it, managing to give the crowd a clear vision of her company's strategy and finishing with her dignity intact.
"I was very pleased to get the No. 1 spot," she recalled. "What comes with it is you're going to be the guinea pig."
Such resilience under unexpected pressure often impresses investors such as Hal Gentry, a partner in the St. Louis-based venture capital fund Capital Innovators.
"You've got to figure out how to rise above everyone else," said Gentry, a frequent judge at local pitch competitions. "If you can pitch really well you'll attract attention. That's what you're trying to do here where there is limited investment."
And sure, it's nice when a fledgling entrepreneur walks away with a bit of seed capital or a commitment from a VC. But companies said that rarely happens; the real prize is just getting on the radar. Along with that often sometimes comes sage advice that can mean the difference between moving closer to profitability or losing steam.
Such was the case for Dennis Jeter, an East Stroudsburg, Pennsylvania-based tech entrepreneur who has competed in Venture Idol, a local pitch event sponsored by Ben Franklin Technology Partners of Northeastern Pennsylvania, a state-sponsored incubator.
"Halfway through my two-minute pitch my first year, the VC was like, wait a minute, you're a software company," said Jeter, who had previously promoted his venture, A Sound Strategy, as a website development firm. "It was a game changer for me." After the light went on, he went back to the drawing board to reposition.
Today the five-year-old business books about $1 million in annual revenue, has a staff of 10, and counts marquee customers such as drug maker Sanofi-Aventis in its roster. "You learn so much," Jeter said. "If you're paying attention, it could transform your business and it has in my case."
With a prolonged downturn continuing to separate the startup wheat from the chaff, it's a safe bet that pitching events will continue to be fertile ground for both companies looking for support and backers interested in helping to germinate the winners.
Says Technori's Kravitz: "There will definitely be a lot more pitch events coming out of necessity."
Popular in the Community