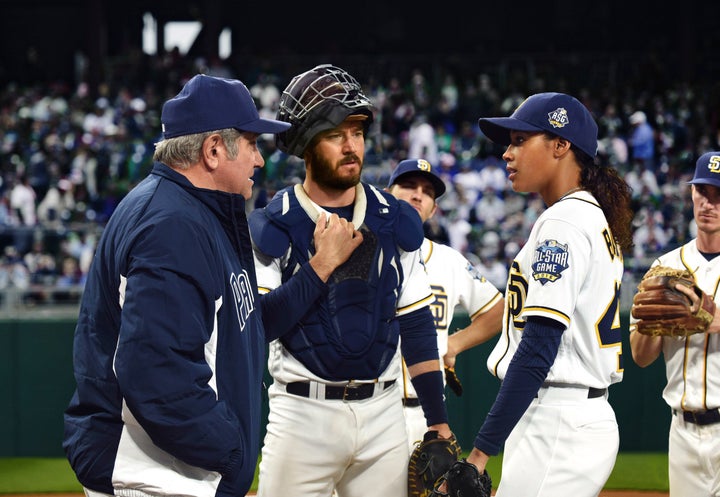 The population has advanced in many ways when it comes to equality between the sexes. There still remains several areas that men and women are not integrated on an even playing field. One of them is professional sports.
A new Fox television show on the fall schedule, "Pitch" will be hitting on this very subject. The dramatic series explores the life of a female baseball player named Ginny Barker (Kylie Bunbury) breaking the glass ceiling into major League baseball .
NY Baseball News spoke with Dan Lauria who will be starring alongside Bunbury. Lauria will be portraying Al Sciutta as the manager of the San Diego Padres. Lauria is best known for his work in the "Wonder Years," and has appeared in many Broadway plays, including the lead in the critically acclaimed "Lombardi."
"The story is really about the pressure of her (Barker) being first, like Jackie Robinson" Lauria said from Los Angeles. "The pressure from the endorsement, all the endorsement deals and everything. But all she wants to do is be a better pitcher tomorrow than she was today and sometimes they (other players) don't let her do that."
Lauria said the the writers could have taken an easy, cliched approach by having his character be an old salty lifer of the game that doesn't want a woman in his club house. "My (character's) attitude is if she can win games for us, then she's welcome on my team." He also mentioned his character is a father of three daughters, so there is an empathy factor as well.
Lauira is a lifetime Yankees fan whose roots in baseball go very deep. His father was friends with Phil Rizzuto and Lauria is close to a guy named Joe Torre. He touched on the idea of a women breaking into baseball and described it as, "The same guys who say, 'Well I don't know about that,' those are the same guys who said there wouldn't be women reporters in the locker rooms and now we have women reporters and announcers in baseball and football. I feel it's bound to happen and I feel it's going to be a springboard for all of women's sports."
Major League Baseball has given its approval for "Pitch." The authenticity was extremely important to all parties involved. "Fox came to us with the project and after several meetings we were very excited to be part of the project and gave our full support," said Matt Bourne, vice president of business and public relations for MLB.
Bourne said MLB has tried to make everyone connected with the show part of the major league experience.
"This is really consistent with our inclusion efforts over the past couple of years to make everyone feel comfortable at the ballpark," Bourne said, "The storyline of a female pitcher, I think, is interesting and is consistent with the themes we've been involved with."
The idea of women baseball players is certainly nothing new. The questions that "Pitch" might bring to the table could open the doors for the conversation to start.
Pitcher Kelsie Whitmore and catcher Anna Kimbrell are real life professional baseball players for the Sonoma Stompers, an independent team in California. In July, they became female battery in professional baseball history. The 18-year-old Whitmore is also a pitcher for the United States national women's team. She is currently in South Korea representing the U.S. In the World Cup. Stompers assistant general manager Tim Livingston told NY Baseball News that Whitmore looked forward to the upcoming series.
Sparking a conversation to make a social change isn't necessarily the point of the show but is a welcomed byproduct. That aspect puts an exclamation point on the project for Lauria, who said,
"If that plants the seed than our show was more than worth doing."
REAL LIFE. REAL NEWS. REAL VOICES.
Help us tell more of the stories that matter from voices that too often remain unheard.