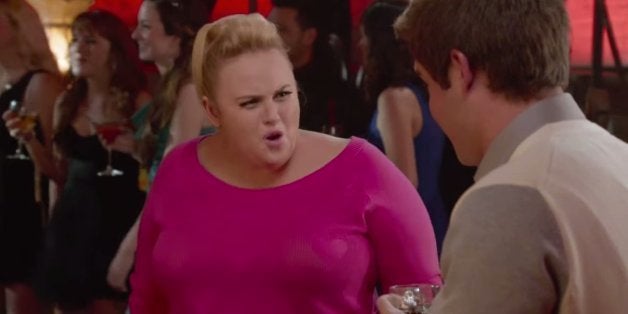 "Pitch Perfect" returned this week with a new trailer for its sequel. Fans of the popular a cappella series rejoiced.
Personally, I'm a fan of the movie's stars Kendrick, Rebel Wilson and Adam DeVine. But there's a problem.
The new trailer ends on a bad note. Adam DeVine's character approaches Rebel Wilson's character at a party, asks her if she'd like to have sex later, to which she replies "No," but with a wink.
"Okay, you said 'no,' but you winked," DeVine's character replies, "so that's a 'no' then?"
"A hundred percent no!" Wilson exclaims, again with a wink.
Suggesting "No" sometimes means "Yes" is not funny.
Jokes like this one in the "Pitch Perfect 2" trailer go against all of that effort to address a serious issue. Research shows many rape survivors often doubt what happened to them was that bad, or don't think anyone will believe them if they report. As a result, few rapists ever spend a day in jail.
I wasn't the only one who felt a little disturbed by "Pitch Perfect 2's" rape joke:
"Here's your official BU rape whistle," a chirpy student employee says as she hands it to Kendrick's character, adding, "Don't blow it unless it's actually happening."
The person making a rape joke usually doesn't condone rape, and I would be on thin ice trying to suggest the writers, producers or actors of "Pitch Perfect" thought sexual violence was fine, or that consent was only an option. So I'm not going to suggest that. What I will suggest is they failed to realize those jokes add to a culture that makes victims feel isolated or like they are to blame.
Related
Popular in the Community