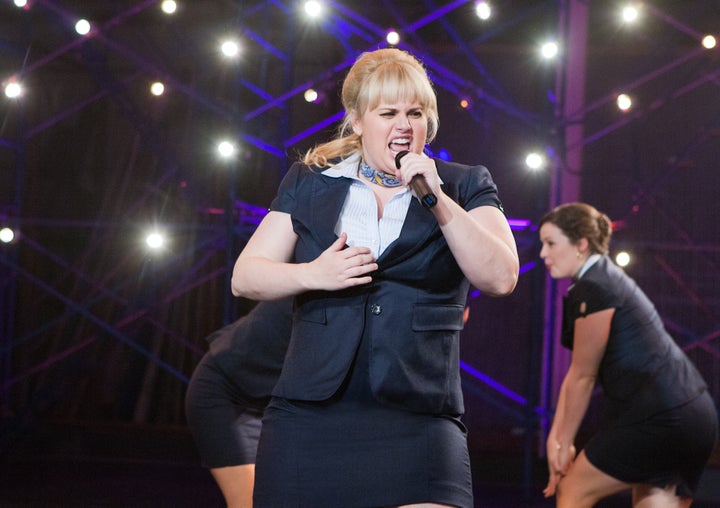 "Pitch Perfect" is the nation's number one a cappella comedy for at least two reasons (besides the fact that it's the only a capella comedy): It's very funny -- screenwriter Kay Cannon made sure of that -- and it's loaded with rearranged pop songs that will keep fans singing long after they leave the theater.
Director Jason Moore picked most of the tracks for the film, but the soundtrack production was left to Harvey Mason Jr. and Damon Thomas, a duo better known as The Underdogs. "They have a track record in terms of producing some of the world's best pop vocalists, as well as musicals such as 'Dreamgirls,'" producer Julianne Jordan said in a statement. "We wanted that purity of unadulterated voices and harmonies to come through."
With "Pitch Perfect" out in theaters, Mason and Thomas provided HuffPost Entertainment with a track-by-track breakdown of the film's soundtrack.
1. "Please Don't Stop The Music" (The Treblemakers)
Harvey Mason Jr.: Adam DeVine [who plays TheTreblemakers' lead singer] is a great singer. Lots of confidence. In fact, he's probably as good as a lot of other singers we work with. He was really prepared, he knew all his lines, he knew the song really well and he knew what he could do with his voice. A lot of times when we're working with singers, they're unsure of the songs or don't know their parts.
2. "Let It Whip" (The Treblemakers)
In the film, this song is performed in the school's courtyard, but on the soundtrack it's much more produced. Why the change?
Harvey Mason Jr.: Well, we were trying to make sure the film sounded authentic to the setting of where they were, but the soundtrack was different. We had a little bit more time and could make something that people want to listen to. You're doing two different jobs when you're doing the movie versus the soundtrack. With the film, you're worrying about the environment you're in -- with the soundtrack, you just want to make it sound cool.
3. "Since U Been Gone" (Esther Dean & Skylar Astin)
Harvey Mason Jr.: For the film, there was a lot of pushing them to try things that would be funny. With Rebel, every time she sings, it was hilarious; she was always doing something crazy. With the soundtrack, it doesn't work quite as well being funny. So we took more time to perfect the vocals.
4. "Cups" (Anna Kendrick)
Harvey Mason Jr.: That was Anna's audition for Jason. He worked it into the script. I thought that was a pretty cool thing.
Damon Thomas: That's hard to do. Playing cups and singing simultaneously. She did that live and in real time.
Harvey Mason Jr.: She did it in three or four takes. She can do that song or performance straight through without messing up.
5. "Riff Off: Mickey/Like A Virgin/Hit Me With Your Best Shot/S&M/Let's Talk About Sex/I'll Make Love To You/Feels Like The First Time/No Diggity" (The Barden Bellas)
Harvey Mason Jr.: That was a cool arrangement based on the lyrics of each particular song. That's something that happens in a cappella settings. For the movie performance, Jason wanted it to be very realistic to how many people were on camera -- to make sure the actors and actresses sang their parts on camera. We had more room to play with it on the soundtrack. You could do more things and try things and add voices. That was a song that was important to Damon and I because we really liked that song. That's a song we thought we could do a lot with.
6. "Bellas Regionals: The Sign/Eternal Flame/Turn The Beat Around" (The Barden Bellas)
This song gets sung three times in the film, meaning you have to track the Bellas evolution as a group.
Harvey Mason Jr.: The goal was to have them evolve over the course of the film. It's just a matter of taking some of the voices out and not perfecting some of the singing. Making the arrangement a little more simplified earlier in the film, and then showing some growth.
Rebel's part on "Turn the Beat Around," in particular, is pretty epic.
Damon Thomas: She can really sing. She's a pro, just like Esther Dean. She sings in character and she's funny. What you see on the screen is what you get with her.
7. "Right Round" (The Treblemakers)
Damon Thomas: That was cool. It was a lot of voices and later in the movie so we could do more with it and hype it up. That's a song -- the original from the '80s and the remake is now -- we knew and we wanted to make it sound special.
8. "Pool Mashup: Just The Way You Are/Just A Dream" (The Barden Bellas)
Harvey Mason Jr.: Some of the background vocals we record together, but the individual actors we did on their own. There are two leads singing simultaneously, but we didn't do them at the same time.
9. "Party In The U.S.A." (The Barden Bellas)
Harvey Mason Jr.: Jason wanted that one to be applicable to where they were. He wanted it simplified. But, again, that's a song that's on the radio and really relevant so we didn't want to put it on the soundtrack sounding broken down.
10. "Trebles Finals: Bright Lights Bigger City/Magic" (The Treblemakers)
Damon Thomas: I think in the movie that was one of my favorites. I loved Skylar Astin's performance. We had done so much stuff for "Pitch Perfect," that by the time it came to watching the movie, I forgot about that one. It was a surprise. You work on so many records, you're like, "Wow, I forgot about that." It's incredible.
Harvey Mason Jr.: Skylar came out of nowhere.
Damon Thomas: When you look at him, you don't expect him to sound like that, and then you hear him and it's awesome.
11. "Bellas Finals: Price Tag/Don't You (Forget About Me)/Give Me Everything/Just The Way You Are/Party In The U.S.A./Turn The Beat Around"
Harvey Mason Jr.: That was Jason's idea. Before the film he worked with some other arrangers as well, so they really spent the time to make sure those songs would go together. It took a lot of homework to find the right songs. You have to give a lot of credit to the music supervisors. Part of doing mash-ups is getting the legal rights to use the songs. If you're going to do a mash-up with five songs, you should probably find 10 songs, because you're only going to get half of them cleared. It's a real collaborative effort.
PHOTO GALLERY
Scenes From "Pitch Perfect"
Calling all HuffPost superfans!
Sign up for membership to become a founding member and help shape HuffPost's next chapter
BEFORE YOU GO