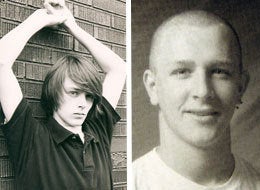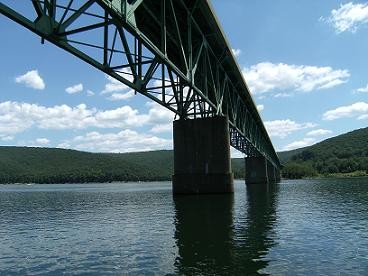 On one of the most beautiful days of this past summer, July 15, 2008, I received the phone call that every Mother prays she never gets. I was told that two of my four sons had disappeared underwater at Kinzua Reservoir while on a camping trip with their Father, Uncle and two friends. While Vincent (21 years old) was fishing on the water's edge, Stephen (19 years old) jumped off the James Morrison Bridge and was injured. Vincent ripped off his clothes and swam out to save his brother. Both boys disappeared under water, and were not found until seven hours later. Vincent was still holding on to his little brother -- he would not let go, even in death.

The beginning of the tragedy was caught on Vincent's camera -- there is a video of Stephen falling from the bridge and hitting the water. You can hear Vincent screaming Stephen's name and then the camera drops to the ground. I cannot bring myself to watch it. All I know is Vincent sacrificed his life to try to save his brother. Although he didn't make it, what more can a Mother ask for, than to have instilled such loyalty and selflessness in her sons? I taught my sons to watch out for each other, and I know now I did my job well, as any one of my four sons would have done the same thing not only for each other but for anyone. Brady (age 24) was on his way to join his two brothers on their camping trip. He got there only to see his brothers' bodies being pulled out of the rescue boat. This is a sight that I and Jonathan (age 26) were spared but a sight that will be hard for everyone there to forget. Brotherly love is a very strong bond and I firmly believe that neither Vincent nor Stephen would have ever been the same if either one or the other would have made it and the other one didn't.

Vincent and Stephen were well-rounded, respectful, fun-loving, and very caring young men with such bright futures. When they died, a part of me died. You read and hear about stories like this on the news, but you never think anything like this could ever happen to you, but it did. All my life, I protected and nurtured my sons. I kept them busy and out of trouble by keeping them active, but I have to admit they kept me active too! With four sons, I had to quit my "regular" job to do my job right as a Mother. With very little money, it took a lot of imagination to keep them busy. We fished and camped, and they played every sport known to man. Yes, I hovered over them. I sure did. It was my job as a Mother to watch over them, talk to their friends, find out what was up, stay in tune with what was going on in their worlds, and try to mold them into good men to go out into the world. As all Mothers know, it sometimes feels like a thankless job, but thank God I did everything I did, because it is only for that reason I have no regrets. I was with them every step of the way and more importantly they were with me, and they always will be.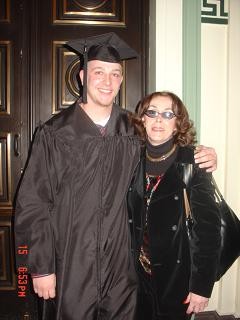 People say to me, "I don't know how you're doing it." They just look at me and start to cry. At times, I honestly can tell you I don't know what is getting me through this. I know now what it feels like when shock takes over your whole body and mind. I wondered how I was going to be able to stand at the funeral home with two caskets filled with the bodies of my babies. When I walked into the room I felt their spirits there. They told me they were sorry they had to leave me. Stephen apologized for jumping and Vince apologized for not being able to save Stephen. I felt a sense of immediate peace, somehow just by knowing they were together as they always were and not alone.

My sons touched thousands of people's lives in their short lifetimes. They had more true friends than I ever had in my entire life! At the funeral home, I didn't have to worry about passing out because I was being held up by hugging one person after another. Thousands of people filed through the funeral home and the grief of the entire community became very apparent. I found myself consoling them on my sons' behalf, and the consoling hasn't stopped as the community that these boys touched with their grace and joy continues to grieve. As their Mother, I knew I had to do something to help all the friends and families that my sons had touched and those people who have cared so deeply for my sons throughout the years.
Stephen and Vincent were very loving young men, and I knew they wouldn't want the community to feel so devastated over their loss. I felt compelled to bring all the grieving people together, to help us all heal by doing something good for our community in their honor. Vincent was an avid BMX biker and Stephen an enthusiastic skateboarder and rollerblader, and in our community there was never a place you could legally or safely bike, skateboard, or rollerblade. Since many of their friends and other young people in the area have a great passion for these sports, I decided to see if anyone might be interested in helping me build a professionally-designed skate park in our community.
The idea for "Pitcher Park" gave me a focus and purpose, and at first I thought I must just be acting on sheer nerves; but the outpouring of support has been amazing. Businesses, contractors, individuals within the community, and even total strangers are all joining together to help in this grass-roots effort to transform a tragic ending into a new beginning for the community that these two boys loved and that loved them back so much.
It seemed everyone had ideas and everyone knew someone who could do something or donate things we needed to get this off the ground. The enthusiasm from all was remarkable! So at a time when I felt so all alone, I soon realized I certainly wasn't at all. First, we had to do research on designing the skate park and investigate what materials we would need to make "Pitcher Park" a reality. Then we set out to see how we could start raising money by doing fundraisers, and try to make them "fun" in spite of the severe grief and sense of loss that was consuming us. I'm here to tell you, the entire community rose to the occasion in an amazing fashion.
Although they would be totally embarrassed by all this fuss about them, Stephen and Vincent knew that I would do something like this, and when I see these young adults and their parents and people we don't know all coming together...IT IS SO WONDERFUL! We had a "Hair Cut-a-Thon" with five beauticians who cut hundreds of heads of hair and raised over $3,000; the owner of the salon didn't even know my sons but she wanted to get involved to help. The American Legion donated a hall so we could have a "Spook-tacular" Halloween costume party where parents and their kids came together and sang karaoke, danced, and competed for prizes. Stephen's girlfriend Samantha stole the show when she showed up as a glow-in-the-dark angler fish, a unique and imaginative costume she made all by herself!
Then a local pool hall invited us to use their place to shoot pool and invited bands to play. We had never met the owners, but found out sadly, they too had lost a son, at 23, and felt compelled to help. 125 people came to hear three bands and play pool with their families and friends. Next up was bowling - a big favorite here, so the local lanes allowed us to have "All Night Bowling" and 180 night-owls came out to play. We ran out of lanes and food but people still flowed in the door just to be a part of this rowdy adventure.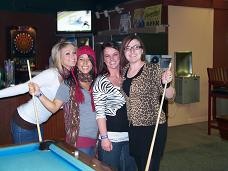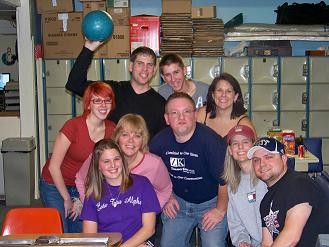 To date we have raised almost $12,000 -- all by coming together and having fun, which is something my sons would have wanted for all of us. Just seeing parents and their children together doing something fun warms my heart, especially in light of the tragedy that struck my family. I see now how deeply important being together really is, because you just never know...
We have a long way to go financially, but there are many more "fun" fundraisers planned -- an alumni hockey game for which we are trying to get "Sid the Kid" on the ice or any other celebrity who would like to show off his skills; a huge Spaghetti Dinner at a wonderful youth-oriented Church; a St. Paddy's Day celebration for all to enjoy with my son Jonathan's newly formed Irish Band; and a Winter Pig Roast with sled riding and a bonfire. All these adventures are being planned by different people who are contacting me to put them together, everyone giving so selflessly of their time and effort and love to make our dream a reality.

"Pitcher Park" has given us all a goal to work towards together and a sense of hope, at a time when the world seems so dismal to many young people and their families. I'm not sure how to deal with the Holidays yet and I am still crying every day over of the loss of my sons, but it is because of them and the way they lived their lives that I must see this through for everyone who was touched by them. I don't want people to cry anymore when they see me. I want them to rally with me and see that despite it all that they too can make a difference. We can all work and have fun together to make "Pitcher Park " happen in honor of Vincent and Stephen, and help my community and my family to heal.