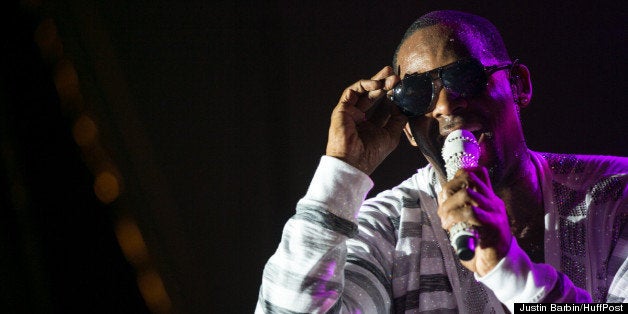 (See our "Stray Observations" from the weekend after the recaps below.)
For Day 3, informally known as the hip-hop day of the festival, things started and ended with Chicago pride. Three of the festival's four Chicago-based performers hit the stage Sunday, with rapper Tree and DJ Rashad opening the final day (and disappointingly, programmed against one another); Kells, of course, was slated to take the fest in for a landing.
PHOTO GALLERY
Pitchfork Music Festival 2013 Sunday
If there was a happier performer at Pitchfork Sunday than Chicago "Soul Trap" originator Tree, I didn't see them. The 29-year old rapper clad in a button-up shirt and loosened tie blazed through his set with an enthusiastic buoyancy that had the small but vigilant crowd throwing their hands up and singing along to hits cuts like "Church" and "White Girls." With so much happening on stage -- Tree had three backup singers, a DJ, a hype man and a ferocious drummer -- things fell out of synch at times, but never so badly that Tree himself couldn't pull it all back together. The rapper, who spoke to us last week about his rise to stardom, noted it was only a year ago he was in the audience himself, taking in Danny Brown; now, he's opening the final day of the fest. "It's been a helluva year." - K.B.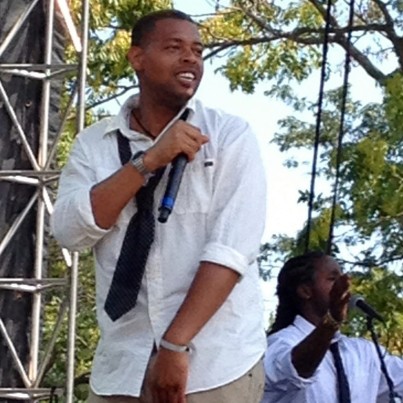 Tremaine "Tree" Johnson
Got off to a relatively early start Sunday and caught several songs from Foxygen's Red Stage set. Garage-y, fuzzy and oh so weird, this LA band got the day off to an exciting start when vocalist Sam France climbed up a stage-side lighting trellis. Their throwback sound wasn't groundbreaking by any means but provided an entertaining transition between Saturday's generally heavier sounds and Sunday's pop vibe. The band also made sure to thank a laundry list of people and things including Red Bull, American Apparel and "all ATMs" and urged iPhone users to visit the website for "Space Jam" which, they said, has not changed since 1996. We've yet to confirm. -J.E.
Heading over to the Blue Stage, I caught most of Arthur Ashin, i.e. Autre Ne Veut's, set. The singer, who bends his unusual falsetto voice into strange, unusual, but still accessible R&B shapes, is known for being somewhat shy on stage, but the cover of daylight here at the fest forced him to look the audience in the eye to deliver his angst-filled anthems. The use of four men wearing white gloves and holding picture frames referenced the cover of his critically-acclaimed "Anxiety" album but didn't come across too effectively on stage. Instead, they were a distraction from the searingly beautiful songs themselves, such as "World War," which sounds like it could be a sequel to Whitney Houston's "How Will I Know," and "Counting," during which Ashin unleashed a really killer freestyled verse. -J.E.
Atlanta-based rapper Killer Mike was by far my most pleasant surprise of the festival. The flush energy of his raps on cuts like "Reagan" and "Southern Fried" had all the force they do on record, and then some. That part was expected. But while not enough good things can be espoused about Mike's set -- he kept it crisp and energetic where so many rappers fall into the mush of simply mugging and uttering a line or two into the mic -- the real jolt came from what he said in between songs. With a sincerity unlike any other artist at the fest, Killer Mike spoke to the crowd about the scourge of gun violence in Chicago and the importance of knowing your community members. He dedicated each of his songs to a different activist, noticeably choking up when speaking about Chicagoan Alice Mary Johnson, whom he credits for getting him involved in activism. "Give a damn about your neighbors," he implored the crowd. The rapper also shouted out about how much he loved his wife, and told the crowd, "You make my heart." - K.B.
Again on the Blue Stage, Dev Hynes, i.e. Blood Orange (formerly Lightspeed Champion), delivered an incredible set that recalled the life-affirming vibes of the set from frequent collaborator Solange on the previous night. Unlike Arthur Ashin, Hynes thrives at center stage and his excellent taste and pure talent make it clear he's something of a rising savant in the indie music world. Caroline Polachek (from Chairlift) did guest vocals on one song during the set and Hynes also made a point to dedicate his set-ender to "Trayvon Martin, Troy Davis and anyone else who thinks the world is f***ed up right now." -J.E.
Darting briefly to the Blue Stage for Blood Orange turned out to be a wise move despite the claustrophobic panic induced by the thick crowd. "Champagne Coast" put Dev Hynes' fusion of funk, electronic and soul-flecked style on show, but the real kicker was when he grabbed his guitar. With an ax in hand, Hynes became more Prince-like by the moment (even ditching his shirt for the latter part of the set). Folks near the back were shimmy-shaking to Blood Orange's dance-perfect beats as he snaked into "Soul Makossa" style beats that wound into a funk and disco ripoff of "Stayin' Alive." - K.B.
El-P started out just fine, but the ginger-haired rapper decided after a few songs it was time to hit reset. As many anticipated, he brought out Killer Mike (who, only minutes later had wrapped his own performance). The two have collaborated before, and most recently put out their combo effort, Run The Jewels (Pitchfork must have known what they were doing when they booked the two back-to-back on the schedule). Mike re-emerged as the two vamped to George Thorogood's "Bad To The Bone." After hyping their collaboration with Goose Island Beer (on sale at the fest, naturally), the pair jumped into "36" Chains." Before "Sea Legs," El-P took a moment to tear into R. Kelly's detractors -- which was perhaps a thinly-veiled slam at critic Jim DeRogatis. When he was done praising Kells, Killer Mike circled back to the conscious message he had started in his own set. "Take care of each other," he repeated. "I think you, Chicago, are the solution," he told the crowd. "Support Ameena Matthews. Support the Interrupters." - K.B.
For anyone who's curious, El-P clarified that their gold chains are fake but that you "don't need [real] gold chains to be a bad-ass." -J.E.
There was a time when bands like Yo La Tengo perfectly encapsulated everything that came to define Pitchfork as a publication, and by extension, its festival, making them a nostalgic and pitch-perfect choice amid a day dominated by hip-hop. Frontman Ira Kaplan cracked a joke about touring with R. Kelly in 1996, but the Hoboken-based trio otherwise kept the banter low as they powered through their set that was heavy on early hits like "Stockholm Syndrome," "Autumn Sweater" and their cover of the Beach Boys' "Little Honda." The outfield looked like a refugee camp with bodies strewn around the park, taking a moment to lay and listen -- or let's be honest, sleep -- the indie rock stalwarts definitely lost some steam when they indulged in drone-y guitar riffs. Still, there wasn't a single band at the fest more reliable (and some may say predictable). We're never sad to see Yo La Tengo grace a bill. - K.B.
Sky Ferreira, 21, was definitely a wild card booking for the Pitchfork organizers this year and her uneven Blue Stage set showed why. Clad in a dream-of-the-90s outfit (denim jacket, white top, black skirt, platform boots), Ferreira's synth-pop jams plopped out, one after the other, as sour off-key dirges and, at one point, the singer appeared to be crying heavily, adding an extra strange element to the set. Hynes joined her toward the end of the set for a duet that, though it sounded under-rehearsed, still brought refreshing relief after all the melodrama. -J.E.
Stop what you're doing, take a look at Chairlift's tour dates and buy tickets immediately to the nearest show you can. These Brooklyn synth-poppers had a breakthrough in the mid-aughts when "Bruises" caught the eye of Apple and was featured in a commercial. But this band could not be farther from a one-hit wonder. On the Blue Stage +Sunday, the band mesmerized with songs off "Something" -- including the overwhelmingly gorgeous "I Belong In Your Arms" -- and a number of new songs that sound incredibly promising. Bonus points to Polachek for wearing one of my favorite outfits of the fest: What could only be described as disco nurse scrubs. Totally thrilling. -J.E.
From where I was watching her set, M.I.A.'s sound problems were relatively minimal as she paraded through her hits new ("Bring The Noize") and old ("Bucky Done Gone," "XR2," "Boyz") in front of a stage setup that reminded me strangely of a psychedelic twist on a snowflake float in a Christmas parade. As a whole, it felt jubilant and important, just as a festival headliner's set should. Also spotted taking in her set was Lady Gaga, wearing a Suicidal Tendencies t-shirt, scowling and smoking multiple cigarettes. -J.E.
Dollars to donuts, I'm guessing someone was on the wrong end of a very unpleasant tongue-lashing following M.I.A.'s performance. Farther away from the stage, the sound was a set-long disaster, with M.I.A. repeatedly asking for higher levels through her mic, and feedback and sputtering backing tracks that were so discordant, she ordered the whole thing to a stop a few times. As a performer, M.I.A. is unpredictable, so the disruptions may have been perceived as part of the show to those close-up. The singer revealed only the tiniest hint of frustration, instead throwing herself into songs, dancing, wading into the crowd, and leading a park-wide sing-a-long to "Paper Planes." The crowd, for its part, couldn't have been more rapturous, so hopefully no one lost a job over the sound fails. Glitches and all, M.I.A.'s show was fierce, fun and one of the most exciting of the weekend. - K.B.
I snuck away from M.I.A.'s set to catch part of Glass Candy's Blue Stage set and they did not let me down for making that decision. The disco-electro act from Portland -- Ida No and Johnny Jewel -- whipped the small audience into a frenzy with their dance party-friendly hits. At the set's end, Ida No crowd-surfed nearly all the way back to the mid-audience sound booth and back -- that's putting a lot of trust into your fans. A sensational set that rightfully belonged under the cover of night. -J.E.
If you want to get a bumper-car ride of emotions going, book R. Kelly as your damn festival headliner. Controversial for all the wrong reasons (high-profile child pornography trial) and lauded for all the right ones (stunningly creative, vocally gifted and eccentric to no end), a lot of things have already been written about what Kelly's slot in the festival means to our culture's embrace of flawed stars and the historically indie-leaning fest dominated by white fans and artists. So for now, let's just focus on the set. Of course, like anything related to R. Kelly, it's hard to even describe his set in a single word. It was weird, beautiful, thrilling, absurd, funny and powerful. A voice counting down the minutes to when the singer would take the stage ("R-minus 60 o seconds!") got the crowd into a fast frenzy -- but oh, if only we knew. Kells was introduced by a 30-person strong robed choir and started with "Ignition (Remix)," which was either a brilliant idea, or a terrible one. Rain started to fall, and the exists were teeming with bodies by the time the song wrapped. But really -- who cares about the folks who left? What they missed was R. Kelly sing-talking a la "Trapped In The Closet" (highlights: "They told me not to curse...they told me not to be sexual...how the f**k you expect me to do my mother***king show? I thought this was a grown man sexy show?" and "Can somebody get me a towel so I can wiiipe my faaaaace?") and jamming two decades of music into less than two hours. Most songs took medley form ("Bump N' Grind," "You Remind Me Of My Jeep"), cover form (Kanye's "Flashing Lights") and some gorgeous a capella ("Slow Dance (Hey Mr. DJ)"). Kells' voice sounded startlingly hard at first, but after "Slow Dance," the full range of his R&B vocal smoothness flowed out. Clutching a crystal-encrusted mic and wearing an all-white outfit studded with sparkles, Kelly looked as magical as he sounded. Near the end of the set, a flurry of white, dove-shaped balloons were released over the audience; in true Kelly form, it was weird, a little ridiculous, yet strangely beautiful to the point of profundity. The funniest fan observation from the set (which was blissfully free of urination jokes) was that R. Kelly can't tell time: Unlike Bjork who was cut short due to bad weather, Kells stopped his show a near 15 minutes ahead of curfew. Before the bumper music flooded the stage, however, Kelly said earnestly, "I'm dedicating this song to the city of Chicago!" More doves set sail, and Kelly ended with a powerful rendition of "I Believe I Can Fly." So what if it'll forever be linked to "Space Jam?" I was near tears. - K.B.
I did see M.I.A.'s dancers taking in the Chicago singer's set and they appeared enchanted. The light-up dove balloon release at the end of "I Believe I Can Fly"? A nice touch. Thanks to R. Kelly and Bjork at this year's Pitchfork, I'd support a new festival requirement that all headliners must utilize a choir going forward. Backstage after his set, Mr. Kelly was swarmed by fans trying to snap a close-up photo of the star and his very sparkly white top, and he obliged by posing for a few photos before boarding a massive black bus. -J.E.
STRAY OBSERVATIONS FROM PITCHFORK FEST 2013
Overall, I felt the high points at this year's Pitchfork festival were many. The fest didn't feel too crowded this year, except for on Sunday, and aside from Friday's heat and Bjork set-ending storming, the weather was pretty much flawless for this time of year. Acts like Solange, M.I.A., Glass Candy, Chairlift, Savages brought such a high level of professionalism and polish that classed up the joint. (Speaking of joints, there was a lot of that happening too.) Though other acts weren't as fully cooked, no one felt as though they were phoning it in this year. And the crowds were generally respectful to each other throughout the weekend and the fashions were a bit wilder and more interesting -- patterns, florals, men in sarongs -- than in past years. It really couldn't have been much better, in my book. -J.E.
This year the fest reached a weird, pleasant equilibrium, audience-wise. Young folks, old folks, black, brown and white folks. Guys dressing feminine, girls with shaved heads, lots of seapunks, better beer and no aggressive 'tudes despite the soaring temps. Also, lots of babies, bindis and bandanas. The acts were diverse and solid. High: The fest remained affordable and well-organized despite growing larger and more mainstream than ever. Lows: Rain cutting Bjork short, suggestions the beefed-up security for Sunday was somehow racially-motivated. - K.B.
BEFORE YOU GO
PHOTO GALLERY
Pitchfork Music Festival 2013 Friday