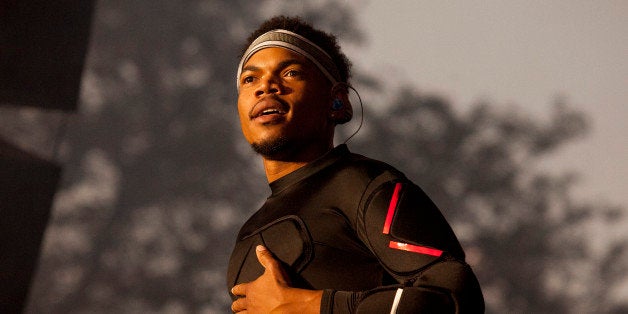 A few days have passed since the triumphant conclusion of Chicago's Pitchfork Music Festival, and now that my socks and feet have had plenty of time to dry up following the wild weather that forced the fest's brief evacuation on Saturday afternoon, it's time to reflect.
Over the 10 years since music tastemakers Pitchfork first threw its annual music festival in the city's Union Park, there have of course been tweaks. Its Friday night lineup was previously dedicated solely to bands performing classic albums in their entirety, and in 2010 the festival tried a comedy stage. However, the core of the festival has remained constant year after year: An array of musical acts young and old booked to play on a festival ground that's neither too big nor too small for a crowd that's unusually open to new ideas and genres than one might expect of a Midwestern audience baking in a hot July sun.
The completely sold-out 2015 festival was no exception.
Despite the weather's best attempts to meddle -- Friday and especially Saturday were punishingly toasty, with a heat index over 100, and the Saturday storm turned much of the field into a muddy mess for the rest of the day -- the festival appeared to have gone off without any major hitches: From up-and-coming acts like Bully, Vic Mensa and Shamir to veterans like Sleater-Kinney, Kathleen Hanna and Freddie Gibbs, the vast majority of the lineup brought their A-game and gave the festivalgoers -- who paid a reasonable (compared to similar fests) $180 for a weekend pass or $65 for a day pass apiece -- a whole lotta bang for their buck.
With an ever-growing glut of music festivals entering the fray, these are five lessons from one of Chicago's finest annual music offerings I hope other fests will consider: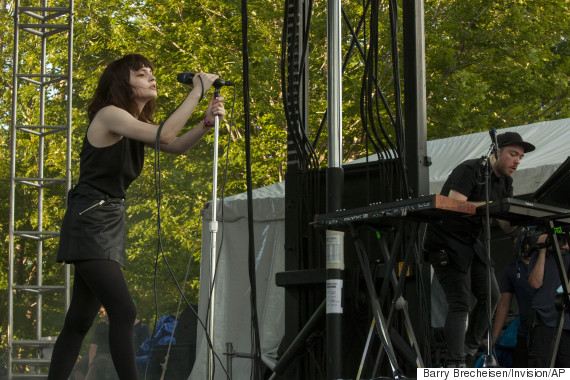 Chvrches' Lauren Mayberry and Martin Doherty at Chicago's Pitchfork Music Festival.
1. Safety comes first. Period.
As anti-rock n' roll as this sounds, when you're dealing with thousands of people confined in a space that's out in the open and a storm is coming through, difficult decisions must be made. Pitchfork organizers made one of those tough decisions by evacuating the festival grounds on Saturday afternoon for just over an hour. The grounds were certainly a mess when the park was reopened, but considerable improvements were undeniable on Sunday, allowing the festival to conclude on a high note. And zero injuries were reported on account of the storm.
2. Diversity (of race, sex, genre and sexuality) is a festival lineup's greatest asset.
Let's face it: Music festivals have a big problem when it comes to diversity but, at least when it comes to inclusion of female artists, Pitchfork has the edge on practically any other major music festival. Headliners Sleater-Kinney were an especially brilliant booking, playing one of the highest-energy, rocking-est headliner sets in recent Pitchfork memory and Scotland's synth-pop trio Chvrches really let it fly during their Friday set, particularly when playing their excellent, just-released single, "Leave A Trace." When it comes to genre, this year's Pitchfork festival had a little bit of everything from electronic to rap to punk to ambient music and, in a surprising twist, a whole lot of saxophone. (Or, the "sexy sax," as Tobias Jesso Jr. described it Friday.)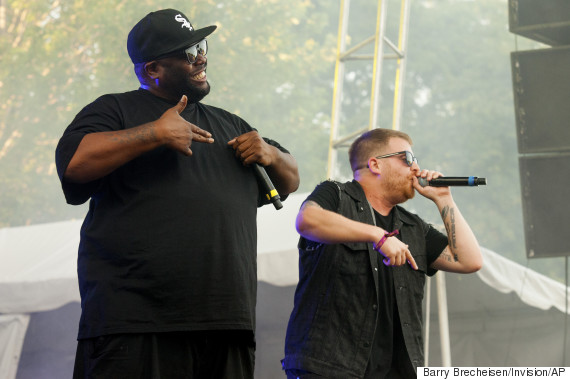 Run the Jewels' Killer Mike and El-P at Chicago's Pitchfork Music Festival.
And though certain stretches of the festival still felt dominated by white, straight men -- usually wearing all white (what was up with that?!) -- artists of color like Run the Jewels' inimitable Killer Mike and queer-identified artists like the unclassifiable Perfume Genius shone like diamonds in some of the festival's most coveted set times. (In one of the best lines of stage banter uttered all weekend, Perfume Genius' Mike Hadreas said, "On the walk over here, a man told me to take off my lipstick. I told him no. I could have said no forever.")
3. Don't get too big, too fast.
Despite the fact that Pitchfork is seemingly adding higher and higher-profile acts each year -- and also extending its festival footprint with the addition of an annual event in Paris beginning in 2013 -- the Chicago festival grounds have remained the same size year after year, allowing for attendees to have a festival experience that feels as peaceful and uncrowded as possible for an outdoor music event. The easy-to-follow, simple layout helps foster a low-key environment that almost always encourages kindness among festivalgoers -- and that's always a good thing.
4. Show love to your local artists.
This year's Pitchfork lineup may have been the most inclusive of local Chicago talent yet -- and it was to the weekend's benefit, as headliner Chance the Rapper spread his wings on Sunday, capping off the festival with the purest of joy and realest of passion. As Britt Julious pointed out in Vice's Noisey, it could not have been more "Chicago" and could not have come at a better time for Chicago. It was genuinely transcendent, especially the performance of "Sunday Candy." Other locals, like Mensa, Bitchin' Bajas and Jimmy Whispers also came alive in front of an audience filled with friends, family and peers. (Jimmy Whispers' "What a Wonderful World" outro might have been one of the more unusual things I've seen in eight years at this festival.)
On the flip side of that coin, some locals -- I'm looking at you, Wilco -- used the excuse of being in front of a hometown crowd to overindulge in brand-new music unfamiliar to most of the audience -- playing their entire day-old album to start their set -- so you can't win them all. Still, it's hard to imagine any other audience where Jeff Tweedy and co. could have gotten away with such a festival sin.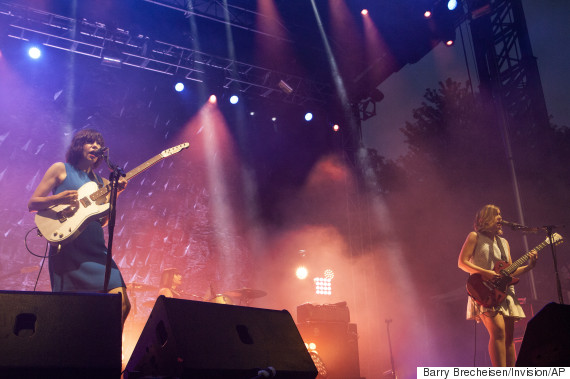 Carrie Brownstein and Corin Tucker of Sleater-Kinney headlining Chicago's Pitchfork Music Festival.
5. Take a chance on developing, up-and-coming acts.
Sure, everyone loves seeing the legends-in-the-making like Sleater-Kinney doing what they do best, but one of the best parts of any music festival experience is discovering new talents that excite you while those acts are discovering themselves in front of your very eyes.
For me, the two best examples of that this year were Bully and Shamir. Bully, a Nashville band flawlessly channelling mid-'90s grunge vibes, delivered a growling, thunderous set early Saturday afternoon, one that belied the fact that the band just released its debut album last month.
As for 20-year-old Shamir, indie disco-pop's new genderless empress doesn't have many live performances under their belt, but you wouldn't have known it from the exuberant set they treated Chicago to on Saturday afternoon. Though a mid-section of down-tempo songs broke the mood slightly from their set's thrilling opening and ending, it was still one of the weekend's finest musical moments.
Calling all HuffPost superfans!
Sign up for membership to become a founding member and help shape HuffPost's next chapter