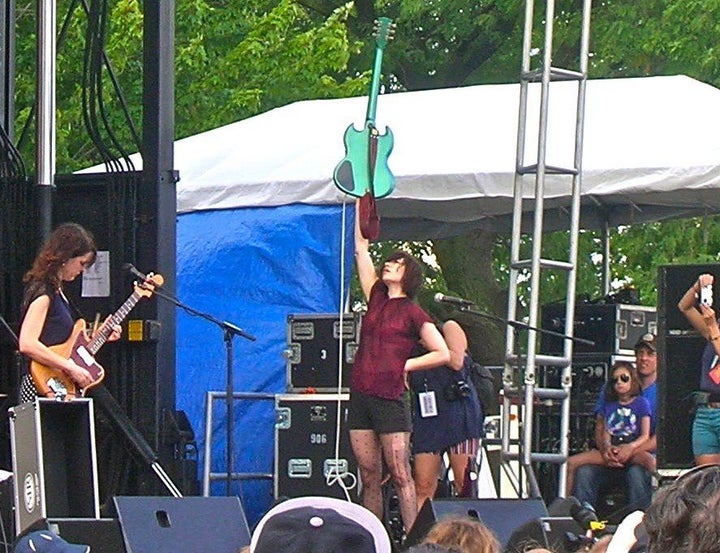 The rain continued at day two of the 2012 Pitchfork Music Festival at Chicago's Union Park, but the often humid, moist conditions failed to dampen the spirits of the festival's only sell-out crowd of the weekend.
The highlights from Saturday at the festival weren't too surprising: Riot-grrrl super group Wild Flag, heavily buzzed Grimes and an amped-up Sleigh Bells all lived up to their high expectations, and other acts also rose to the occasion and delivered solid sets on a day short on disappointments.
Scroll down for our highlights and lowlights, winners and losers from day two of Pitchfork. Check out our day one recap here. Are we harshing on the vibe of your favorite act from the fest? Let us know in the comments.
3:15 p.m. Arrived on the grounds just in time for the tail end of Liturgy's set. The series of mini-monsoons proceeding their set, served as the perfect backdrop for their heavy-duty black metal vibes. I'm digging it. Hearing that Cloud Nothings really brought it and that Atlas Sound was Bradford Cox-y. Bummed to have missed it. -J.E.
3:16 p.m. Also hearing of some power problems. Not bummed to have missed those. This place is just one more downpour away from becoming an epic mud pit. -J.E.
3:30 p.m. Cults getting started. They walk the line between jangles and sludge and, somewhere along the line, it just ends up messy. Madeline Follin's lyrics are really difficult to discern, Brian Oblivion's on-stage banter is inane. Head off as "Go Outside" begins, much to their fans' delight. -J.E.
3:50 p.m. I watched "Portlandia" this morning in preparation for this moment. Carrie Brownstein fangirldom accomplished. -L.S.
4:06 p.m. Humidity is seriously picking up as Youth Lagoon is in the midst of their set over on the blue stage. It's difficult to concentrate on their low-key jams in this weather, but they sound silky smooth. -J.E.
4:20 p.m. The dance jams are being brought by Flying Lotus. A talented hula hooper catches my eye. The timestamp of this dispatch is intentional: The amount of marijuana could make this city thousands of dollars thanks to its new ticketing law. -J.E.
5:30 p.m. Serious biceps. Do not challenge Carrie to a guitar-holding contest. -L.S.
5:38 p.m. Unfortunately, the best place to hear Wild Flag is on the muddy baseball diamond. -B.W.
5:39 p.m. Trying to get as close as possible to Wild Flag without stepping in a massive mud puddle. It's tricky. Carrie says she loves Chicago, I'm going to believe her. A Ravinia jetvertisement flies overhead, I'm pretty sure the band would not have pre-approved that shit. #punkrock -J.E.
5:40 p.m. Not everything Carrie Brownstein says is meant to be funny. Sometimes she just needs to tune her guitar. -B.W.
5:45 p.m. This set is seriously doing it for me, the sun is finally peaking out and a divine breeze is picking up. Closing with "Romance." Crowd wants more! -J.E.
6:04 p.m. Blue stage blessings: small, good sight lines and shade. Blue stage curse: bottle neck entrance. -B.W.
6:10 p.m. Schoolboy Q: the exact opposite of Wild Flag while still being music. The hipsters that love hip-hop and weed are very happy. -B.W.
6:15 p.m. Not enough water casualty at Schoolboy Q. Drink H20 kids. Rain does not count as hydrating. -B.W.
6:20 p.m. Just witnessed a guy get hit in the face with some sort of football that two bros were tossing back and forth near the main entrance. Attention jerks, don't do this. I hope they bought him a new beer. -J.E.
6:26 p.m. Sleigh Bells are making an excellent second impression. Touring arenas with the Red Hot Chili Peppers may be the reason this guitar, backing track and vocals three-piece can deliver to the 10k string crowd. Kudos to the sound guys for mixing what has to be a difficult band. They sound just as good from the back of Union Park as they do in the front. -B.W.
6:33 p.m.SPOTTED: first gnar stick. At Sleigh Bells ‪-L.S.
6:35 p.m. Sleigh Bells sound how Bill and Ted talk about Wyld Stallyns. -B.W.
6:41 p.m. Alexis Krauss from Sleigh Bells and Willis Earl Beal should procreate and name the kid Coolest Kid Evr. -B.W.
6:44 p.m. How do you know ‪Pitchfork‬ is in Chicago? A guy wearing a Cubs claw on his foot is laying down ten feet behind a guy wearing a Frank Thomas White Sox shirt. -B.W.
6:48 p.m. Sleigh Bells may be the first band to make Jackson guitars cool. -B.W.
6:55 p.m.One of the most impressive vocal performances while crowd surfing that I've ever witnessed at Sleigh Bells. -L.S.
7:01 p.m. Two small reasons people like this festival are the CTA cooling buses and locker rentals. -B.W.
7:03 p.m. Arrive at the blue stage for Chromatics. Stage is running almost a half-hour behind schedule. They'd better not trim this band's set. -J.E.
7:18 p.m. Chromatics are getting started with "Lady" off their incredible "Kill for Love" album. The sound is uneven, likely due to a rushed set-up time. -J.E.
7:23 p.m. The best part of this Chromatics set is a Mylar balloon of a unicorn. The band did not bring the balloon. -B.W.
7:30 p.m.Chicago's nonprofit writing and tutoring center @826chi 's booth. Fundraiser vote: Beatles-5, Rolling Stones-2, Pizza-4. Sorry, Mick pic.twitter.com/jxxl3DO6 -L.S.
7:40 p.m. The sound issues have continued to plague Chromatics' set and the crowd is getting antsy. Lots of water bottles being thrown into the air and one very exuberant dancer stealing the show. That is, until the band launches into their cover of Kate Bush's "Running Up That Hill." Chills. -J.E.
7:45 p.m. Just like that, the 25-minute-ish, five-song(?) set is over and the band storms off the stage. Hopefully their fans are able to make it to their Lincoln Hall aftershow because that set was a bit of a tease. Too bad the stage was running so far behind schedule. -J.E.
7:50 p.m.More Chi-centric ink, on Mark. pic.twitter.com/6AnIX3Kq -L.S.
7:54 p.m. Hot Chip is doing a good job reminding everyone the '80s existed and will not die. Not bad. If you like the '80s. -B.W.
8:04 p.m. Danny Brown just informed everyone he's good at fucking. -B.W.
8:15 p.m. Hot Chip's Fleetwood Mac cover made me squeal, though I'll admit that's an easy sell for me. -L.S.
8:20 p.m. Hot Chip is inspiring some serious dancing at the red stage, a mix of new and old and one very, very awesome cover everyone can't quit talking about. With all their electronic gadgetry, there's also a lot of god old-fashioned instrument playing going on, which is refreshing. -J.E.
8:35 p.m. Spotted Alderman Joe Moreno in the V.I.P. area. Pretty confident he's the only City Council member in the house this weekend. -J.E.
8:42 p.m.Line's too long for me. Show me your "electromusical mood visual" photos--I'm curious! pic.twitter.com/zHW5zSCd -L.S.
9:04 p.m. Godspeed You! Black Emperor was a ballsy and excellent choice to headline Saturday night.‬ A dramatic art project done right. -B.W.
9:10 p.m. Godpeed's 15-minute opener of ambient noise took a while to grab my attention, but when it finally did I was glad for the dramatic, cohesive and polished closing performance I was craving. -L.S.
9:20 p.m. Arriving for the end of Grimes' set at the blue stage. Since she last played Chicago, she's expanded her operation significantly: She has another knob-turner/button-pusher dude on stage, plus a pair of scantily-clad, glitter-armed female dancers. The sound is perfect -- were it not for her little animal noises, I'd be convinced she was lip-synching. -J.E.
9:28 p.m. A dude climbs a tree to get a better view of Grimes. Somehow he manages not to fall -- though I didn't catch the dismount. -J.E.
10:20 p.m. First song that plays on the radio during the cab ride home from the festival is Fleetwood Mac's "The Chain." Nice consolation prize, universe. -J.E.
Have photos or tips from the festival you'd like to share? Get in touch at chicago@huffingtonpost.com.
Calling all HuffPost superfans!
Sign up for membership to become a founding member and help shape HuffPost's next chapter
BEFORE YOU GO
PHOTO GALLERY
Pitchfork Music Festival 2012 - Day Two