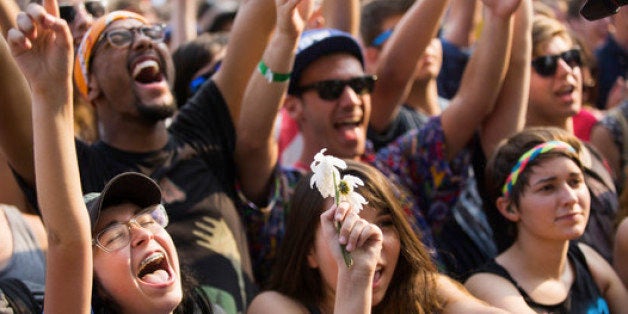 The ninth installemnt of The Pitchfork Music Festival is now in the books, and the Chicago fest has never been stronger. The Union Park event this year boasted a wide-ranging lineup featuring everything from A-List names -- including Kendrick Lamar, St. Vincent and Beck -- to lesser-known newbies like Speedy Ortiz and local favorites Twin Peaks. The fest also benefited from glorious weather, a big improvement over the massive storm that cut Björk's highly-anticipated headlining set short the previous year.
Below, photo evidence of the festival's goings-on from photographer Justin Barbin, followed by our personal highlights from the weekend.
PHOTO GALLERY
Pitchfork Music Festival 2014 Photos
"As anticipated, acts like Lamar, Canadian electronic artist Grimes and Italian disco pioneer Giorgio Moroder provided some of the weekend's most exhilarating moments -- particularly Moroder's DJ set, which possibly was the gayest thing (a compliment, naturally) I've ever seen happen on the Pitchfork grounds, thanks to its stream of no-irony-here retro jams like "I Feel Love" and "Take My Breath Away." But for me, most of the most vivid memories I'll carry forward from the festival came during sets taking place earlier in the day, well before the top-of-the-bill headliners arrived on the grounds, and particularly on the more intimate Blue Stage.
Among those artists who truly stuck out were Cloud Nothings' thrilling set, which ended in a giant, noisy jam session that perfectly matched the energy of the hot mid-afternoon Saturday sun. Later Saturday, Ethiopian R&B artist Kelela was a revelation on the Blue Stage, connecting to the crowd assembled to watch her electronica-infused set in a way few other artists did over the course of the fest. From the moment she launched into her sexy "Up All Night" slow jam, she'd won the day -- if not the festival.
Other special moments included seeing Swedish-born artist Neneh Cherry taking in the festival the day after playing her first U.S. appearance since 1992(!) on Friday, seeming to emanate positive energy wherever she went. Finally, British genre-defier and dancer FKA twigs' quip that she's "learning how to vogue" as the latest lesson of her classes at "the University of Life"? Priceless -- her set was absolutely stunning, overcoming the Blue Stage's history of noise bleed from the main stages and claustrophobic logistics." -- J.E.
"Short of a major re-imagining, there aren't many surprises you can expect from a festival that's almost a decade old. Still, the live festival environment -- especially one as well-run and well-curated as Pitchfork's -- has the potential to coax some great moments out of the performers.
Of the headliners: Every rapper should take a page from Kendrick Lamar and insist on having a live band -- It makes such a huge impact on the energy of the set, both for the performer and for the audience. Lamar's pacing was pitch-perfect, and he balanced swagger, energy and sincerity (an undervalued currency in modern hip-hop) like the superstar that he is.
Annie Clark's St. Vincent, who rocks like a demon and looks like a space-age Disney princess, went full-on metal by head-butting the drum kit near the end of her raucous (yet somehow still precise) set. Hers was the fascinating and entirely entertaining live show that makes Pitchfork worth the price of admission. Beck and Neutral Milk Hotel had parallel performances in that both were better than their very worst (and if you've seen Beck circa "Modern Guilt," you know how bad it can be) but not quite as good as their best. If you had never seen either perform live, you were probably enjoyed both sets tremendously (and with good reason).
Farther down on the bill, Majical Cloudz deserves a nod for hanging in and doing their best to salvage their set that unexpectedly turned acoustic when their MIDI controller went on the fritz (bonus points for courting the audience for percussive participation). If the music festival gods are just, Sharon Van Etten, Speedy Ortiz and Tune-Yards will get a bump in album sales and a host of new fans thanks to their excellent sets. Speedy Ortiz also gets the "know your city" award for giving a nod to Chicago's late, great artists and musician, Wesley Willis.
The very maturity of the Pitchfork Festival itself was perhaps its biggest advantage: It knows its scope, its size and its audience (which has diversified over the years). Hip-hop and electronic music no longer feel like one-off exceptions on the bill, though Pitchfork retains its status as a haven for indie favorites like Grimes and rare performances by legendary acts like Neutral Milk Hotel." -- K.B.
Calling all HuffPost superfans!
Sign up for membership to become a founding member and help shape HuffPost's next chapter