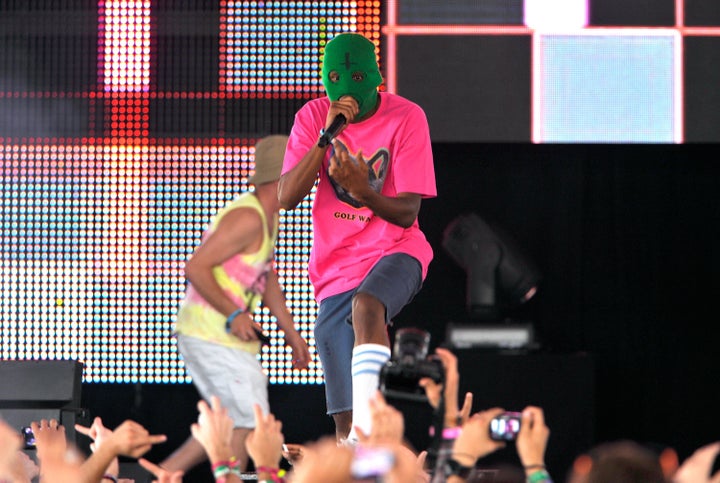 Per a Thursday announcement by a festival spokeswoman, next weekend's Pitchfork Music Festival, which had come under fire for its booking of the controversial rap outfit Odd Future Wolf Gang Kill Them All, will now feature anti-violence advocacy organizations looking to counter the group's contentious lyrical content on the Union Park grounds.
"We're not talking about us wearing t-shirts that have a picture of Tyler in a circle with a slash across his face or anything like that," Sharmili Majmudar, RVA executive director, explained to HuffPost Chicago last month. "This is not just about Odd Future. While their booking was kind of the catalyst to our action, I think what this is really about how we as a culture minimize, ignore or glorify violence against women."
The groups have now partnered with Pitchfork organizers and will have "an onsite presence on the festival," in addition to distributing hand fans outlining Chicago area anti-violence resources that they purchased with $1,700 they raised through an IndieGoGo campaign. One of the groups, Between Friends, has also been offered complimentary ad space on both Pitchfork's primary and festival websites to spread their message further.
"Between Friends and Rape Victim Advocates are appreciative of the Pitchfork Music Festival's openness in partnering with organizations to raise awareness and propel discussion about these critical issues," the festival organizers' release stated. "[We] unequivocally condemn violence against women and LGBTQ people and is committed to providing a safe environment for our music community."
The Thursday announcement marks the latest development in an ongoing furor over the festival's Odd Future booking. In previous interviews, including an extensive one conducted in early May by WBEZ's Jim DeRogatis, Pitchfork CEO Ryan Schreiber and president Chris Kaskie had downplayed controversy surrounding the booking and resisted conversation around offering a counterpoint to the rap group's salacious lyrics at the festival.
"I guess I don't believe in the idea that song lyrics have a hypnotic effect on people," Schreiber told WBEZ. "It's good to have these discussions, which is why we've addressed that aspect of it so frequently. But at the same time, unsavory or ugly topics don't to me inherently strip a piece of work of its artistic worth."
For the uninitiated, here's a taste of the sort of prose, featured in the song "Swag Me Out," that ignited the booking debate: "I'mma take your bitch back to my crib / You already know my dick is gon' be in ribs," "Two nazi dykes shittin' in a Synagogue / Cause that bitch lick balls from Western to Crenshaw" ... "Chop a bitches head off and get a pleasure nut off, bitch."
Popular in the Community