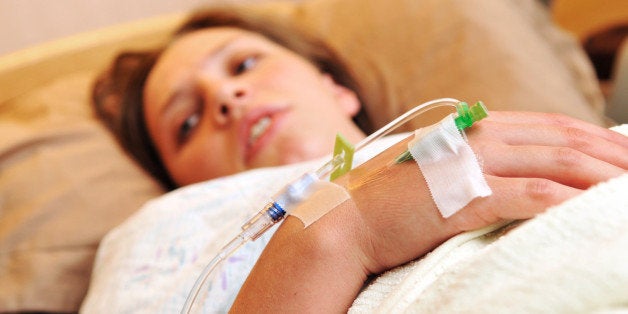 Some researchers have raised the possibility of a link between Pitocin -- a synthetic form of the hormone oxytocin that is widely used to start or assist the progress of childbirth -- and later attention deficit hyperactivity disorder in children.
But a sweeping new study that used the birth records of nearly 550,000 babies born in Denmark between 2000 and 2008 should quell some of those concerns. The study found no association between oxytocin use to move labor along and the development of ADHD.
"From this study, there is no indication that labor augmentation with oxytocin should increase the risk of ADHD in the child," senior researcher Mette Juhl, a Copenhagen-based midwife, wrote in an email to The Huffington Post. The findings, which were published online in the journal Pediatrics on Monday, looked at every baby born during the eight years who was not part of a set of twins or other multiple.
Though synthetic oxytocin, which goes by the brand name Pitocin, can be given intravenously to induce labor or speed it up, and to prevent postpartum bleeding, the researchers focused specifically on instances in which the hormone was used to help labor along. That was the case for 26 percent of the 546,146 women in the study, all of whom went into labor spontaneously.
The new findings run counter to several previous investigations that found a link between Pitocin and ADHD -- both positive and negative. A small study published in 2011 found double the risk of ADHD in 88 children who were exposed to oxytocin to induce or augment childbirth as compared to 84 control subjects, the authors of the new paper noted. A 2013 study, on the other hand, found lower risk of ADHD among girls -- not boys -- whose deliveries were augmented with oxytocin.
The latest study, in contrast, found no link whatsoever -- though Juhl called for continued investigation.
"We need to conduct studies with better and more detailed data on oxytocin-infusion during delivery [which consider] dosage, administration, amount [and] duration, and studies with a specific focus on oxytocin for induction of labor," she said.
Juhl also said that there are always risks when extrapolating findings from one population to another, so an American audience should bear that in mind. According to some estimates, oxytocin is used in more than 50 percent of births in the United States.
Overall, however, the new findings add to a growing body of literature that should allay concerns over a connection between oxytocin use during labor and developmental disorders, including autism. In 2014, the American College of Obstetricians and Gynecologists said there was no link between labor induction and augmentation with Pitocin and autism spectrum disorders.
Popular in the Community