Police are investigating anti-Semitic pamphlets found in Pittsburgh, including the Squirrel Hill neighborhood where a gunman killed 11 people and injured six others at a synagogue in October.
"Such hate-filled material will not be tolerated in Pittsburgh ― not by residents, City officials nor Law Enforcement," the Pittsburgh Bureau of Police said in a statement Sunday.
"We are taking this matter very seriously and will follow every investigative avenue," the statement continued. "Pittsburgh is and will remain Stronger than Hate."
Photos circulated online Sunday, the eighth night of Hanukkah, purporting to show the pamphlets in question. A spokesman for the Pittsburgh Bureau of Police declined to comment further at this time, citing the "ongoing investigation." He declined to confirm the authenticity of the photos.
Jewish Federation of Greater Pittsburgh CEO Jeff Finkelstein told the Pittsburgh Post-Gazette that he saw photos of the apparent pamphlets on Facebook and that they appeared to be "recruitment information for the Ku Klux Klan."
"This is a prime example of how hateful people don't only hate one group of people," Finkelstein told the Post-Gazette. "We are committed to the safety and security of the Greater Pittsburgh Jewish community. We have the utmost confidence in our local and national law enforcement as they investigate."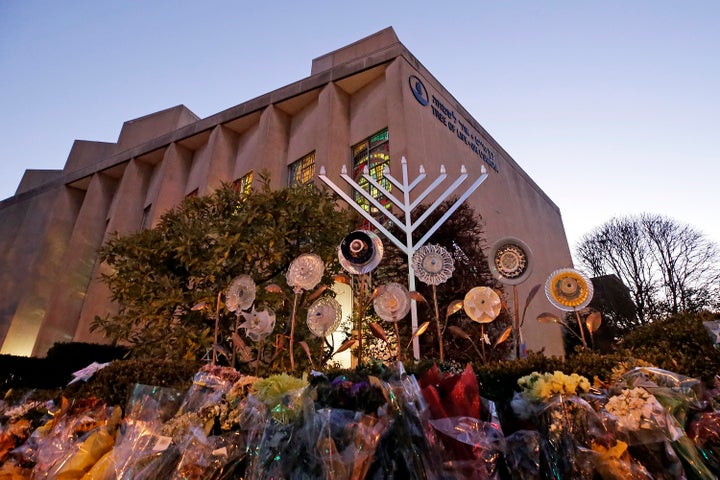 On the morning of Oct. 27, police say 46-year-old Robert Bowers wielded an "assault rifle" and carried at least three handguns with him when he opened fire on the Tree of Life Congregation.
Bowers, who had a history of posting anti-Semitic comments online prior to the attack, has been charged in a 44-count indictment with murder, hate crimes and other offenses that could bring the death penalty. He has pleaded not guilty to the charges and is being held in Butler County Prison.
This is a developing story. Check back for updates.
Popular in the Community