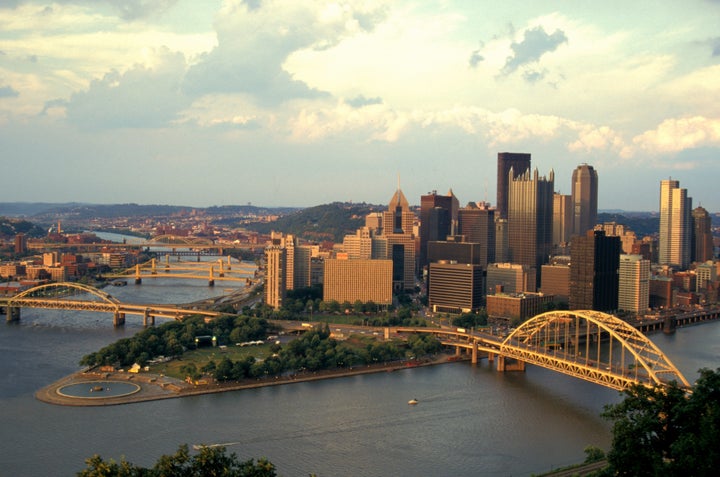 PITTSBURGH ― By now you've surely heard of the revival of the Steel City: its long, slow but ultimately shining transformation from belching industrial metropolis to a city of "eds and meds" (universities and hospitals), research, robotics and self-driving cars.
But if you're looking for someone who symbolizes the human saga of revival, take an Uber (self-driving or not) from downtown Pittsburgh a few miles up the Monongahela River to the old mill town of Braddock.
There you will find Kevin Sousa.
A 42-year-old chef with sleeves of tattoos and "HARD WORK" inked on his knuckles, Sousa turned a former car dealership into a low-key but chic restaurant that wins national raves for the freshness, simplicity and understated elegance of its food.
In a sense, it has taken him a lifetime to build his dream place, Superior Motors, which sits literally and appropriately across the street from one of the only steel mills left in Allegheny County. Patrons can sit at the bar and watch the mill's gas flare light up the night sky.
Growing up in another mill town on the Monongahela, Sousa watched the region's economy collapse and his father struggle to make do in his own small Italian restaurant. After generations of steady employment (except for strikes and recessions), the local high school kids of the 1980s saw few prospects for a middle-class job.
Sousa studied art and then tattooing. Then he fell into addiction: mostly alcohol, but also drugs.
"It was pretty bad," he told me one night recently, taking a break from the kitchen at Superior Motors. "I was in pretty deep."
So, as many Pittsburghers did ― those who didn't just leave for good ― he hunkered down and reinvented himself by returning to his roots. "I grew up in my dad's kitchen," he said.
Sousa quit drinking, got serious about cooking and looked for edgy, all-but-abandoned storefronts in Pittsburgh. He opened a series of restaurants with simple but innovative cuisine, fresh local ingredients and an ambience of homage to the city's gritty past. He started in city neighborhoods that he helped to gentrify out of his price range.
And now he's in Braddock. "And I'm eight years sober," he added proudly.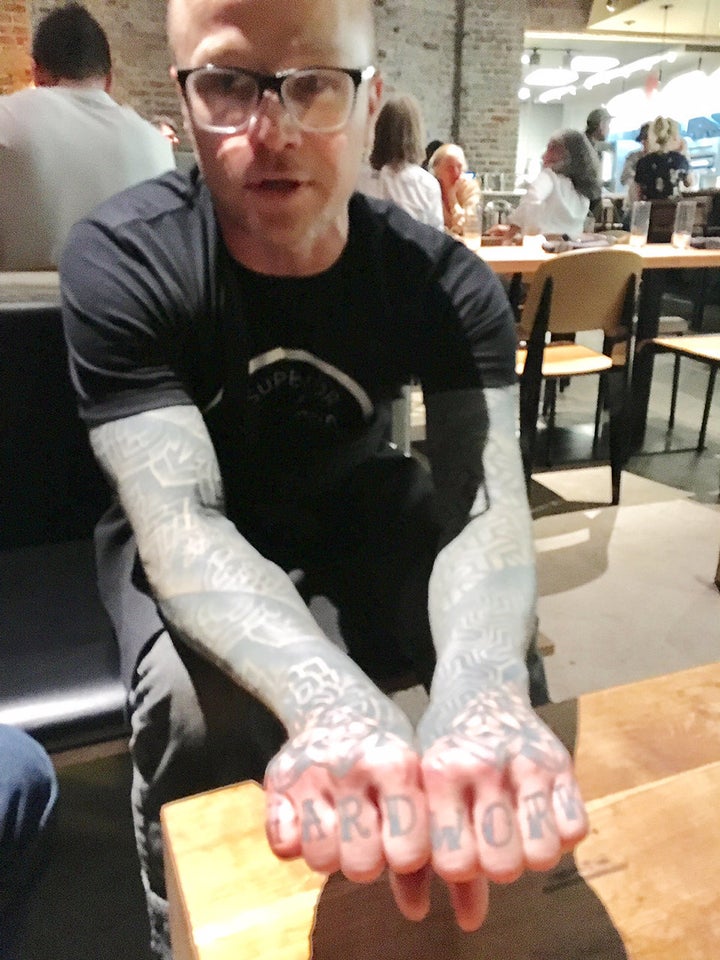 Just as important, he's now a leader in an urban movement that sees food as one part of a much larger social and economic revival. His landlord has given the community access to another Braddock building for use as an experimental theater. Sousa himself runs a program for youths to learn culinary and hospitality trades while they work at the restaurant. And he's partnered with other locals who have created a large urban farm nearby.
"Braddock actually has great soil and growing conditions," he said. "If you clean up the old sites and acreage properly ― and we have ― you can grow almost anything here." All of the vegetables at his restaurant come from the urban farm.
"I'm an optimist," Sousa said. "This is all about the people here. I know it sounds real corny, but they have true grit. And we're just beginning."
Besides true grit and 40 years of steady effort to come back, the Pittsburgh region ― the city and surrounding counties that together constitute the nation's 26th largest metro area ― has benefited from a host of special circumstances. They include geography that kept the focus on a downtown that did not collapse and on neighborhoods that did not lose their communal identity; two top-flight educational institutions, the University of Pittsburgh and Carnegie Mellon; a tradition of family philanthropy that includes names such as Mellon, Heinz, Frick and Carnegie; a world-class bank, PNC, heavily committed to the city; the world-class University of Pittsburgh Medical Center; abundant energy sources, including frack-able natural gas; an infrastructure of parks, libraries and other cultural institutions left over from the city's wealthy heyday; and, of course, pro sports teams such as the Steelers, Penguins and Pirates, who style themselves as emblems of the city.
"Pittsburgh may not be exactly a blue-collar town now," said Steelers head coach Mike Tomlin, a Virginia native who settled his family in a city neighborhood. "But the blue-collar mentality survives," he told me during training camp late this summer.
The challenge now is to translate that mentality into what Mayor Bill Peduto called "a fourth industrial revolution," focused primarily on human capital ― through education, housing and jobs that lift people out of poverty ― and the environment. "The fourth revolution is about people fulfilling their potential and about giving those who've been left behind a full chance to be part of the future," Peduto said.
That means focusing on the low-income neighborhoods that are too often ignored (in Pittsburgh they tend to be on hard-to-reach hilltops) and on other neighborhoods that are gentrifying long-term residents out of their homes.
Another focus: the dozens of small and often bereft mill towns that dot the rivers and valleys far from the shiny downtown core. "We need better public transportation and roads to reach them and to allow them to have access to our improving quality of life," said Allegheny County Executive Rich Fitzgerald.
"There's no higher priority in any of these places than job training," said Sy Holzer, a top PNC Bank official who has long concentrated on city revival. "The jobs are here, but we need to train our people to fill them."
The Pittsburgh area's changing demographics offer perhaps the biggest challenge. The region had remained a bastion of the white working class much longer than other Rust Belt places, but the pressures of population growth and persistent poverty are now reshaping the area. The city's black community ― which has a long and distinguished history, from baseball's Homestead Grays to The Pittsburgh Courier to playwright August Wilson ― is pushing to be fully and finally heard in the region's politics. The small Asian and Latino communities are expanding quickly.
These changes exploded into view nationally over the issue of what the Steelers did ― or did not do ― in response to calls for protest during the playing of the national anthem at NFL games last weekend. The Steelers chose to wait in the locker room, although one player, U.S. Army veteran Alejandro Villanueva, could be seen standing for the anthem at the end of the tunnel. A white volunteer fire chief, angry over the Steelers' choice, used a racial epithet to describe Tomlin, who is black. Shortly afterward, the chief was pressured into resigning.
Not surprisingly in a sports-mad town that calls itself "The City of Champions," the NFL protests have dominated local talk radio, sports radio and every other form of conversation. Inadvertently adding to the controversy, the Pittsburgh Penguins announced that they would accept an invitation from President Donald Trump to toast their Stanley Cup win at the White House. The metro area's top two leaders, Peduto and Fitzgerald, said they would not go.
Peduto said he plans to hold forums for residents who want to discuss the controversy and the issues it has raised.
In the meantime, the Steelers have a big game this weekend in Baltimore, and Kevin Sousa is preparing for the Sunday crowd.
Popular in the Community