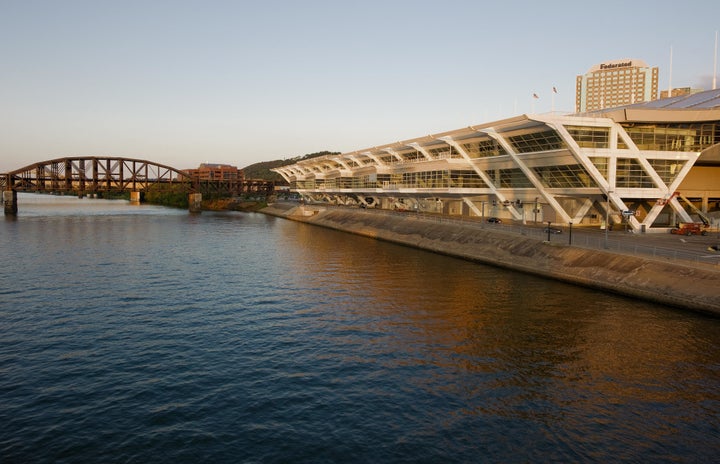 It's been almost a month since a test revealed that the lead levels in Pittsburgh's drinking water were high enough for the Environmental Protection Agency to take notice.
The EPA's so-called action level is 15 parts per billion, or ppb, and levels meeting or exceeding that were found in 17 percent of the 100 homes tested in the city.
Even before that testing, Pittsburgh Mayor Bill Peduto had said Veolia ― a French company that manages energy, water, waste and other traditionally public services in partnership with municipalities around the world ― was at least partly to blame for problems with the city's water supply. Veolia changed its corrosion control methods at the treatment plant after it was hired in 2014 to assist the Pittsburgh Water and Sewer Authority. 
Peduto says Veolia made this change, which he has called a "procedural error," without the approval of the state's Department of Environmental Protection.
Veolia is also currently under fire for potentially playing a role in a water crisis in a city about 300 miles away: Flint, Michigan. 
Michigan Attorney General Bill Schuette filed a lawsuit against Veolia earlier this summer, saying the company had "basically botched" the task it was hired to perform — address water safety in the city. Schuette alleges that the company, along with a second firm, worsened the situation.
Veolia, which earns $33 billion in annual revenue, has called these claims "false, inaccurate and unwarranted" and accused Michigan of deflecting its own responsibility in the crisis.  
Pittsburgh has ended its contract with Veolia. It has also reverted its corrosion control methods to be what they were before Veolia changed them.
Still, activists say the damage has already been done. 
Lead levels in Pittsburgh's water have been slowly rising since 2001, which the PWSA has blamed on its aging service line infrastructure increasingly leaching lead into its customers' water. Average observed lead levels climbed 7 ppb between 2001 and 2013, the last time EPA-required tests were commissioned. The levels spiked that same amount — from 14.8 ppb to 22 ppb — over the last three years alone.
When lead levels surpass 15 ppb in more than 10 percent of homes, water providers are required by law to begin replacing at least 7 percent of their lead service lines annually. The PWSA has begun that work, but a major question remains: Who will pay for it? 
The PWSA has said it will cover the cost of replacing the portions of water lines made of lead, or lead lines, that it owns. However, the utility says its responsibility ends at homeowners' property lines, putting homeowners on the hook for replacing the part of the line delivering water into their houses. That could run between $3,000 and $4,000 per home, according to local media reports.
Homeowners are not required to replace lead lines on their property. When asked whether assistance could be provided to utility customers who want to make the replacement but can't afford to, the Pittsburgh mayor's office directed a question to the PWSA. A utility spokesman did not respond to the question.
Asking homeowners to pay to replace lead lines on their properties is fairly typical, said Marc Edwards, a Virginia Tech civil engineering professor who helped expose the Flint crisis. Still, he described PWSA's plan as "very disappointing and non-productive."
"The law is explicit, in stating that PWSA has to control corrosivity of water contacting customer plumbing," Edwards wrote in an email. "They have undeniably failed to meet that obligation. Rather than admit that and help their customers avoid the health threat, they'd rather blame their customer for the problem."
Also, a growing body of research from Edwards and others indicates that partially replacing a lead line could do more harm than good because it tends to dislodge free lead present in the part of the pipe that remains. At best, partial line replacements are associated with not changing the situation at all; at worst, they're associated with heightened lead levels.
"Frankly, doing nothing is preferable to doing a half-pipe replacement," Edwards said. 
As the PWSA works to identify and catalog its lead lines, it is digging them up and alerting customers if they have lead lines serving their homes. The utility is also offering free in-home lead testing to its customers, but some Pittsburgh residents have reported having trouble getting assistance.  
The PWSA is facing second round of mandatory lead testing before the end of the year, with results set to be reported in January.
"It's absolutely an outrage that individuals should be expected to bear the financial burden of a problem they played no direct role in causing," Kaufman told The Huffington Post. "This is a problem caused by a series of changes to corrosion control methods brought about by a multibillion-dollar corporation."
Veolia sees things differently. In a statement provided to HuffPost, the firm described its partnership with PWSA as successful and distanced itself from any claims that it made the city's water less safe. The company specifically noted that it "did not and would not under any circumstances prioritize cost savings ahead of effective corrosion control methods."
"During the partnership, Veolia helped PWSA realize substantial financial benefit from revenue and efficiencies, institute financial controls that limited spending and increased accountability, and identify opportunities for operational efficiencies that have a direct impact on the utility's bottom line," the statement continued.  
This problem of high lead levels in water is certainly not limited to Pittsburgh or Flint.
While the EPA sets its action level at 15 ppb, no level of lead exposure is considered safe. The Centers for Disease Control and Prevention says children are most at risk for the harmful effects of lead, which include brain and nervous system damage and hearing and speech issues, as well as learning and behavior problems.
There are more cost-effective, short-term solutions to the problem for concerned residents, like point-of-use filtering systems on faucets and pitchers or relying on bottled water. But a long-term fix to the problem remains elusive.
Some communities are addressing the complex issue in creative ways, said David Dzombak, a professor in civil and environmental engineering at Carnegie Mellon University in Pittsburgh.
He noted that Madison, Wisconsin, fully replaced its lead service lines while reimbursing homeowners for half their cost. And water professionals in Lansing, Michigan, have honed techniques that make line replacement faster and a bit cheaper, PublicSource.org reported this month. 
Whether Pittsburgh will be inspired by such efforts remains to be seen.
"The approach is evolving," Dzombak said. "Communities that have been working on this problem for a while have developed knowledge and techniques on the technical side.
"What Pittsburgh will do, I think," he added, "is to be determined."
REAL LIFE. REAL NEWS. REAL VOICES.
Help us tell more of the stories that matter from voices that too often remain unheard.
BEFORE YOU GO
PHOTO GALLERY
Here Are All The People Coming Together To Support Flint