When Shake Shack founder Danny Meyer announced last week that he will be eliminating tipping in favor of paying servers a living wage at 13 of his full-service New York City restaurants later this year, the news sent a ripple through the hospitality industry.
Though the influential restaurateur's Shake Shack burger chain will not be affected, his other eateries making the change are city hot spots. The move adds weight to the the no-tipping movement, which a number of other restaurants nationwide have already joined.
The owners of one of them, Bar Marco in Pittsburgh, announced in January they were abolishing tipping at their small wine bar and cafe and implemented the change in April.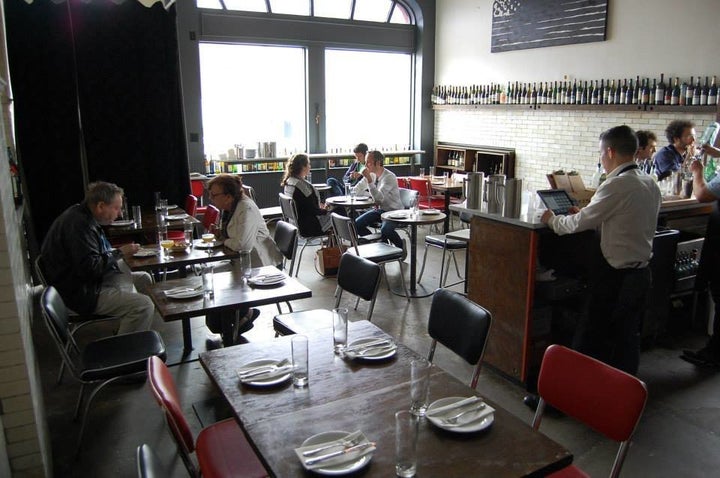 Six months later, Bar Marco manager Joslynn Manges told The Huffington Post the transition has been a success, and said that the restaurant is attracting more customers because of the change in policy.
"We have people coming in consistently who partially come in because of what we're doing, not just because of the service and food," Manges said. "They respect the general idea of what we're doing and they support it."
Co-owner Kevin Cox added that the restaurant, which has a staff of 16, has not seen a change in staff turnover rate.
To offset the increased cost of giving employees a $35,000 base salary -- plus benefits including health insurance, paid vacation time and shares in the company -- Bar Marco increased prices on the menu.
One challenge they've faced, Manges admitted, has been acclimating customers to the change in policy, particularly those who are from out of town or haven't been to the restaurant in some time. They attempt to mitigate that by featuring the policy prominently on their website and menu. Servers also inform guests at the start of their meal that they do not accept tips.
Should diners decide to tip anyway, all proceeds are donated to the Food Revolution Pittsburgh Cooking Club, a nonprofit that encourages area high school students to develop their culinary skills and make healthier food choices.
Kirsten Wlaschin, a spokeswoman for Seattle-based Ivar's Restaurants, said in an e-mail that the results have been "positive" since their chain eliminated tipping seven months ago. They plan to take at least a year to evaluate the change before making it permanent.
But the model does not work for everyone. While San Francisco's Bar Agricole and Trou Norman both got rid of tipping at the start of the year, the restaurants' owner Thad Vogler announced this week that they were bringing it back because their staff were unhappy going without tips.
"We haven't been able to keep servers," Vogler told the San Francisco Chronicle. "We were hoping more restaurants would switch but, for now, it's been impossible to compete with more traditional places in keeping front of the house staff who prefer the control and upside of the tip system."
For its part, the National Restaurant Association appears skeptical that both employees and customers will be on board the tip-free movement.
"We've found the practice of tipping has traditionally attracted millions of employees to our industry and still has strong support from American diners," an association spokeswoman said in a statement reported by CBS News last week.
Still, it appears more restaurants will soon be following suit. Saru Jayaraman is the co-founder and director of the Restaurant Opportunities Centers United, which has released research tying the tipping system to sexual harassment and slavery in recent years. Jayaraman touched on those connections in an Oct. 16 New York Times op-ed.
She said her organization, which advocates for the elimination of tipping, has already gotten feedback from other restaurateurs indicating they'll likely follow Meyer's example.
"Several restaurants we've been talking about this with for a long time have begun to say they haven't liked this [tipping] system,"Jayaraman said. "What we're telling them about the social impact of the issue has given them the justification and the push to do it."
CORRECTION: An earlier version of this post included Shake Shack among the group of Meyer's restaurants that had eliminated tipping. Shake Shack locations are not, in fact, taking part in this change. Only the full-service eateries that make up Meyer's Union Square Hospitality Group are doing so.