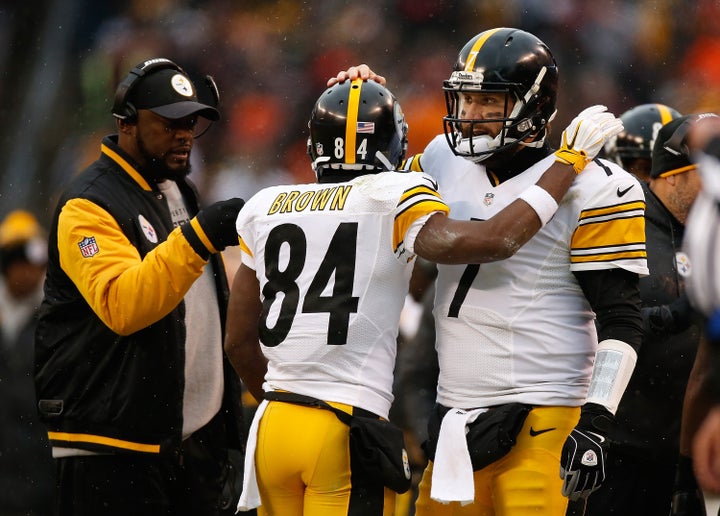 Pittsburgh, like Seattle, is a sixth seed. And a 10-6 Pittsburgh is as dangerous as anyone.
Fueled by the powerhouse combination of two-time Super Bowl champion Ben Roethlisberger and Antonio Brown, this is a quick-strike offense that ranks third in total passing and fourth in points per game, despite Roethlisberger's injury woes. Brown is perhaps the best receiver in the league, as well as the least guardable. His tremendous route-running, dynamic ability in space and stick-em hands helped him rank second in pro football with an astounding 1,834 yards. At a generously listed 5-foot-10, he plays more like he's 6-foot-5, tying Atlanta's Julio Jones for 136 catches, the most in the NFL.
Roethlisberger trusts Brown to make any play, and the duo is made even more effective by the 24-year-old wideouts Martavis Bryant and Markus Wheaton. Bryant, at 6-foot-4, is a home run waiting to happen. In just 11 games this year (he was suspended for the first four games for violating the league's substance abuse policy), the former Clemson standout has amassed nearly 800 yards and six touchdowns. Wheaton is a true burner who has come on during the second half of the season, proving to be a reliable third-down target when Brown is doubled up.
But should we worry about the Steelers' running game? This season, as we know, has not been a banner year for star running backs. Marshawn Lynch has barely played, Jamaal Charles tore his ACL, Matt Forte has missed time, Eddie Lacy and Alfred Morris have underachieved, DeMarco Murray has been a disaster in Philly and Pittsburgh's superstar, Le'Veon Bell, suffered a season-ending injury in early November.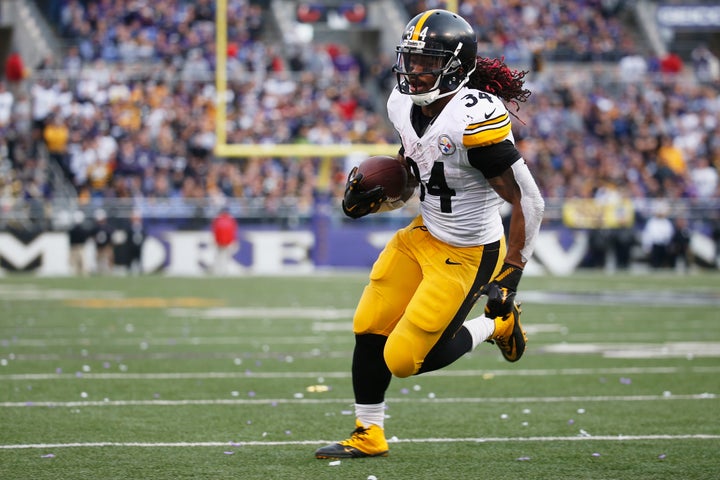 The Steelers, however, have been buoyed by the resurgent play of 32-year-old DeAngelo Williams, the all-time leading rusher in Carolina Panthers history and a rather unheralded free-agent acquisition. Williams, who lost weight and gained speed in the offseason, has totaled over 900 yards on the ground to go along with 11 touchdowns. Moreover, his 40 catches for 367 yards were both career highs. He gave the team a scare in its must-win Week 17 tout with Cleveland, but has been labeled as day-to-day in preparation for Saturday's postseason game at Cincinnati.
Pittsburgh has a dominant aerial attack and an effective rushing game, but its biggest question mark since a Week 1 loss to New England has undoubtedly been its lackluster defense, specifically its secondary. The Steelers give up rank 30th in passing yards against and surrender a 64.3 percent completion percentage to opposing quarterbacks, which slots them 22nd. 
It's not all on the cornerbacks, of course. The unit has been noticeably better of late. But it has to be a concern entering a matchup with a Bengals offense that wants to push the ball downfield with A.J. Green -- whom The Huffington Post recently spoke with -- and touchdown magnet Tyler Eifert. The key to a sustained playoff run has to be the pass rush, a sterling element of this defense all year. In fact, Pittsburgh's 48 sacks rank third in the league.
Simply put, it hardly matters that this isn't your dad's Steelers, and it's immaterial that Mike Tomlin's team needed a Jets loss to sneak into the playoffs. This is a new season, where regular season records no longer hold weight, and maybe the home field advantage doesn't matter as much as we thought. Over the past 10 years of playoff football, wild card home teams have assembled a rather pedestrian 23-17 record. Furthermore, Pittsburgh is one of six teams ever to win the Super Bowl as a wild card. That victory came against Seattle in 2006, in Roethlisberger's second year.
Correction: A previous edition of this article incorrectly stated that home playoff teams are 23-17 over the past 10 years. It has been corrected to state that wild card teams are 23-17 over that span.
REAL LIFE. REAL NEWS. REAL VOICES.
Help us tell more of the stories that matter from voices that too often remain unheard.