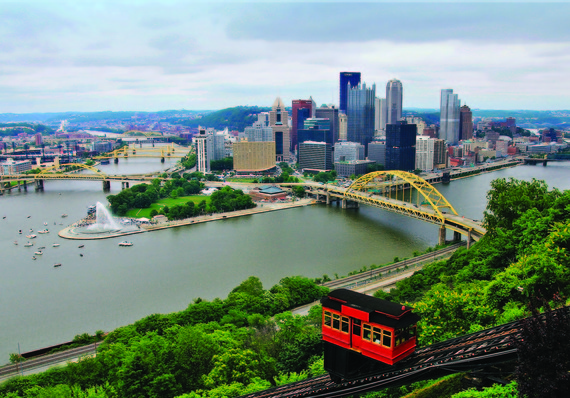 Downtown Pittsburgh is infused with an authentic, indie-spirited vibrancy you don't see much in cities anymore In this era of homogenized cities, Pittsburgh is a breath of fresh air. It embraces its industrial past while simultaneously wrapping its strong arms around progressive green developments, an enlightened foodie reputation, and its birthright as one of America's quirkiest cities. Here are eight reasons to check out Pittsburgh now:
The Andy Warhol Museum
The seven-storey Andy Warhol Museum exhibits drawings, prints, sculpture, film and video, ephemera, and paintings -- more than 900 of them, including Campbell's Soup Cans and Marilyn, Elvis, along with collaborative paintings made with artists such as Jean-Michel Basquiat and Francesco Clemente. Visitors can also view Warhol's Screen Tests, some of which play simultaneously in a multimedia room. Best of all, there's a nook reserved for visitors to shoot their own screen tests. The morning I visited, there were a dozen people lined up waiting for a turn to shoot their own 15 minutes of fame. Andy would have been proud.
Bayernhof Museum
The Bayernhof Museum is a 19,000 square foot mansion that houses a massive collection of music boxes and other automatic musical instruments. Charles B. Brown, III, the museum's founder converted his extravagant home, which overlooks the Allegheny River, into an experiential showplace with secret hallways and hidden doors. Take, for instance, the "Cave," which is accessed, Scooby-Doo style, through a subterranean passage. Inside, a wooden door leads to the wine cellar that is stocked with moonshine. The path that slices through the cave wends past waterfalls and pools with stalactites and stalagmites. It terminus? A large room with a swimming pool and a ten-foot waterfall.
Randyland
If you are lucky enough to visit Randyland when Randy Gilson, the upbeat, vibrant creator is working on his masterpiece you are in for selfies, banter and, with a little luck, an invite to help affix a shard of glass to an evolving mosaic or help locate a headless doll in just the right spot in the garden. "This is all about love," Randy told me on a recent visit, and as I wandered through his gates amid the colorful collection of castaway objects and folk art murals, I knew just what he meant. This whimsical wonderland in his inner city backyard is open almost every day between 1:00 p.m. and 7:00 p.m.

The Mattress Factory
This cutting edge contemporary art venue is a refreshing antidote to passive museums. The installations here provoke you with interactive elements that pull visitors into the art itself. While there, I groped along in utter darkness along with other visitors as we navigated the disorienting light tunnels of James Turrell. The exhibits are spread over a couple of buildings, accessed through an alleyway. The set up allows for large-scale (room size and, sometimes even building-size) art pieces, which are created largely by visiting artists from around world.

'Burgh Bits and Bites
This fun, fast-paced foodie walking tour leads visitors along Pittsburgh's famous market street known as the Strip District, where vendors from around world sell specialty foods. This tour gets you behind the scenes to sample food, like pillowy pieogis drenched in butter at a Polish deli and biscotti studded with hazelnut at a small bakery. You will be introduced to great characters, like a Syrian mother and son, who share the secrets to authentic hummus at their Middle Eastern grocery and nearby, where a fourth generation owner of an Italian emporium chomps a cigar while regaling guests with tales of the old days while they chow down on his homemade meatballs.
The Duquesne Incline
The Duquesne Incline has been scaling the hills above the city since 1877. Locals and visits alike hop aboard the wooden cable car to climb nearly 800 feet of track up a steep hill just as the thousands of workers did more than a hundred years ago. Splurge by spending an extra 50 cents to go behind the scenes to see how a seemingly simple system of pulleys and levers does this high heavy lifting. Go at night for one of the best views on the East Coast: twinkling city lights, the dark contours of the hulking hills and the confluence of two rivers that continues to stoke the economic fires of Pittsburgh.
The Frick
Downton Abbey fans can't resist The Frick, a mansion and museum that reflects the Gilded Age in the America. Henry Clay Frick, who could be considered the stateside counterpart of the Earl of Grantham, was at the turn of the 20th century one of the wealthiest men in the world. His collection of treasures includes Monets, medieval tapestries, a rare early musical player called an orchestrion, a children's playhouse large enough to be mistaken for a caretaker's home, a greenhouse ripe with exotics, and a trove of Tiffany glass. Plan for a classic tea at The Café, a small conservatory tucked amid the lush garden.
The Fairmont
Stay at the Fairmont if you want to feel the vibrancy of the city. This LEED-certified hotel has done its part to nudge downtown Pittsburgh towards its reawakening. Even if you are a day visitor, stop in and say hello to Edie, the resident rescue dog named for Warhol acolyte Edie Sedgwick, peruse the lobby exhibits featuring rooming house artifacts unearth as the hotel was being built and grab a drink at the buzzy Andy's Wine Bar. (The night I popped in, Mike Wolfe, the star of American Pickers, was sidled beside me).
Related