PITTSBURGH ― Lisa Franklin-Robinson started feeling nostalgic the moment she pulled into the quiet, wooded cul-de-sac in the well-heeled Pittsburgh suburb of Fox Chapel.
The three-story house the 53-year-old Uber driver had pulled in front of was one she'd visited for slumber parties as a high schooler. She remembered swimming in the pool and dancing to the jazz her best friend's dad would blast over the in-home stereo.
The moment her passenger got into her red Ford Fusion and greeted her with a British accent, Franklin-Robinson realized her friend's parents must have moved. She recounted her memories of the house to him, describing its layout and Japanese-style bamboo accents.
"He's looking at me like, 'How does this little black woman know my house?'" said Franklin-Robinson, who has spent much of the past two years driving for Uber. "And now he's asking me questions about the house, because he hadn't lived there that long."
Her passenger, it turned out, was an Uber employee who had recently joined the ride-hailing giant from fellow tech titan Twitter and relocated to Pittsburgh to work at the company's growing self-driving car program here that could ultimately replace drivers like Franklin-Robinson. She didn't ask him about his work as a product manager at the autonomous vehicle program, but she hoped his experience riding with her left an impression.
"I don't know how much my conversation meant or what influence he has on any of this, but that in and of itself should make him see that the personal factor is important," she said.
"This is what I think they're missing with their self-driving cars," she continued. "There's more to transportation than just getting from one place to another."
Uber arrived in the Steel City in 2014 and within a year had poached multiple robotics experts from Carnegie Mellon University to build out one of the most ambitious self-driving car divisions in the world. Uber started test-driving autonomous vehicles on Pittsburgh's winding, hilly streets and bridges in May 2016, and has been picking up passengers since September 2016 in an experimental program to work out the technology's kinks in anticipation of eventually deploying it nationally.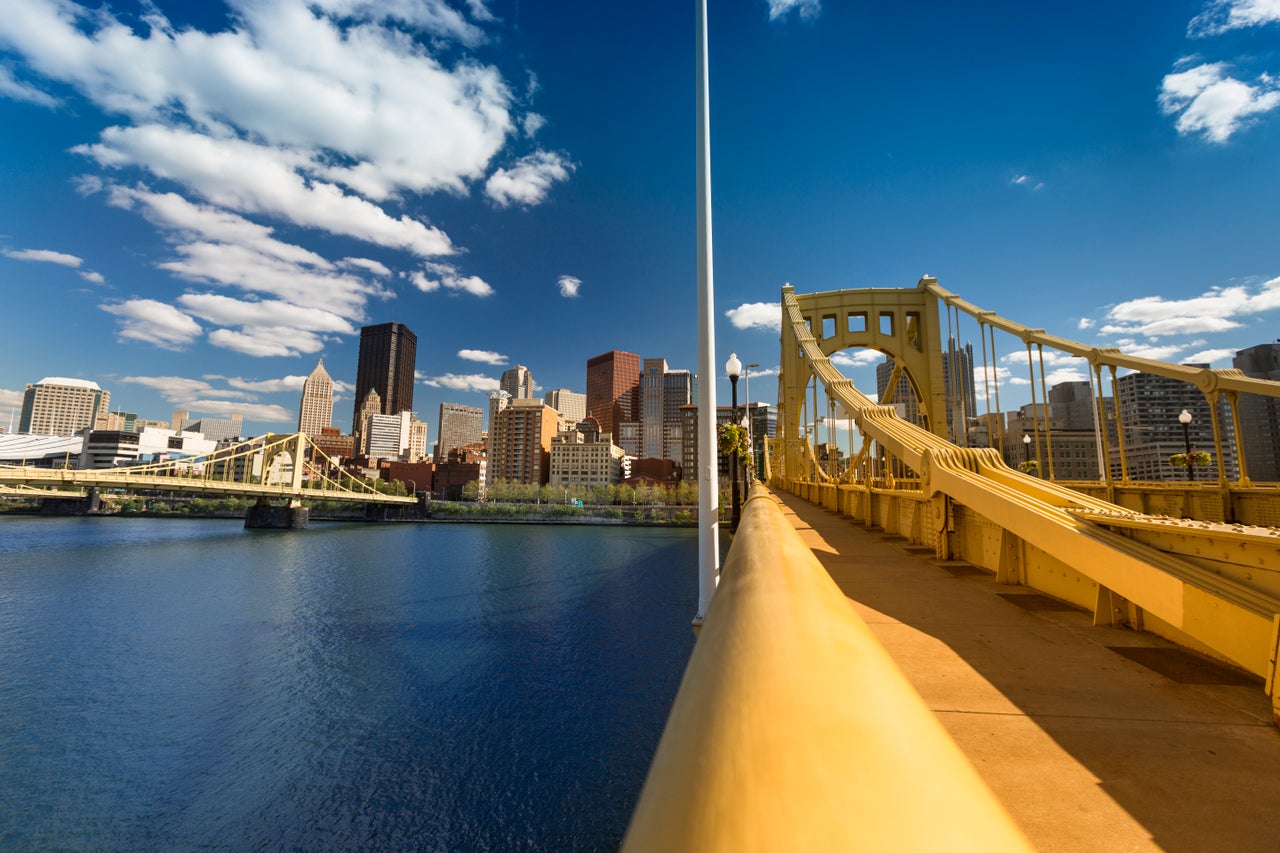 It's not just Uber drivers who feel anxious about the self-driving car industry that Democratic Mayor William Peduto has embraced as a key pillar of Pittsburgh's economic future, an industry that could someday be worth $7 trillion.
In the year since Uber started chauffeuring riders in its self-driving cars, Peduto criticized the company for not partnering with the city and community organizations more and told The Incline in September that he's optimistic about self-driving car companies taking more civic responsibility as they pour more jobs and resources into the city. But the specifics on which jobs will be created and which jobs will become obsolete are still unknown to experts and city leaders.
So far, the autonomous driving boom has created largely high-skilled engineering positions and a handful of full-time gigs as co-pilots of the vehicles, but advocates who spoke to HuffPost and The Incline said the city has not yet invested in retraining the blue-collar workers whose jobs automated driving could eliminate. That may further widen the income gap between rich tech workers gentrifying pockets of the city and lower-income residents who are being pushed out as rents soar.
Pittsburgh became a stand-in for industrial decline over the past four decades after steel plants either moved overseas or replaced costly union workers with newfangled machines. For Laura Wiens, director of the advocacy group Pittsburghers for Public Transit, the threat of self-driving cars triggers the trauma of those tens of thousands of layoffs.
"I feel we're barreling headlong into something similar," she said.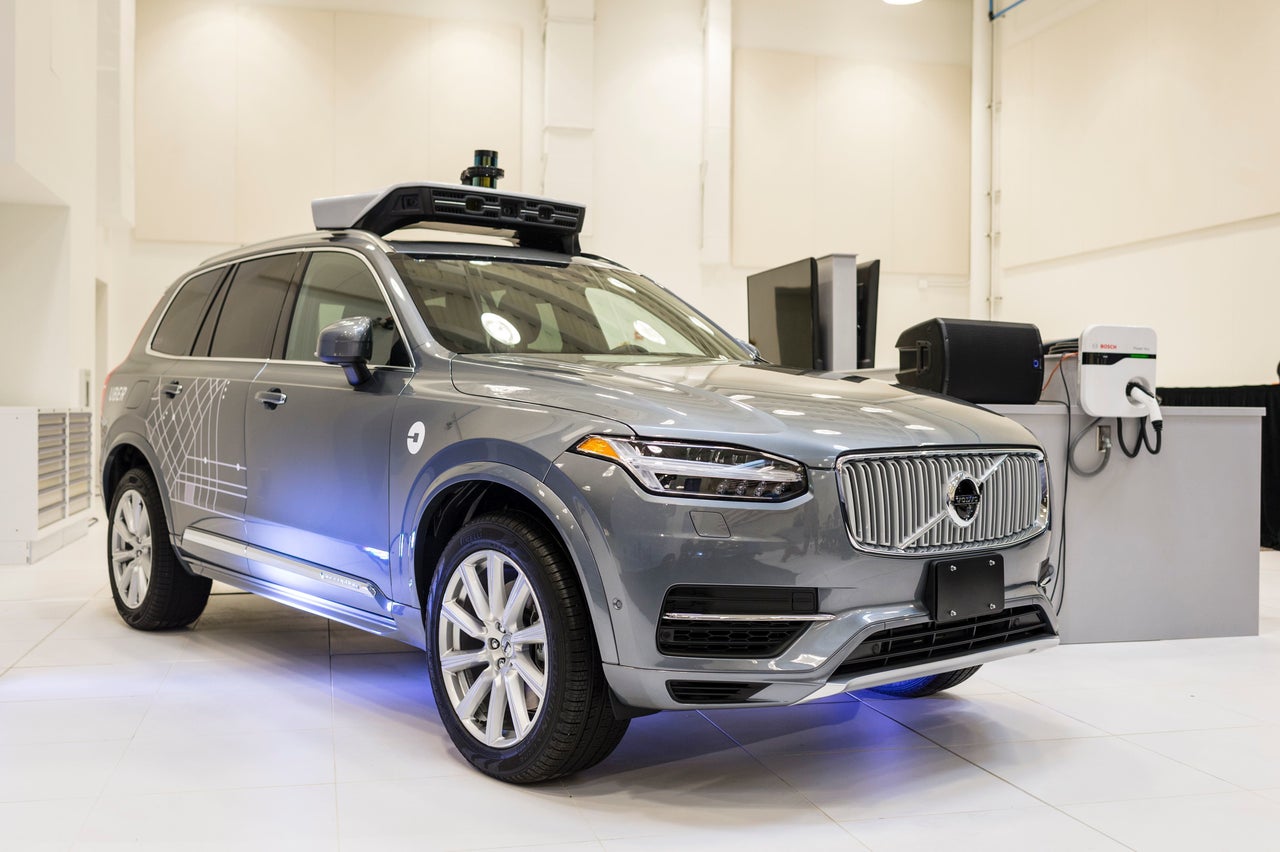 Uber's self-driving vehicles — branded with the company's logo and topped with a rig of rotating sensors that looks a bit like an unlit police car siren — are by far the most visible symbol of Pittsburgh's embrace of the industry. But the ride-hailing giant isn't alone.
There is also Delphi, which is collaborating with BMW; Argo AI, operating under a $1 billion investment from Ford; and Aurora Innovation, working with Audi. Carnegie Mellon University — the nation's first college to offer a Ph.D. in robotics via its storied, 38-year-old Robotics Institute — established a foundation for the industry with its history of working on self-driving technology and a pool of talent replenished each academic year.
Yet it's difficult to get a clear read on how many people are actually working in the self-driving car industry. Intense competition in a city of less than 304,000 people has made companies secretive about the details of their work, including the number of cars and employees.
These firms are "very cryptic about total numbers," Peduto said in an interview in early September. He estimates that roughly 1,000 people total work at Uber, Delphi and Argo AI/Ford in Pittsburgh, but that doesn't account for everyone in the autonomous vehicle industry.
The companies continue to add jobs to their payrolls too. By February of this year, Uber reported more than 700 employees with 100 more openings posted, according to the city. And Argo AI indicated that it planned to hire 200 people between three locations, including its Pittsburgh headquarters, by the end of this year. Delphi announced last month that it plans to hire about 100 more people by mid-2018.
Jobs are multiplying as more companies launch in Pittsburgh and build out their teams, said Audrey Russo, president and chief executive of the Pittsburgh Technology Council, an industry group that includes financial services giant EY and ALung Technologies, a medical device manufacturer.
The main position available to people without advanced degrees is as a "vehicle operator." In Uber's case, two operators sit in the front seats of the autonomous Volvo SUVs, monitoring the vehicle and answering questions when riders are in the vehicle. One is in the driver's seat, ready to take over when the vehicle needs to be put in manual mode, and the other is in the passenger seat, recording data on a laptop.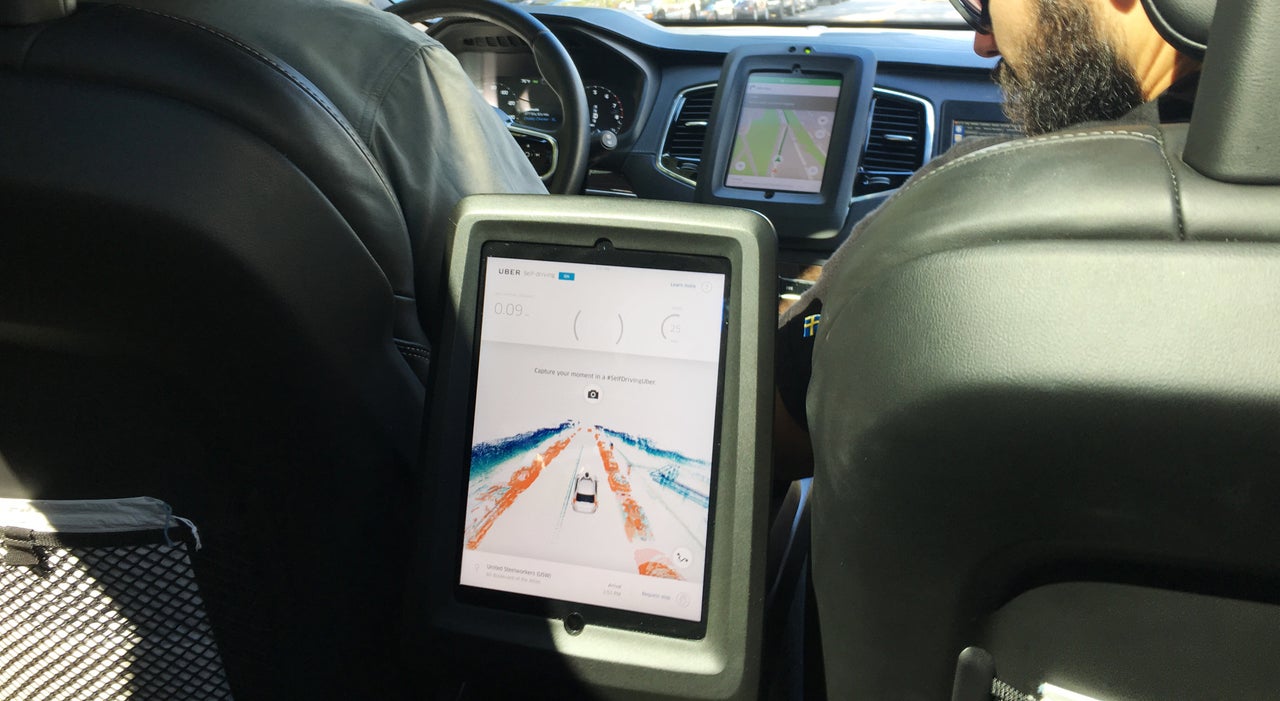 But the jobs so far have been primarily in high-skilled software design and hardware engineering. Of Uber's 56 job openings this week, just one was for vehicle operators, according to data collated by the New York-based data firm Thinknum, which tracks job openings in the industry.
"It looks like most of it is engineers, not many drivers," said Justin Zhen, co-founder of Thinknum. "There's really only a handful."
Other companies are looking for operators, too. As of this month, Argo AI, Aurora and Delphi all had openings listed for vehicle operators. The descriptions stressed a need for communication skills and a clean driving record, not a required degree. Only one, Argo AI, mentioned an associate's or bachelor's degree "in any field of study," but said it's preferred, not required.
Still, Peduto said he's optimistic that self-driving cars will create good-paying jobs for drivers, mechanics, manufacturers and even workers in government relations, communications, law and more — not just people with Ph.D.s in engineering.
"The competition for these jobs are not only at the Ph.D. level, but the drivers themselves," he said, adding that it's not just research and development happening in Pittsburgh but the actual construction and manufacturing, which means technical and vocational jobs. And the overall industry of autonomy will make the city a "global employment center."
Last fall, Uber and the Veterans Leadership Program of Western Pennsylvania, a small nonprofit, paired to draw from veterans' technical skills and place them into vehicle operator jobs. It's a program Peduto lauded as a positive example of how ordinary people in a major city in the state with the nation's fourth-largest population of veterans could benefit from Uber's growing presence. But nearly a year later, Uber has yet to hire anyone through the program. (Still, Ben Stahl, the organization's executive director, and Uber said they remain hopeful.)
But rather than increasing, the number of vehicle operators on the streets will soon drop. Uber announced earlier this month that it will start a transition from installing two vehicle operators in each self-driving Uber to just one, a move to prepare for a future without human drivers. Putting a car with no driver on the road requires a change in state law, as Pennsylvania currently mandates that a licensed driver be in the driver's seat of every vehicle.
That means the blue-collar jobs driving for Uber and Lyft that exist right now will likely be gone soon, too, said Wiens, of Pittsburghers for Public Transit. She doesn't think the jobs the city stands to gain in these new industries will replace, let alone exceed, the various other jobs they threaten, including for drivers of buses, garbage trucks, delivery vans and tractor trailers. Many of those jobs are unionized, offering strong workplace protections and livable wages.
"It's certainly not enough to cover the amount of jobs that are going to be displaced," she said.
In the spring, Wiens' group joined One Pennsylvania, an organization focused on economic and racial justice, and the Amalgamated Transit Union Local 85 for a meeting with Peduto, where they presented a list of requests for how the city deals with autonomous vehicles and any job losses. Among their suggestions was the creation of a public fund for displaced workers, an idea Wiens said has been successful elsewhere in retraining workers for new careers once automation made their jobs obsolete.
Peduto said he is looking into the prospects of doing something like that on the city level, but he believes that preparing Pittsburgh's workforce for the future is about more than retraining. It's about rethinking work. "Jobs will be very different in 20 years than they are today, and the autonomous vehicle industry is only one small part," Peduto said.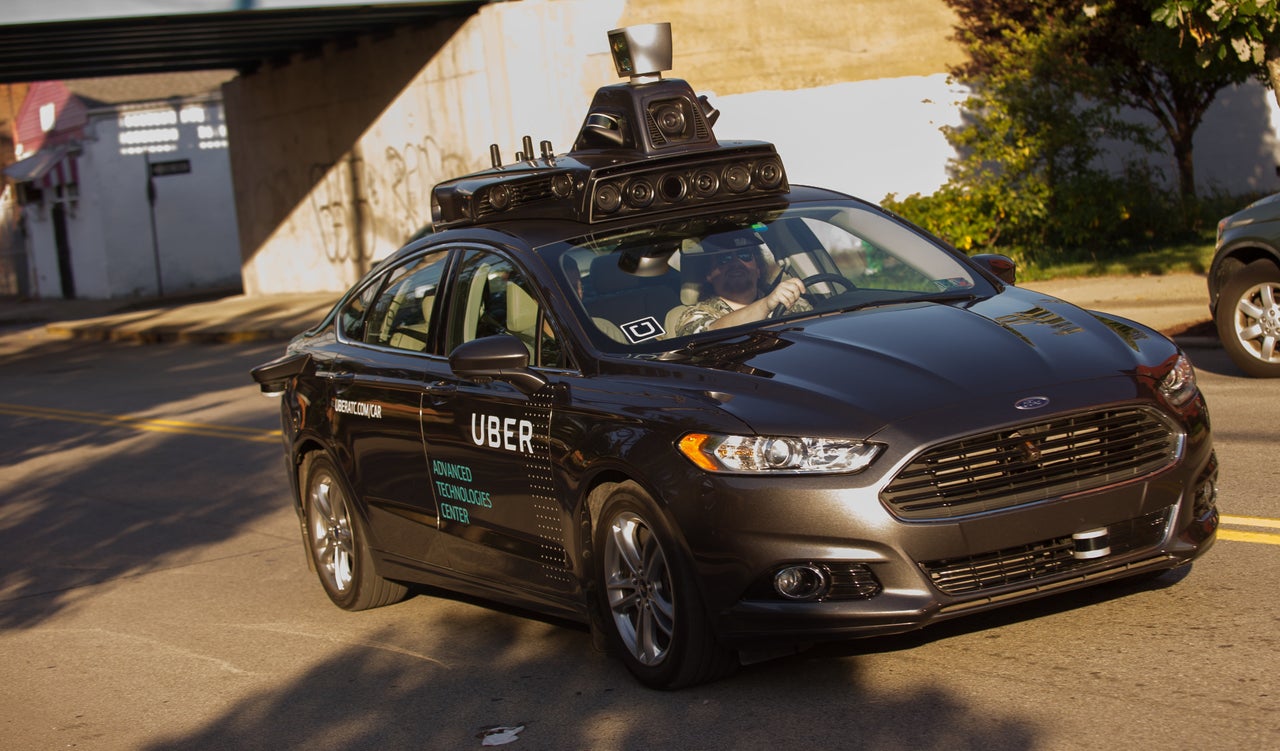 The industry is already making an outsize imprint on the city. The riverside Strip District neighborhood, known for its industrial past and slew of food markets and eateries, now includes "robotics row" ― home to the Pittsburgh headquarters of Uber and Argo AI.
Uber's autonomous vehicles pick up and drop off riders in only nine of Pittsburgh's 90 neighborhoods. The company is mapping more areas, but the cars' limited geography has stoked fears that the technology could widen the inequality gap. In a city that Franklin-Robinson, a lifelong resident, described as deeply divided by race and class, a new generation of monied young professionals has colonized traditionally lower-income enclaves, driving longtime denizens elsewhere.
This isn't the first wave of tech-led gentrification. Bakery Square, a section of Pittsburgh's historically black Larimer neighborhood, became the poster child for this trend after Google opened an office there in 2010. The neighborhood suffered gang violence in the 1990s and lost nearly 90 percent of its population over the past few decades. Now, the area features an LA Fitness gym, retailers such as Anthropologie and West Elm, and one-bedroom apartments that rent for upward of $2,800 a month in a city where you can find a one-bedroom for one-fifth of that.
Advocates worry the gentrification is also going to affect public transit, as neighborhoods near transit hubs are attractive to developers. But once the new developments are built, Wiens said, the people who can afford to live there rarely take the bus ― they drive. So then there's a bus system that doesn't get used, and the people who would actually use it are pushed out to transit deserts where the housing is more affordable.
The Rev. John C. Welch, a Presbyterian minister who lost a populist bid to unseat Peduto earlier this year, said the tech boom is already pushing lower-income residents to other neighborhoods or outside the city altogether. One of his campaign platforms was kicking Uber out of the city ― something the mayor has no legal power to do but was opposite to Peduto's approach.
One neighborhood he's worried about is Hazelwood, where Uber has set up its self-driving test track along the Monongahela River.
"Anytime there's a multibillion-dollar corporation coming into the city of Pittsburgh looking to make money by using the people who live here, there needs to be a community benefits agreement put in place that would identify and quantify the direct benefit that neighborhoods should receive," Welch said.
Peduto agreed that City Hall needs to "make sure that we're benefiting society and we're benefiting the people of Pittsburgh, not just the companies."
That means not repeating the mistakes of past industrial overhauls, like that of steel.
"We destroyed our environment. We created great disparity between the haves and the have-nots," Peduto said. "We basically created a system that it took us decades to solve its problems, because we never worked from the beginning to understand what those problems could be."
Now is the chance for Pittsburgh to be a leader, he said ― to focus on creating opportunities for all Pittsburghers, not just on building robot cars.
"That does not happen on its own," he said. But, he added, "You don't want to stop progress, because all it means is that progress will happen somewhere else."