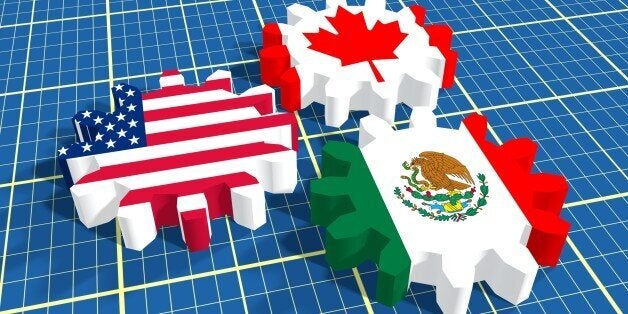 The foreign ministers of North America recently met in Québec with little fanfare. Yet, at a time of growing global disorder and uncertainty, North America is the strategic foundation from which the three nations secure their prosperity and safety.
Some $2.7 million in trade passes between the U.S. and its two neighbors each minute -- that's more than $3.5 billion a day. Mexico and Canada are the two largest export markets for the U.S., buying a third of all its exports. Millions of jobs depend on the trade and investment networks across our region, and the potential for added growth is enormous. A recent study by McKinsey predicts that if we keep working to improve the competitiveness of our North American market our economies could add 7.3 trillion dollars in GDP by 2040. And, if we seek better security against terrorism, we need to coordinate even better amongst ourselves to stop terrorists before they reach our borders and airports. Despite the huge value of regional cooperation, policymakers and politicians have given and give surprisingly little attention to strengthening North America's foundations, let alone recognizing the importance it already plays in our common well-being and security.
We believe this is the year to undertake a pivot to North America, giving our region the attention and priority it deserves. We are not the first to call for heightened attention to our continent. In October 2014, for example, the Council on Foreign Relations published "North America, Time for a New Focus," which does an outstanding job of articulating the need and recommends a number of changes to better manage North American issues. Some in the past have taken up this call, but there is regrettably a paucity of attention to our region, and when attention is given, it is often piecemeal or has a negative slant. We therefore urge -- in a year when the U.S. is headed to the polls -- a strengthened focus on the importance of North America for U.S. strategic, security, political and economic interests. For this reason, with the support of the authors, the Wilson Center will launch an initiative this year to highlight the importance of North American cooperation and provide action proposals.
Growing U.S. Exports to Neighbors
The regional integrated supply chains and joint production platforms built over the past 20 years have made all three countries more efficient and interconnected; this is evident in the trade statistics that show U.S. exports to its neighbors rising consistently since 2009 and at a rate higher that than with other trading partners. Not only is global competition fierce, but instability in the stock markets and economic forecasts suggests difficult challenges ahead. This should lead us to double down on the efforts underway to make our cross border economic connections more efficient and secure in North America, even as we strengthen our respective economies.
Our private sectors are already moving us toward a common innovation economy across North America, in which we not only work together to build products like cars, airplanes and electronics, but we also work together to design the next generation of these products. Studies show that we are already more competitive than trade partners such as China, and our capacity to innovate and to move goods seamlessly throughout the region will ensure that we continue to be.


We are already more competitive than trade partners such as China, and our capacity to innovate and to move goods seamlessly throughout the region will ensure that we continue to be.


Governments should be focusing on how they can support these developments at our borders with better infrastructure and more efficient and harmonized processing and regulations for legitimate commerce and travel, while improving collaboration to stop illicit trade and travel. This is not easy or glamorous, but it is vital for our security and ability to compete in the world.
More broadly, our three countries are partners in bringing the Trans-Pacific Partnership to fruition, opening new markets for our goods and services. As countries with free trade agreements with the European Union, Mexico and Canada should also rightly be partners in a similar trade and investment agreement with the European Union, the Transatlantic Trade and Investment Partnership, again opening new opportunities to grow trade across the Atlantic and create jobs at home.
Working Together to Curb Climate Change and Terrorism
With all three countries as major energy producers and with much potential for the future in both carbon-based and renewable sources, North America is very well positioned to provide for our future supplies, to ensure the sustainability of policies across the continent, to strengthen the resilience of our energy infrastructure and to coordinate clean energy initiatives. Our three countries share the air, water, oceans, flora, fauna and climates of North America. Going forward, we expect the three governments to support building common approaches to implementing Paris conference commitments. Similarly, the three neighbors based on the previous success of jointly confronting the H1N1 pandemic, must collaborate on common public health threats, as the ministers have agreed to do against the Zika virus.
Security and support for democracy were key parts of the foreign ministers' agenda. They cited the importance of coordinated efforts on Central America, Haiti and Colombia, as well as against Daesh, or the self-proclaimed Islamic State. We believe efforts to bolster security in the face of extremism and terrorism should be seen in the context that collaboration in North America sets the basis for the defense of our region. With close cooperation, we can stop and track potential terrorists before they get to our borders or airports.


With close cooperation, we can stop and track potential terrorists before they get to our borders or airports.


The collaboration between our security services on these matters is already close and has been improving in the aftermath of 9/11. But there are clear benefits to developing a more thorough, trilateral and holistic North American security posture. A more unified approach amongst the three neighbors could bring massive benefits in confronting terrorism, organized crime, cybersecurity challenges, critical infrastructure protection and tackling the challenge and opportunities that migrant and refugee flows entail for our three peoples. The ministers' meeting on Friday needs to signal that Canada, the U.S. and Mexico will work to develop a North American approach and footprint to address the root causes of these problems far from our borders. Supporting democracy, rule of law and human rights throughout the region and more broadly is also urgent and very welcome.
The key message, though, is that the North American agenda should be an ongoing priority for all three countries. We are much more important to each other than we realize: pivoting to North America can be the way to ensure that in a turbulent 21st century, our three countries are partners in success rather than accomplices in failure.
A version of this piece has also appeared in Canadian and Mexican press.
PHOTO GALLERY
The Hunt For El Chapo
Calling all HuffPost superfans!
Sign up for membership to become a founding member and help shape HuffPost's next chapter